Top 5 Job Interview Spending Splurges You Should Make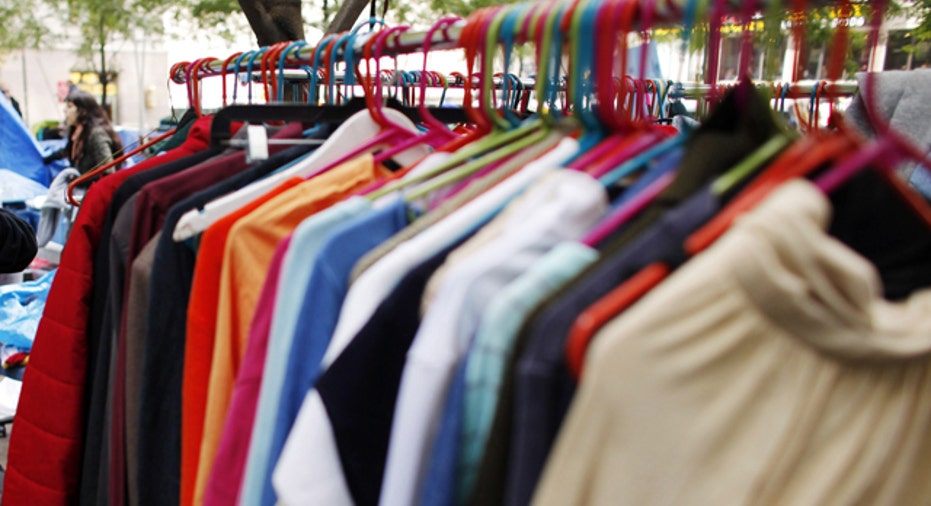 If you're looking for a new job, chances are you've already spent money for access to online job boards, resume help, or career consultants. Spending more money on your appearance for job interviews may be the last thing on your to-do list, but experts say that looking sharp may make the difference between "you're hired," and "keep searching."
Unfortunately, it's impossible to achieve a truly professional look without spending a little money, says Chad Oakley, President & Chief Operating Officer at Charles Aris, an executive search consultancy.
"Looking the part really does matter and really does make a difference," says Oakley. "We prep all our clients the same way whether they're a CEO or an analyst: 'Dress like you're running for president.' You want your dress code to say, 'I am a professional.'"
Having the right finishing touches on your outfit will do more than just help you look sharp—it can also affect your attitude, making you more confident when handling potentially tricky interview questions, says Tim Tolan, executive recruiter and Senior Partner and Managing Director of employment consultancy Sanford Rose Associates.
"You're there for an interview that may last two hours, but the first 15 to 20 seconds for that first impression are what counts, and you need to feel like you're walking on water," Tolan says. "That confidence can come from a new hair cut, new clothes—anything that makes you feel your best, and you're probably going to have to spend a little money to achieve that."
Before that first big in-person meeting sneaks up on you, take a look at the top five appearance-enhancing items experts say it's okay to splurge on.
1.) A new suit 
"It doesn't have to be Armani, but it needs to look and fit great," says Oakley.
Although spending thousands of dollars on a suit isn't always necessary, Tolan says you should expect to spend at least $500 to get a suit that looks sharp.
"It may sound like a lot at first, but when you wear that suit for the first time, you're going to feel amazing," Tolan says.
Even if your current suit isn't worn out, Victor Talbot Scognamiglio, style consultant and Owner at Victor Talbots Menswear in New York, says if you haven't purchased a new suit in the last three years, you should do so.
"In the last three years, there has been a dramatic transformation in the silhouette of clothing," says Scognamiglio . "Today's suit is more fitted, the pants are not pleated, the jacket armholes are a little bit higher, and the lapel size is that perfect medium between not too narrow and not too wide."
Scognamiglio says that women's suiting has also evolved in the last few years, but that women are typically much better at keeping up with changing fashions because they shop more frequently than men. For both sexes, he says to look for suits with a material thread count of 100 to 200, as the suit will wear better and hold up a lot longer. When it comes to a matching shirt, he says neither sex should shy away from color.
"We're seeing a big burst of color coming from Europe," he says. "A few years ago, everything was black, white and grey, but today we're seeing orange, green, purple, salmon and yellow."
2.) Good grooming materials 
"Having a fresh haircut goes along with that professional appearance," says Oakley. "It's about showing that you care. You have to care enough to stop into a hair salon every once in a while. Companies will see very quickly if you don't look the part."
Men should make sure that their chest hair doesn't come above the collar and have a clean, close shave, says Oakley.  Men who don't have a professional in-home shaving kit should invest in ones like those from Grooming Lounge. At $260 the Ebony Shaving Sets don't come cheap, but over time it's more affordable than paying for professional straight-edged shaves at the barber before every interview.
When it comes to hair, men should look to get a haircut every three weeks to keep things looking sharp, says Scognamiglio. For women, getting hair styled at a salon before every interview can run into a lot of time and money, but making a one-time investment in professional hair-styling tools from companies like Chi can save a bundle in the long run. At $240, the Chi Touch Screen mimics the result of a salon blowout, and if you're in a rush, the hair dryer's 1800 watts of power reduce drying time by 50%.
For your complexion, Scognamiglio says something that can help reduce the appearance of wrinkles and pimples is the Clarisonic. At $149, the Mia 2 vibrating face cleaner is an investment, but it's designed give spa facial results.
"The interviewer needs to see nice hair and a clean face as soon as you walk through the door," he says.
3.) Nice accessories and shoes—but nothing too flashy
"You don't want anyone to remember your accessories in an overly positive or overly negative way," says Oakley. "People can get thrown off by excessive jewelry, and it can send the wrong signal."
Anything "excessive" should be avoided in the interview—including perfume, says Oakley.
"If it's overpowering, it could really throw the interviewer off," he says.
When it comes to shoes, Scognamiglio says men and women should go for a "classic" or "old school" look. A simple pump for women, or wingtips or cap-toed shoes for men are the best ways to go.
"For men, I wouldn't recommend a loafer. These days, there is so much competition in the marketplace, you can't be overdressed," he says.
In the last few years, one accessory for men and women that's made a resurgence is cufflinks, Scognamiglio says.
"That's an area where you can really have fun, show some personality," he says. "It's all about attention to detail. An interviewer needs to say, 'This person really took the time to think about this outfit.'"
4.) The "finishing touches" 
"It's amazing how important it is just to make sure your clothing is dry cleaned," says Oakley. "I once had a client say they were going to pass because someone looked 'frumpy.' I'll never forget the word he used."
Whether or not you believe in starching your clothing on a regular basis, you need to believe in it before a big interview, says Tolan.
"I've interviewed people where you can tell the shirt they are wearing was ironed an hour before they got there. You need to have your items professionally cleaned and starched. It costs a couple of dollars but it shows preparation," he says.
For putting finishing touches on suits or ties before you walk out the door, a clothing steamer can be a great investment, Scognamiglio says. A professional steamer from Jiffy Steamer can cost more than $300, but it can save thousands on dry cleaning bills over the long haul.
The most important thing men can do pre-interview, however, is get their shoes shined, Tolan says.
"They need to be sparkling," he says. "If they look too worn, then buy a new pair."
5.) A nice bag or attaché case & writing instrument 
"I tell people to take a very nice attaché case or leather binder to hold their resume and brag sheets," says Tolan. "Whatever bag or folder you take, have a pen clipped just inside where you can find it. You don't need to be fumbling around looking for a pen. "
Tolan says that your portfolio case and pen should match the job you're seeking.
"If you take a $5 plastic binder to an interview where you're asking for six figures, it just doesn't match. You have to show professionalism with everything you are, and everything you bring into the interview," He says.
Interviewees would be surprised how much their pen says about them, says Oakley.
"Please, please don't go in there with a little plastic Bic. Bring something that shows a little more professionalism, and that is not going to be a 50-cent pen. It all goes back to conservative professionalism," he says.
As for what's hot these days, Scognamiglio says that boxy briefcases are no longer popular. Three years ago, attaché cases and briefcases were square in shape, but today a messenger bag is most popular. He recommends any of the satchels or messenger bags from Ferragamo, which can run upwards of $2,500.
For pens, Scognamiglio says it doesn't have to be a MontBlanc which can run upwards of $1,000, but it does need to have weight and speak to the image you're trying to portray.