Top 10 Ways to Improve Business Trips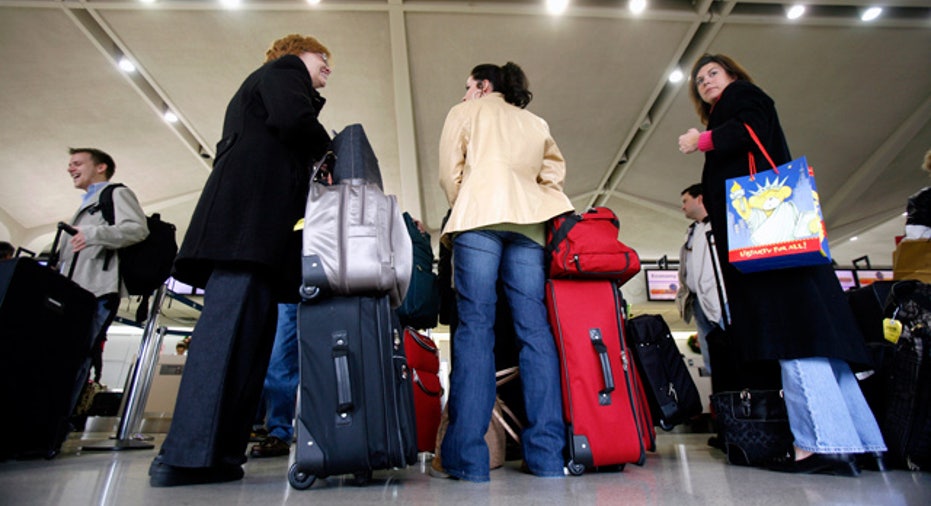 Sick of coming back from those short business trips exhausted and rundown? Men's website AskMen.com ( offers 10 easy tips to help you get through those difficult one to three days away for work looking and feeling good. Reuters has not endorsed this list:
1. Never check luggage. Unless we're talking about a two-week gambling retreat in Monte Carlo, this rule is never to be broken. Travel is frustrating and exhausting because of all the waiting -- for a cab, in traffic to the airport, for the plane, on the plane -- so do everything you can to maximize your time and avoid relying on the efficiency of others. Not to mention there's a solid chance your checked bag will be delayed, damaged or burgled.
2. Maintain your health. As a traveler, your propensity to get sick isn't just linked to hygiene; you're also changing your diet and exercise regimen. Pack vitamins to keep your immune system on track and running shoes so you can still go for that morning jog. Ask the flight attendant for a full bottle of water, rather than having to beg for refills in that tiny plastic cup. They'll happily give it to you and you won't end weary and dried out like you usually do.
3. The Dopp kit. There are a lot of factors working against you, hygienically, on airplanes. From the water coming out of the sinks to your proximity to so many other people to the lack of clean air, the chance of becoming ill is heightened. Pack small versions of everything you use at home, especially moisturizer, eye drops and hand sanitizer. Use something natural that won't ruin your hands and smell like a hospital. And don't forget a small towel to wash your face.
4. Wear the right shoes. Like to travel in your webbed sandals? Flip-flops? It may be comfortable, but it's Busch league travel. Instead, wear a pair of classic Oxfords, low profile boots or canvas plimsoll shoes that go with the rest of your wardrobe. This will allow you to leave shoes out of the luggage altogether or sub in a pair of running shoes.
5. Featherweight packing. The two most common mistakes in packing for a short trip are bringing too much and bringing the wrong things. In most cases, this is all the clothing you need: slim dark jeans, a blazer (tweed is great for cooler months, black hides dirt well), two neutral dress shirts (one of which you'll be wearing), a sweater, extra socks, and briefs. If you're thinking, "I want to have options," you're just being indecisive about your wardrobe.
6. Carry one good bag. Owning a quality weekend bag is the first line of defense against extra baggage. Avoid small rolling luggage -- it lacks style altogether, and a framed bag is really unnecessary if it's just going in the overhead compartment. Check out classic, durable weekend bags made from leather, canvas and waxed cotton. Stick with neutral colors.
7. Bring a flask. Another way to stay warm is with coffee... or whisky. One of the most humiliating events in travel is when the flight attendant offers you a little cup of apple juice or viscous coffee -- just because you're traveling like cattle doesn't mean you can't maintain some dignity. Bring a small flask to fill up with your favorite tipple after passing through security. You could also take a thermos to replenish with coffee on morning trips. These items take up minimal room in your luggage and make a big difference in your quality of living.
8. Stay warm. It's the classic airplane situation: You board the plane exhausted, pass out and wake up two hours later shivering in a petite fleece blanket and resting on a hospital-issue pillow that looks and feels like a gauze Chiclet. Don't do this anymore. Pack a classic wool throw. They're fairly inexpensive; more importantly, you'll be comfortable and your neighbor will envy your foresight.
9. Invest in noise-canceling headphones. No matter how comfortable your seat is, planes are filled with a host of aural distractions that keep you from truly relaxing and enjoying your trip. Thankfully, this problem is perfectly rectifiable. A pair of sleek, super-comfy headphones allow you to dig into your new audio book or the latest album without having the experience sullied by the drone of an engine or a crying baby.
10. Wear a good watch. A watch is a staple in every wardrobe, and having multiple options (they don't have to be expensive) is even better. Anyone who travels often knows how disorienting it can be. A watch with multiple time zones or a world time feature makes the transition easier by tracking the local time at your destination and at home. You'll also check in on friends and family without thinking twice about whether it's too late to call.