Top 10 Toys Less Than $25 this Holiday Season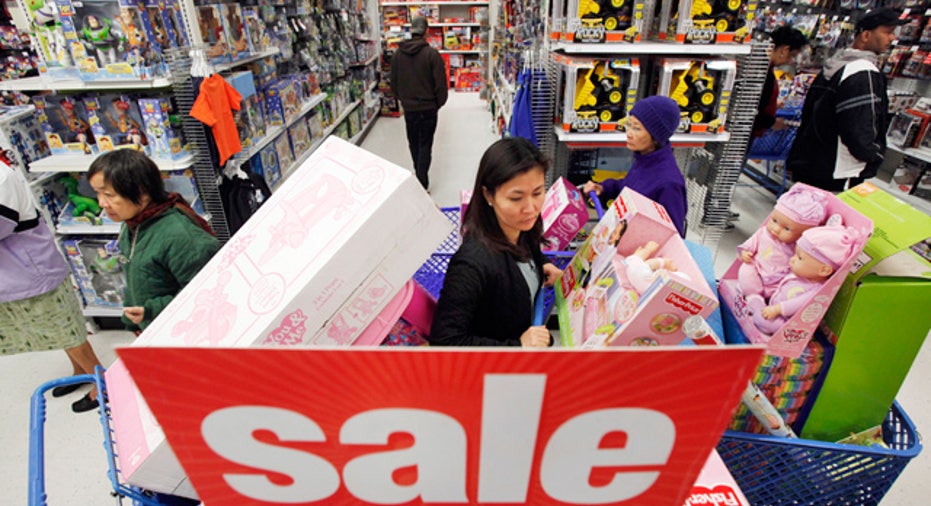 Affordable Toys for Tough Times
Times may not be as bad as they were at the outset of the recent recession, but parents' pockets still aren't jingling all the way to buy a $70 Elmo doll, and toymakers are taking notice.
With U.S. consumers still hurting, toymakers are adjusting by offering a plethora of less-than-$25 toys for gift givers still watching their budgets, says Chris Byrne, content director for TimeToPlayMag.com.
"You're seeing a resistance to the Elmos and Mickeys and those very expensive toys," Byrne says.
But while parents may be looking for value, don't expect toy retailers to cut prices too much ahead of the holidays, Byrne says.
"Using the toys as a loss leader or a traffic driver is not working so much anymore because people have their budget, and when they spend their budget, they stop shopping," Byrne says.
Here are 10 toys fit for your holiday budget.
Redakai
Manufacturer: Spin Master
Ages: 6 and up
Price: Starting at $6.99
Based on the popular cartoon, Redakai cards will be a popular option for elementary and middle school kids this year, Byrne says.
"You can be in (the game) for $6.99," he says. "It'll probably grow, and it'll build over time. If a kid gets something and they like it, Mom and Dad can invest more."
Byrne says the cards remind him of another trading-card game that became a hot property a few years back.
"We used to joke about Pokemon cards being the $2,000 purchase made $2.99 at a time," Byrne says. "It satisfies the need to give a gift, to give them something that's hot and not break the bank."
Monster High Dead Tired Dolls
Manufacturer: Mattel
Ages: 6-12
Price: $11.99
A macabre twist on typical Barbie-esque fashion dolls, Monster High gives girls fashionable dolls with an interesting back story at a price parents can afford, Byrne says.
"You can certainly buy more of them and get up there, but you can be in the franchise for (less than) $20," he says.
The dolls come with a few accessories, including a doll stand for display.
Squinkies
Manufacturer: Blip Toys
Ages: 4 and up
Price: $12.99
Appearing on this list for the second time, the small vinyl figurines known as Squinkies are part of a growing trend toward small, collectible toys, Byrne says.
"It's not very much money, but it's a collectible. It really does level the playing field with the social currency among kids because they can feel they're involved in a hot property," he says.
Other small collectible toy series include Ickee Stickeez by Zing Toys, The Trash Pack by Moose Toys and Gogo's Crazy Bones by Jonic Distribution.
Toys such as these make great stocking stuffers and provide lots of fun for the price, says Pamela Brill, editor-at-large for Playthings Magazine.
"There's a lot to be done with them," says Brill. "(Kids) like to bring them to school; they like to attach them to their backpacks. Then they can also set them up and play their own little games at home."
Zhu-Fari Pets
Manufacturer: Cepia LLC
Ages: 4 and up
Price: $9.99 and up
A cousin to the ZhuZhu Pets that took the toy world by storm a few years ago, these furry, motorized figurines are decorated to look like zoo animals. Like other ZhuZhu Pets, Zhu-Fari toys can be played with on flat surfaces or run on a series of separately sold tracks.
Byrne says ZhuZhu Pets' appeal has endured because they can be purchased in affordable chunks.
With the Zhu-Fari pets retailing for less than $10 and their equipment often for less than $20, it allows different gift givers to contribute a few pieces each to create a play experience for children that's enriched by each addition to their collection.
Model Magic Jewelry Boutique
Manufacturer: Crayola
Ages: 6 to 10
Price: $19.99
Crayola's Model Magic is like permanent Play-Doh that can be modeled easily by kids but dries and cures like modeling clay. One of the company's hottest toys this year helps turn Model Magic into customized jewelry.
While it may surprise many adults that today's technology-enabled kids are still into some very analog arts-and-crafts activities, kids actually enjoy lots of play not provided on a digital screen, Byrne says.
"Activity toys are really hot," he says. "People think, 'Kids just want an iPhone,' and they really don't. You want a balanced toy box."
Bizu Bead Style Studio
Manufacturer: Spin Master
Ages: 6 and up
Price: $19.99
Bizu Beads combine the enduring appeal of bead jewelry with an element of collectability.
"You can create bracelets, but then with a couple of twists, you turn them into little animals," Byrne says. "It takes beading, which kids love doing as a craft, but it adds play and collectible components."
The toy's winning combination of replay value and low price makes it a winner for frugal parents.
Hot Wheels
Manufacturer: Mattel
Ages: 4 and up
Price: 99 cents
While they probably won't inspire long lines or frantic parental searches, Hot Wheels have long been a kid favorite.
"It's the largest-selling brand in the U.S. by unit sales. It's still (less than) a buck," Byrne says. "We tend to overlook these types of toys, but at the end of the day, moms are horrified if they spent $70 on something that gets unwrapped and then goes into a closet two days after the holidays."
He says the toys' low cost, durability and long-term play value make them excellent stocking stuffers.
Angry Birds Knock on Wood
Manufacturer: Mattel
Ages: 5 and up
Price: $14.99
Movie crossovers into the toy world have long been a fixture of the holidays, but the proliferation of smartphones has inspired a set of toys modeled around perhaps the most celebrated app of all time: Angry Birds.
Mattel's Angry Birds Knock on Wood game allows players to build and destroy their own pig fortresses using a collection of birds modeled on the original game.
"There is some of that app-to-toy transfer going on," Byrne says.
If you think these toys might be a winner for the kid on your list, you may want to act fast, Brill says. "It's already selling out at smaller toy stores," she says.
Lego Heroica
Manufacturer: Mattel
Ages: 5 and up
Price: $14.99
The classic plastic building sets made by Lego have always been popular, but their ability to multiply by one small set at a time has made them popular as toy budgets have shrunk, Byrne says.
This year, Lego is selling a variation of its popular sets that doubles as a customizable board game, he says, and it looks like a promising gift for the little Lego lovers in your life.
"They've done really well going into the games category," he says.
Sesame Street Playskool Let's Rock! Elmo Guitar
Manufacturer: Hasbro
Ages: 18 months to 4 years
Price: $19.99
One of the hottest toys for toddlers this year looks to be the Let's Rock! Elmo. While that toy comes in at a pricey $70 or so, kids still can get in on the fun with some Elmo-themed instruments from the same line, Brill says.