Top 10 Most Expensive Wedding Costs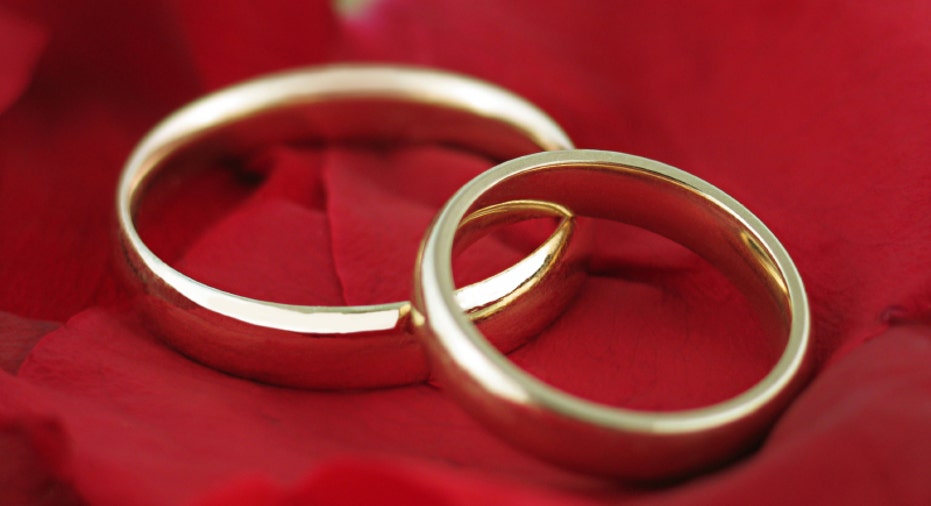 Have an urge for a wedding splurge?
The season of "I do" is upon us, and couples everywhere are gearing up to seal the deal -- romantically and financially.
According to online wedding planning resource TheKnot.com, the average amount spent on weddings, excluding honeymoons, in 2012 was $28,427. But is that realistic?
"You have some couples that will book celebrity-status bands for their wedding ... then you'll have couples who will want to do nothing more than just cover a space in flowers," says Anja Winikka, site editor for TheKnot.com.
Using TheKnot's data from 2009 to 2012, Bankrate crunched the numbers and found that although wedding budgets were hit by the U.S. economic downturn, couples managed to hand over hefty change for their big day. Here, in order from most to least expensive, are the top 10 categories in which couples spared no expense for jumping the broom.
Reception hall
Average cost in 2012: $12,095    Average cost in 2009: $12,838    Percentage change: -5.79%
With the average reception hall cost topping $12,000, frugal brides can find many places to trim costs.
Rather than outfitting the tables at your reception with expensive linens, use your tabletops to illustrate memories with large photo prints, says Richard O'Malley, a New York-based wedding and event planner.
"You get to actually see the couple through their lives on each table where everyone is sitting. Instead of spending $100 or more a tablecloth, you can actually get a personal thing that if you wanted, you could take home and do something with at some point."
Engagement ring
Average cost in 2012: $5,431    Average cost in 2009: $5,847    Percentage change: -7.11%
O'Malley suggests that couples think through engagement rings rather than going the traditional route. This can help with the overall budget.
"We fit ourselves within a box instead of saying, 'If it wasn't the wedding ring or engagement ring, what kind of ring would she wear?'" he says. "To me, that's always where we get lost in the wedding process. We wind up not doing the stuff that we would normally do, that we love everyday, and will love forever and is part of our lives."
Reception band
Average cost in 2012: $3,084    Average cost in 2009: $3,288    Percentage change: -6.2%
Winikka advises couples to pick their priorities when planning their wedding.
"Maybe it is that you want to have impeccable food or a band that keeps everyone on the dance floor all night long. Well then, in that case, find it, book it, but then note that you need to sacrifice in some other places," she says. "And there are sneaky ways to save in every category."
Wedding photographer
Average cost in 2012: $2,379    Average cost in 2009: $2,444    Percentage change: -2.66%
For weekend weddings, O'Malley often re-dresses the bride and groom -- to take wedding photos at places that are meaningful to the couple -- the following Monday before they head off on their honeymoon.
"People say, 'Wow, that has to be expensive.' No, because what I do is make the deal going in with my hair and makeup people and my photographer," says O'Malley.
To get the most bang for your buck, shop for photography package deals. Or, instead of paying the regular rates for two days of photos, negotiate arrangements with your photographer to take bride-and-groom photos between the ceremony and reception, or at a later date.
Florist/decor
Average cost in 2012: $1,997    Average cost in 2009: $2,093    Percentage change: -4.59%
One way to save on decor and flowers is to choose your venue wisely.
"If you're looking to save on flowers, choose a space with built-in decor, so you don't have to add a ton of flowers to it," Winikka says. "Have flower arrangements made that can do double duty. Something that can be moved from the ceremony to the reception is going to take you a long way and obviously also save you money."
Wedding/event planner
Average cost in 2012: $1,847    Average cost in 2009: $1,728    Percentage change: +6.89%
"I think if couples have no idea how much a wedding would cost, it's usually best to actually hire a wedding planner and consult with them," says Wendy Lee, lead wedding designer and planner for Asian Fusion Weddings in Toronto. "Even if they don't think they can afford to hire a wedding planner for full planning, (couples can) hire them on specifically to help with defining a budget."
If a wedding planner is completely out of your budget, ask a close friend or trusted family member to help you plan your big day.
Ceremony site
Average cost in 2012: $1,711    Average cost in 2009: $1,437    Percentage change: +19.07%
Look for inexpensive -- but picturesque -- sites in your area, such as a state park with a lake or, for those near the coast, a beach.
"Bring your personalities to your wedding," O'Malley says, citing an example where he dressed bridesmaids in tuxedos. "There are tons of different ways you can do things that don't just have to be what's expected."
Videographer
Average cost in 2012: $1,619    Average cost in 2009: $1,481    Percentage change: +9.32%
"I have a couple right now that is going to be spending almost $16,000 for a cinematographer this year," Lee says.
But you don't have to go the expensive route. Have a younger cousin dying to show off his filming and editing skills? Assign him cameraman duties to cut costs.
Wedding dress
Average cost in 2012: $1,211    Average cost in 2009: $1,134    Percentage change: +6.79%
"I did a photo shoot about a year and a half ago, and what we wound up doing was, I had an artist create all of the dresses -- both the bride's dress and the bridesmaids' dresses -- out of balloons. There was no fabric whatsoever," O'Malley says, adding that the minimum price for a custom-made balloon dress is about $10,000.
For brides-to-be who are not looking for dresses in the thousand-dollar-and-up range, consider shopping for discounted wedding gowns or renting a dress.
Rehearsal dinner
Average cost in 2012: $1,135    Average cost in 2009: $1,163    Percentage change: -2.41%
Bring out the frugalista in you, and host your rehearsal dinner at home. For added fun, make it a potluck affair to shave your grocery bill.