TOMS Launches Web Marketplace to Highlight Do-Good Brands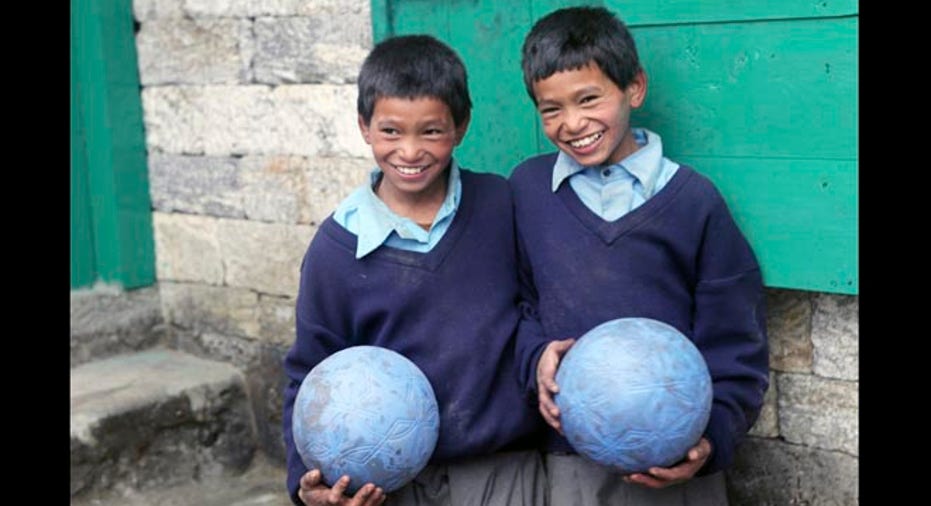 Socially-conscious shoe-and-eyewear company TOMS this week launched "The Marketplace," an online hub for consumers that spotlights other brands that also have giving at the core of their business models.
"The goal is to give these companies a bigger platform," Blake Mycoskie, TOMS' CEO and Chief Shoe Giver, tells FOXBusiness.com. "So many people helped us out in the early days and this is a way we can give back."
The Marketplace features some 200 products from 30 different emerging companies vetted by the TOMS giving department. The effort fits perfectly into TOMS' "One for One" business model: for every pair of shoes or sunglasses sold, TOMS donates shoes or provides eye care for to those in need. By placing these companies under one collective "roof" online, it introduces the TOMS community to other inspired companies and products, in turn raising awareness about potentially lesser-known causes.
"It just feels very right for TOMS and at the right moment in time," Mycoskie says. "Instead of releasing another One for One product, we can help these companies."
Mycoskie started TOMS in 2006 after a trip to a village in Argentina where he saw that many children didn't have even one pair of shoes. Hoping to help, he founded TOMS and the company has since provided more than 10 million shoes to kids in need. TOMS launched its eyewear offshoot five years later and has since given eye care to more than 175,000 people worldwide.
While writing his book, Start Something That Matters, Mycoskie says he met many like-minded social entrepreneurs who had been inspired by TOMS' work in the global community. That's when the idea for The Marketplace was born.
"It's unexpected, but doing something disruptive keeps brands exciting and keeps your community, your tribe engaged," the Texas-native says.
Mycoskie says when shoppers visit The Marketplace page, which is featured on the menu bar on the TOMS site, they can find something for everyone on their holiday shopping lists. The Marketplace has a variety of products from jewelry, accessories and apparel, to bags, home goods, tech gadgets and sports equipment. Products range from $5 to $500 and benefit one of the listed giving initiatives, which include (but are not limited to) children, education, health, nutrition, job creation and clean water.
The company also plans to add more brands to the lineup each season.
The Marketplace's tagline reads: "A different way to shop." And indeed, the platform provides consumers a unique way to discover new products, companies and causes.
Consumers have the option to shop by cause, region or brand. If you're really passionate about education or clean water, you can choose that filter. If you're interested in South America or Africa, you can shop that way. Shoppers can also watch videos and read stories about the company founders.
"We are really thinking about shopping here, so not just looking at the products, but the causes behind them," Mycoskie says. "And creating change with every purchase."
Here is a look at some of the featured brands:
Clean water
Founder Scott Harrison and the team at charity: water looks to bring clean water access to people in developing countries. It has teamed with Pure Fix Cycle and Votivo for The Marketplace offering a bicycle and candles. Sales proceeds will go to keeping the organization growing. "We've collaborated with TOMS before and it's always so fun," says Sarah Cohen, corporate foundations manager at charity: water. "And The Marketplace provides such a beautiful platform to share our stories."
Peace on Earth
In 2008, co-founders David Lewis and Sean Carasso created a campaign for peace in the Democratic Republic of the Congo that sells whistles, a symbol of protest and a way of asking bearers to be a whistleblower for peace, too. Incidentally, Fallilng Whistles was born of a trip Carasso was on with TOMS in Africa. Falling Whistles, which FOXBusiness.com recently spotlighted as an emerging business, created an exclusive brushed bronze whistle for the collaboration. "For Falling Whistles, it feels like it kind of came full circle, and that's a beautiful thing," says Joey Rubin, Marketing Director of Falling Whistles.
Doing well and good
The Honest Company, co-founded by actress Jessica Alba and Christopher Gavigan, believes in creating unquestionably safe, eco-friendly, effective, and affordable products for babies and homes. "We are excited to partner with TOMS as we'll be able to work alongside other like-minded brands that believe in doing good by doing well and doing well by doing good," Gavigan says.
Time for play
One World Futbol Project at its core is all about giving play to children. Husband and wife team Tim Jahnigen and Lisa Tarver founded the company in 2006 and to date have shipped nearly 600,000 of their nearly indestructible soccer balls to children all over the world. "Our giving teams have been coordinating around our giving initiatives for a while – they give shoes, we give soccer balls – and we're thrilled to be a part of it," Tarver says.
Beauty in the details
Courtney Rose Poole's company Rose + Fitzgerald is a design and craft studio based in Kampala, Uganda. The studio works with artisans directly to create a line of high-quality, hand-made accessories. "We strive to enable our artisans and small business partners to become profitable while also having a positive social impact," Poole says. "This is something that TOMS noticed and believed in -- and we're so glad they did!"