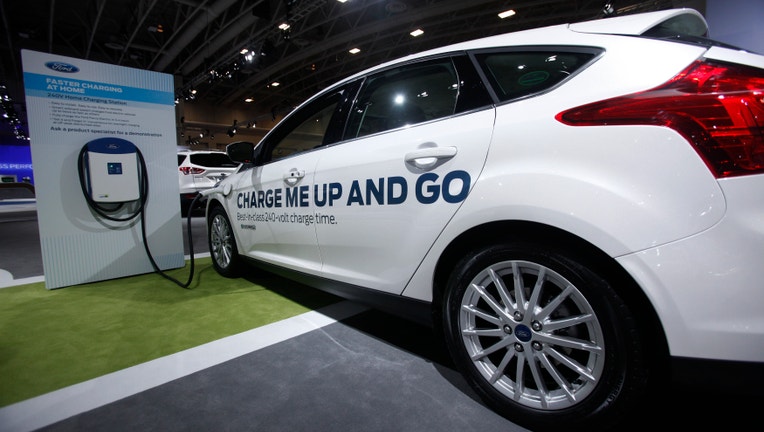 In an attempt to feed growing demand for electric vehicles, Ford (NYSE:F) announced Monday plans to build charging stations at virtually every one of its facilities in the U.S. and Canada.
The Detroit automaker said the move is an effort to help spur greater adoption of electric vehicles by prompting necessary infrastructure changes that would put a higher number of charging stations on the ground.
Ford has recorded rapid growth among early EV adopters, though it recognizes the need for additional installations. The goal is to have them eventually become as ubiquitous as gas stations, incentivizing drivers and ultimately bringing the price down for EV cars.
"We know that a growing electrified vehicle infrastructure is key to making plug-in vehicles a viable option for more consumers," said Mike Tinskey, Ford global director of Vehicle Electrification and Infrastructure. "Ford is committed to doing our part to help grow that infrastructure."
Ford says it will install stations at more than 50 of its company offices, product development campuses and manufacturing facilities, adding roughly 200 charge stations to the more than 1,700 it currently has at dealerships and company facilities in North America.
Overall, there are an estimated 20,000 public and residential charging stations across the country, up from just 3,000 in 2009, as demand for EVs ramps up and manufacturers look to foster their adoption.
As the convenience improves, Ford has reached record EV growth in each of the last 11 straight quarters. Demand for the all-electric Focus Electric and Ford's two plug-in hybrids -- the Fusion Energi and C-MAX Energi -- reached a high in August, with Ford selling 8,292 units in the U.S., up 288% from a year ago.
Installation at the Ford facilities will begin later this year, with the automaker predicting a cost of 50 cents a vehicle for a full charge. The company says the machines will all be connected so that it can conduct research on usage.