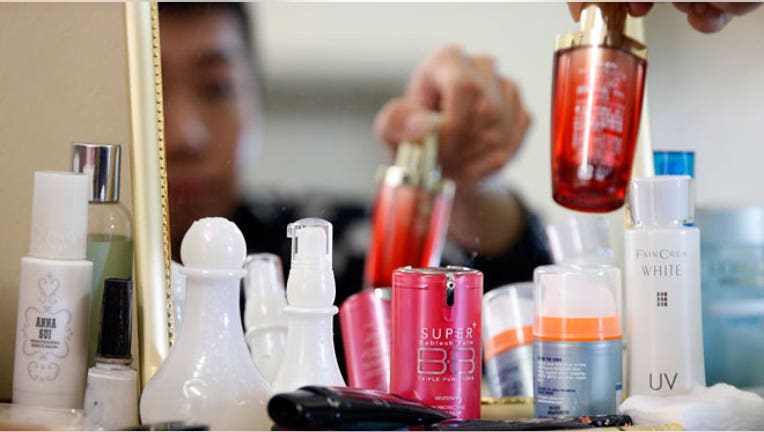 All it takes is a quick glance through a magazine or a flip through TV ads to realize our culture's enormous pressure on appearance. Everyone should want to look younger, brighter and more energized.
This trend has spilled into the older workforce as graying employees strive to remain fresh in the eyes of their employers to maintain job security.
While there may be no real fountain of youth, consumers sure are trying to cobble together a magic recipe.  We spend more than $36 billion in the U.S. on cosmetic products to find the cream or serum that will best reduce wrinkles, whiten teeth and smooth skin, and the market is expected to reach about $42 billion by the end of 2015, according to a RNCOS industry research report.
Despite the sluggish economy and low consumer spending, experts say the cosmetic industry has done quite well. But that doesn't help cash-strapped consumers trying to put their best (and younger-looking) foot forward.
Snazzy packaging draws our attention and ads promising smoothing, plumping and radiance has us opening up our wallets. But it's important we learn how to diffuse the rhetoric and become an educated shopper to avoid throwing money down the drain.
When it comes to maintaining a youthful look, experts agree skin should get top priority and the No.1 to do this doesn't come with a hefty price tag: sunscreen.
Beyond that, lifestyle and beauty expert Indie Lee says everyone's skin is different and needs specific care.
Skin types and specific issues require different ingredients, different strengths and different approaches, says Dr. George Calvert chief supply chain and R&D officer at Amway Corporation.
"Good scientific rigor is the strength of a brand," Calvert says. Technology is important to develop products that produce a long-term effect. Good skincare requires a product to work all day and all night.
Dr. Doris Day , a New York City dermatologist and author of Forget the Facelift agrees. Formulation is tricky, and she suggests looking for reputable brands that are supported by advanced research and development formulae. Finding these qualities doesn't require a trip to a high-end makeup counter. Products can be found in drugstores, she says.
Calvert recommends talking to knowledgeable, trustworthy brand representatives who can discuss how a product works. Reading package labels to identify product ingredients is also important, says Lee.
Today, most brands advertise that their products have no parabens or phthalates, but sometimes lead is still a component. In other instances, companies will cover up bad odors in fragrances or essential oils, for example, by including ingredients that could be hormone disrupters, according to Lee.
"Turn the package over, read labels and make choices," she says.
While looking for a specific ingredient, it's also a good idea to track the length of the list: the more ingredients the less the amount and impact of any individual component.
Another word of caution: Be wary of packaging. Packages sell, and have a huge psychological impact.  "In many cases packaging costs more than the material inside the box," claims Calvert. If you buy packaging without science, you are most likely not getting what you are paying for.
What's more, contrary to what some cosmeticians may tell you, each product  in a brand's line stands on its own, says Lee "One does not unlock the secret to another. If you buy all the skincare in a line, you've bought into the gimmick."
While a big price tag doesn't always mean results, experts advice investing in areas and products that make a difference.
For example, quality makeup brushes are important, says Chad Hayduk, cofounder of Three Custom Color Specialists.
Still, it's fun to be dining out a pull out a beautiful prestige lipstick rather than a bargain bin drugstore brand. Sometimes it's okay to splurge, Hayduk says.
Application is also key to saving money. For example, concentrated products are richer and thicker, according to Hayduk. Applying concealer or foundation on a damp or dry sponge gives good coverage without using a lot of product. "When you apply them, you can sheer them out and prolong their longevity."
Taking good care of products gives them longer life: Don't leave containers opened or without caps or let them bake in the car in the summer heat.
"Killing two birds with one stone also saves money," recommends Hayduk. Buying multifunctional products can put less strain on a wallet.
Tips from the Experts
Use sunscreen. Apply it liberally every day—even on cloudy days. It's the most important step to combat aging and protect your skin against skin cancer.
Stick to tried-and-true ingredients. Alpha hydroxyl, beta hydroxyl acids and glycolic acid, vitamin C, retinols and the vitamin A family are good choices, according to Day.
Lee likes products that contain squaline or strawberry oil or a "food store" product like coconut oil to moisturize skin.
Turn to the experts.  Hayduk recommends reading a product's review on Consumer Reports. The reviews have helped break down the wall between a drugstore skincare cream very much worthy of a $29 price point versus the $350 prestige brand.  Lee recommends beautylish.com and dermstore.com.
Ask for samples. See what works—and what doesn't—before you buy.
Speak out. "Remember it's your money when you go to the make-up counter," says Lee. "It's okay to say 'no.'"