Time to Buy an Apple Watch?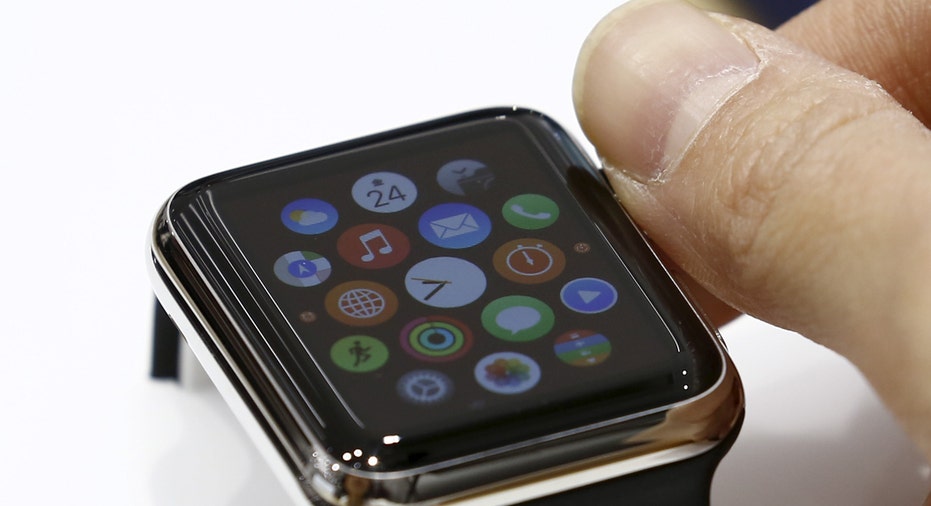 If you're thinking about buying someone an Apple Watch, you're not alone. It's one of the hottest gifts this holiday season, according to the IBM Watson Trend App, which analyzes a host of public online sources like social networks, blogs, comments, ratings and reviews.
I'm sort of surprised we need a multimillion-dollar supercomputer to tell us that, but that's just me.
And while Apple's (NASDAQ:AAPL) mum on sales of its first new major product category since Tim Cook took over as CEO, Black Friday-Cyber Monday discounts have some analysts' 2015 forecasts at a respectable 12 million units, handily dominating the smartwatch category.
Early reviews dinged the wearable's steep learning curve, but many praised it as "the best experience of any smartwatch tested," "the world's best smartwatch" and "light-years better than any of the feeble, clunky efforts that have come before it." And Recode's venerable Walt Mossberg gave it a "thumbs up," calling it "a very good product – with a chance to be great."
And in September, watchOS 2 added considerable native app support, third-party app access to more hardware functions like the Taptic engine and Digital Crown, faster iPhone connectivity and Tetherless Wi-Fi that enables limited autonomous communication functions.
But that begs the question, is Apple's eponymous Watch a smart purchase? I think it will be someday, but not yet. Here's why:
Apple Watch 2 cometh. Like most people, I'm not an early adopter of tech gadgets, opting to wait for the inevitable second and third generation improvements. Rumor has it that Apple Watch 2 is coming in 2016, so having waited an entire lifetime for a smartwatch, a few more months to see what's next isn't going to kill me … or you.
Where's the Dick Tracy video phone stuff? Rumors that the next version will have a camera and video FaceTime capability are probably exaggerated, since that's a lot harder than you'd think and costly in terms of the camera, processing power, memory, and the impact of all that on battery life and weight. But someday …
I don't have time for it. Unlike Apple's other devices, all the reviewers agreed that the Watch is not as intuitive and takes quite a bit of time to get used to, time I'm not willing to sacrifice at this point. When will I be? Probably when an app emerges that I must have on my wrist, and that hasn't happened yet.
It doesn't free you from your iPhone. If one of the goals of a smartwatch is to free you from your phone, Apple Watch isn't there yet. I mean, what's the point of a wearable if you've got to have your phone around and are constantly pulling it out for more robust functionality? GPS and more autonomous communication hardware would be huge.
It's pricy. At $199 a pop, it's not that painful to upgrade your iPhone every couple of years. But the Watch starts at $349 and goes up pretty steeply from there, so it's a reasonably big investment and you don't want to have buyer's remorse when next generation hardware makes this one obsolete.
It doesn't come in round. While it's certainly practical for the face to be rectangular, I'm not a rectangular watch kind of guy. I'm just not. I'm not saying they should make a round version, just that it's going to take some pretty killer functionality for me to get over its clunky shape. Sort of a minor barrier, but they do add up.
There's lots of room for improved performance – battery life – weight – size. Software upgrades will continue to bring improvements, but the one thing that only hardware technology can bring is better performance – battery life – weight – size. In other words, thinner, lighter, higher resolution display, and longer battery life would all be nice.
I already have a beautiful, expensive, dumb watch. Long ago, my wife bought me a Patek Philippe as a gift. It's classy and I wear it a lot. Since the whole point of a smartwatch is that it becomes part of your life and you never take it off, except to charge it at night, what happens to the luxury watch, hmm? Any ideas?
I'm going Apple TV next. I've actually been holding out for an iOS-based version of Apple TV to enable a more integrated and intuitive Apple-like TV experience and attract app developers to the big screen, and it's finally here. That's something I think the Tobak's can enjoy right out of the box around Christmas. And starting at $149, it's a lot cheaper than the Watch. But don't tell my wife … it's a surprise.  
That's my take. Since you clicked, you must be considering an Apple Watch. So what do you think? Gonna buy one?