Tide Rides in NASCAR Again: Teams with Joe Gibbs Racing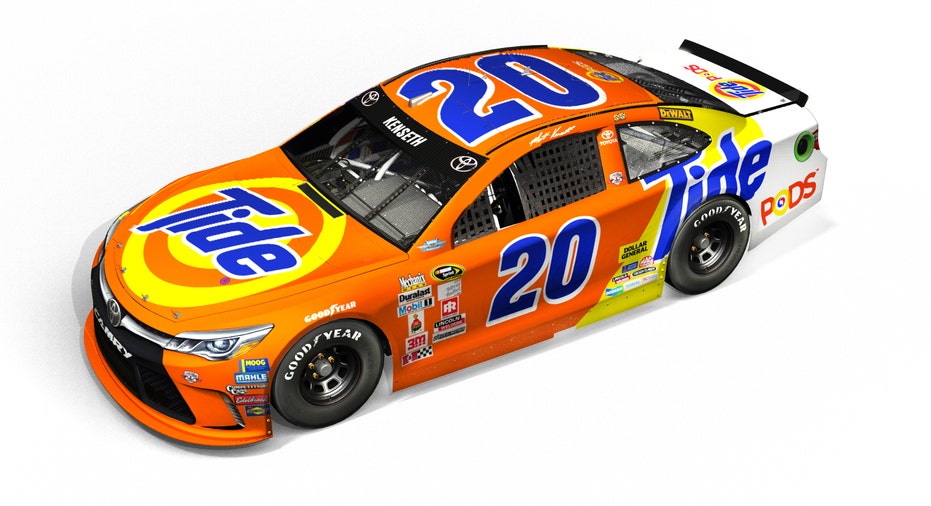 The Tide Ride, which has a storied 20-year history in NASCAR, is back on the track for the first time since 2006 as a primary race car sponsor. Procter & Gamble (NYSE:PG) is teaming up with Joe Gibbs Racing (JGR) as it marks 70 years of cleaning clothes. Gibbs, former Washington Redskins coach, also has his own legion of fans.
"The Tide car is an iconic brand in this sport," said team owner Joe Gibbs during an interview with FOXBusiness.com. "The Darlington race and throwback (format) has caught on with our sport and fans. This car will be the one that gets the most attention."
The unmistakable logo - bright orange and yellow with the Tide bull's eye target – is on the hood and will adorn Matt Kenseth's #20 car in Darlington, South Carolina for the racing circuit's Labor Day Weekend Throwback race.
It will bring back memories for fans as well as FOX Sports NASCAR announcer Darrell Waltrip, who won the 1989 Daytona 500 in the Tide Ride. Ricky Rudd and Ricky Craven also took some memorable checkered flags in the colorful car.
As for Tide, the brand is not only looking back over seven decades, but it's banking on the car literally turning heads and focusing fans' attention on the newest detergent form factor—Tide PODS.
That's the push of the 70th Anniversary marketing campaign for Tide, which company executives say is a good fit with NASCAR enthusiasts.
"There are a lot of synergies between NASCAR and Tide when it comes to loyal fandom and unwavering support of families and a strong connection to American culture," says Amy Krehbiel, brand manager for Tide.
Tide, which is among P&G's top brands, generates over $4 billion in sales.  Although Krehbiel would not put a dollar amount on the sponsorship she did say that not only is the NASCAR fan in its target demo, but the Tide brand executives felt JGR fit the bill.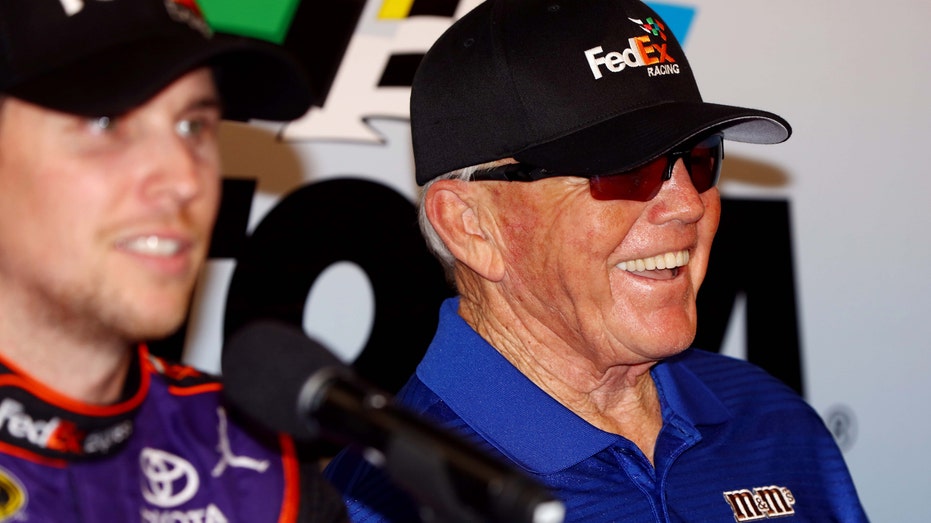 Gibbs has fostered a family atmosphere (and a winning one) at the highest levels in two different sports in his career. He was a Hall of Fame NFL head coach, winning three Super Bowl titles with the Washington Redskins before retiring and focusing on family and racing. JGR is celebrating its silver anniversary this year and has posted 200 NASCAR wins and four Cup Series championships.
The former coach and racing team owner is proud that many of their household name sponsors have been along for the ride since the early days. The NASCAR team's cars sport brands including FedEx (NYSE:FDX), Interstate Batteries, and Mars.
Ticker
Security
Last
Change
Change %
PG
PROCTER & GAMBLE CO.
142.61
+0.44
+0.31%
FDX
FEDEX CORP.
214.67
+0.16
+0.07%
"These companies we deal with are some of the biggest and best in the world and it comes down to relationships," says Gibbs. "We love the fact that we get into a relationship and have long-term partners."
Krehbiel, the Tide brand manager, says the detergent-maker is "absolutely open" to expanding the relationship but adds, "for now we are focused on the Darlington weekend."
While Tide looks to cleanup at Darlington with race fans in the stands the real win will come is sports fans take to Tide's PODS.
The brand has hitched itself to the National Football League and also multiple Olympic Gold Medal winning gymnast Simone Biles as part of its "small but powerful" campaign. Krehbiel says the diminutive, but dynamite 4'8" Biles embodies the Tide PODS message: "These packs are super concentrated, twice as compact as liquid detergent, so small but powerful is a good analogy."
But with the Olympics winding down and the NFL season not kicking off until after Labor Day, Tide is concentrating on the track.
Gibbs, never at a loss for confidence, or a sports analogy, is confident his team can produce a "home run" at Darlington and perhaps draft an extension with the brand.
"We're going to have a big hit, I think we've got the edge (for Darlington)," he predicts, adding, "It's exciting to have a one-race deal to prove ourselves. If we do, the Tide people are sharp and they'll come back to us and we'll have a chance to do something into the future."