Tide Pod Challenge: Is P&G's iconic brand in danger?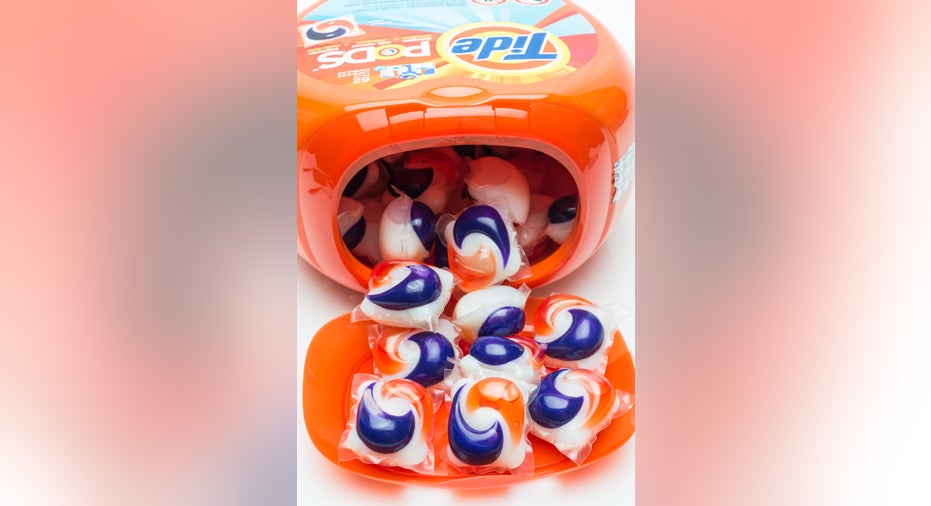 P&G's (NYSE:PG) product nightmare is back in the news as fresh new social media memes and videos of teens eating colorful Tide detergent pods because they resemble candy have re-emerged, creating nearly six years of turmoil for the company since the product launched in 2012.
"To address the deep concerns, we have taken a number of actions," a P&G spokesperson told FOX Business.
Last week, the company collaborated with Tide spokesperson and Patriots' tight end, Rob Gronkowski, to create a digital safety PSA that appeals to a younger audience urging them to not eat the pods. P&G also said it has been working with leading social media networks to remove harmful content from the web. Both YouTube and Facebook released statements this week vowing to remove the content.
Still, many experts say that since the "Tide Pod Challenge" has emerged in 2012, P&G hasn't done enough, and that it may be time for the company to change the look of its candy-like detergent pods.
"Tide should reformulate its tide pods, if only for the reason that they've created a potentially lethal product that looks like candy to young children. Consumers are demanding safer, greener items for their households, and this is an opportune time for Tide to follow suit," Titania Jordan, chief parenting officer of Bark.us, an app that monitors safety concerns for parents, told FOX Business.
But, Jordan added that for children who are old enough to know better -- like the majority of the teens participating in the "Tide Pod Challenge" -- this backlash "should not be the fault of the manufacturer."
Deb Gabor, CEO of Sol Marketing, a brand strategy consultancy, agrees, saying that concerns about people eating Tide Pods is nothing new, and P&G's packaging is similar to many other detergent products on the market today.
"Take a look under any average American kitchen or bathroom sink today, and you'll see colorful packaging, engaging marketing slogans, cartoon characters (think Mr. Clean and Scrubbing Bubbles) that could be attractive to children," Gabor told FOX Business.
Gabor adds that Tide has a strong brand legacy among American consumers and this current crisis only makes the company look stronger, especially with all the proactive measures it's taking to stop the trend.
"That's why I don't think the brand is in danger, as long as it continues to face this challenge head-on. From what I can see, the spokespeople at P&G have been managing their own communication around this brand crisis in an effective way. They are being truthful, thoughtful, and consistent," she said, adding that as long as the brand continues to do that it will emerge "unscathed."
A spokesperson for P&G did immediately respond to FOX Business' requests for comments regarding the "Tide Pod Challenge" with details of its actions since it first debuted in 2012.
"Each year laundry pacs have been on the market, we've taken meaningful steps to reduce accidental exposure. We have co-led the development of industry standard since its initiation and taken actions including adding child resistant closures to the bags and tubs and adding bittering substances to the packets to deter accidental ingestion. We've also worked with organizations like Safe Kids Worldwide to educate parents and caregivers on safe use and storage," a P&G spokesperson said.
In fact, data from the American Association of Poison Control Centers (AAPCC), which compiles numbers on poison control calls, said the amount of detergent pod poisoning have decreased since 2015. In 2017, there were an estimated 12,299 calls to U.S. poison control centers due to laundry pods, which is down 14% since 2015, when there were over 14,000 calls.