This Contract Detail Explains Colin Kaepernick's Return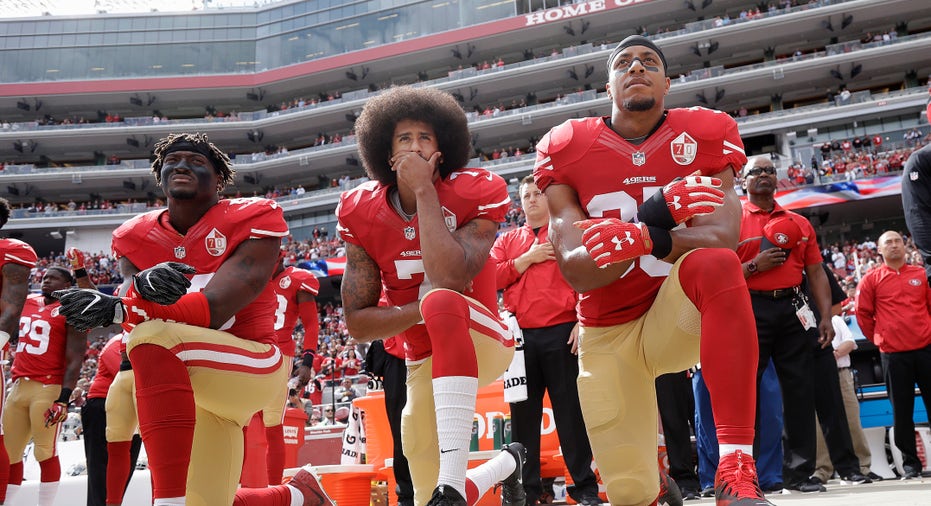 Football pundits have cited everything from Colin Kaepernick's ongoing National Anthem protest to his declining production as reasons why he's remained on the bench despite the San Francisco 49ers' disappointing 1-4 start to the season. But Kaepernick's old contract was likely the real reason for his prolonged absence from the starting lineup.
Kaepernick agreed Thursday to restructure his contract to remove a clause which would have guaranteed his full base salary next season if he suffers a serious injury this season, the NFL Network reported. The deal was finalized just hours before Kaepernick is slated to start at quarterback when the 49ers face the Buffalo Bills in Week 6.
Under his old contract, Kaepernick's hefty $14.5 million salary in 2017 would have become fully guaranteed if he was unable to pass a physical before April 1. The restructured deal alleviates the 49ers' financial liability and gives Kaepernick the chance to play his way to a new deal. It's also a gamble for Kaepernick, as poor play or a serious injury could impact his long-term earning potential.
"This means were Kaepernick to be injured while playing, [the 49ers] wouldn't be on the hook for future base salaries [$14.5 milliion in 2017 and $5.2 million in 2018]," Michael Ginnitti, editor of sports contract-tracking site Spotrac, told FOXBusiness.com.
The new deal converts Kaepernick's per-game roster bonuses, worth $125,000 per contest, into guaranteed salary. Kaepernick also gains incentives based on playing time, as well as the ability to void his contract and seek a new team after this season.
If the deal is voided, San Francisco will save more than $14 million toward their salary cap next season, according to Spotrac. Head coach Chip Kelly has categorically denied suggestions that the team kept Kaepernick out of the starting lineup because of the injury risk.
"I don't get that part of it, because he played in our first game," Kelly said this week during an appearance on KNBR in San Francisco. "I've never been told not to play him or he shouldn't play. If I was told not to play him, then why did he play in the first game against the Rams – if I was concerned about his contract or him getting hurt?"
Kaepernick has refused to stand for the playing of the National Anthem since August in protest of the country's handling of police brutality cases and other civil rights issues.