This Club's Tech Tricks Include an Energy-Generating Dance Floor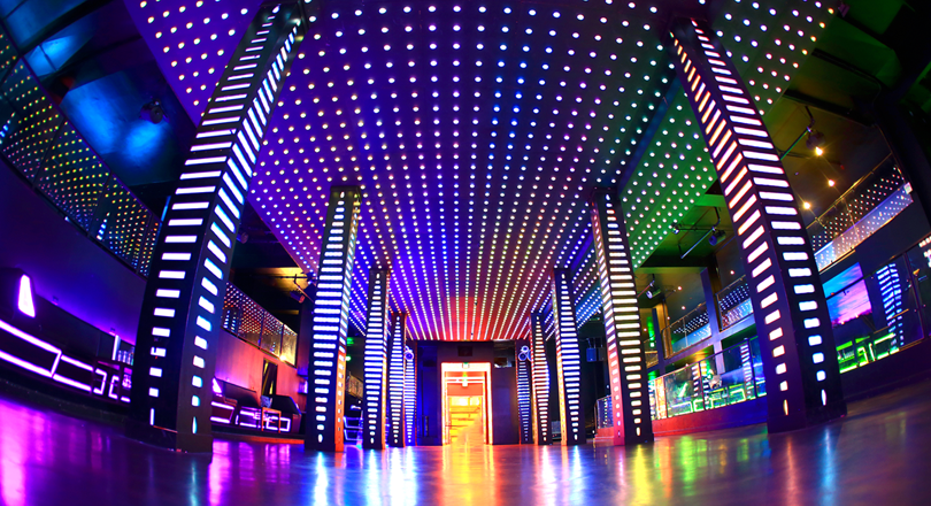 From the outside, San Francisco's Temple looks like a regular nightclub, complete with serious bouncers at the door. Located south of Mission in the East Cut district, Temple feels a world away from the city's tech startups. But Paul Hemmings—founder, owner, and DJ—is a geek at heart.
Hemmings drew on Blade Runner and Burning Man for inspiration; once inside, you feel as if you've stumbled into the neon night of Tron. The 20,000-square-foot club accommodates 1,100 guests, who dance amidst walls and columns dotted with 50,000 programmable intelligent LED lights.
During a recent trip to the Bay Area, PCMag met up with Hemmings for a tour and a discussion about the tech already in place and what's next in terms of implementing a fully sentient environment. Welcome to the after hours party version of the Internet of Things.
Paul, you're a big fan of Burning Man, right?I love it there. It's like getting in a spaceship and traveling to a new world where none of the rules on Earth apply. Post apocalyptic co-created magical fantasy land. I'm so inspired by it, in the way it blends art, technology, and music. Some of the most brilliant human beings, the mad men, who integrate glowing, interactive, participatory fantasies are there.
Temple looks like something not just from Burning Man, but futuristic sci-fi films. (Laughs) Yeah, well I went to film school, originally, because I wanted to make movies like Ridley Scott. In fact I wrote an academic paper on Alien. I'm drawn to futuristic design, devoured a lot of Philip K. Dick when I was young, and, when raves started, music became a powerful, potent, almost spiritual, experience for me.
Hence the name Temple and the overarching company concept "Zen Compound"?Absolutely. Temple is part of my Zen Compound, which is located inside this four-story building, with a co-working space upstairs, called Eco-System for creative types, [and] an art gallery. I had a record label for a while, then also incubated tech companies, some of which I take an equity position in.
Care to mention any?I meet so many people who are doing cool stuff in technology. So many great entrepreneurs come through these doors. One is SubPac, the vibrating body-form wearable.
Ah, yes, I tried those out in Los Angeles. I traded them an office for a year, in return for an investment, and now they're part of Andy Rubin's incubator Playground. They're really cool.
You've built a true 24/7 business here. Yes. But it's not just a round-the-clock space. I believe building environments and creating communities. I love the duality of Yin/Yang. Night/Day. Work/Play. I am a fusion myself, forged from two cultures: East/West. I was born in Taiwan to a Chinese entrepreneur mother and an American linguist father, who bought a one-way ticket from a tiny town of 2,000 people in Idaho to Taiwan to learn Chinese. Zen Compound binds together all these elements of who I am, and what I believe.
As we walked around, I noticed there's a ton of technology. Can you namecheck some of the installed pieces? I had this vision years ago of harnessing the energy from people dancing. Then I started looking into it and located a company in Rotterdam called Sustainable Dance Club that developed these modules that convert kinetic energy into electricity. It also has an infinity mirror effect, and measures how much energy is created. We installed it here, in San Francisco.
Essentially, Temple has the first energy-generating dance floor in North America, and we're looking at integrating it into the new Denver club too; then, after that, establishing a club in Seattle. Eventually I want to integrate the dance floor with some solar panels, maybe wind turbines too and see if we can become self sustaining with our own power grid.
Great sound system, too. As one might expect as you're also a professional DJ.If you want the tech spec on that: we have a Void Full 4 Corner Air Motion V2 system – 4 Airmotion v2 (3 way high output), 5 Void Stasys double 18" touring bass cabinets and the booth includes 2 Void Stasys biamped monitors. All Void speakers are powered by Powersoft K10 amplifiers and Tactical TA1950/1100 amps controlled by an UNO U0816 speaker processor, professionally installed by AIS Chicago.
I enjoyed the LED light strips on the bar, which changed color when you touched them.MadrixPRO did our custom RGB LED pixel tape installation. I go to all the tech conventions and just see a bunch of cool stuff and say: "I want that for the club" and get it. LED lights have got better, cheaper, and faster. Light is very healing. I feel like I'm building these light and sound morphing healing chambers.
Is Temple "sentient"? I've seen some really interesting responsive environment technology at University of California, Los Angeles. But that's in the lab. Yours would be (in the) wild. That's next. We tested out an app which corresponds to RFID wearables for New Year's Eve. As people walk around, the bracelets light up so they're part of the environment, and can be tracked from room to room, utilizing cashless payment systems, but also giving us cool data on where they're going, how they're spending their time, which bars they stayed longest at, what they danced to, and when, for how long. We're evolving the building so it becomes aware of you.
Sounds as if you're bringing an advanced machine learning layer to Temple next. We'll be taking a good look at what data we track, and how we use it, maybe bringing in a gamification layer to the club. I've also got some friends who are doing some cool A.I. type stuff, bringing in facial recognition—kinda like Minority Report, so, when you walk past our video wall screens, you'll be recognized and Temple will understand your desires and deliver them to you. It'll be the ultimate transporting experience.
We'll come back to test your next layer of future tech when it's ready then. See you on the dance floor.
This article originally appeared on PCMag.com.