Think Twice About Daily Deals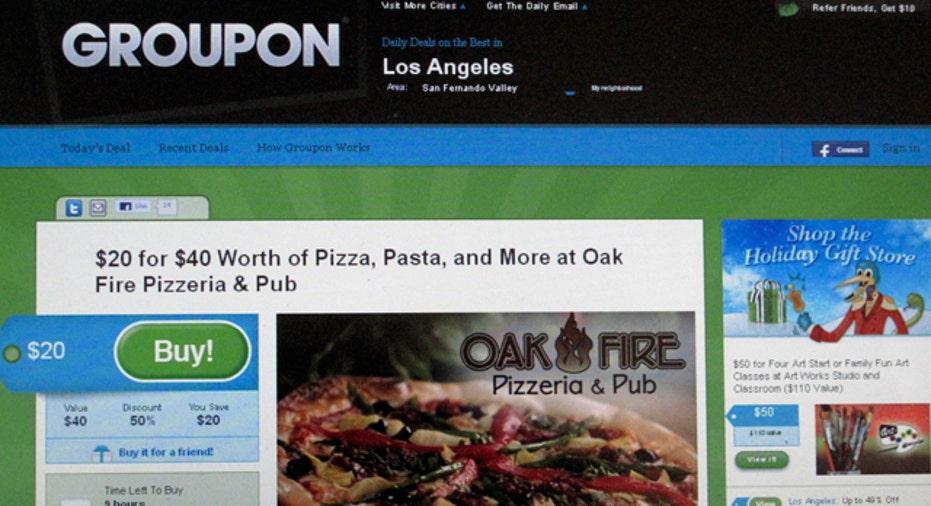 Apparently, nearly one out of every two of us is hooked on daily deals like Groupon. Some 47% of consumers subscribe to at least one daily deal website, according to Local Offer Network's recent study, "The Daily Deal Phenomenon: A Year in Review."
Revenue growth for such sites as Groupon and LivingSocial shot up north of 40% between 2010 and 2011, according to a new report from BIA/Kelsey, a media research and consulting firm. While new daily deal sites are springing up seemingly every day, problems arise on the consumer's end of the deal when needless overspending is masked as saving money.
"There is an emerging group of shoppers who are addicted to buying because of the promise of a good deal, whether they can afford it or not. But it's not worth it to go broke saving money," says family finance expert Ellie Kay.
It sounds like a win-win situation when you see the deal, but you can go wrong spending on daily deals to save.
The Deal is Too Good To be True
Some deals defy logic.
"Sometimes the urgency of the deal or the discount of the deal affects our mental accounting," says Gary Belsky, co-author of "Why Smart People Make Big Money Mistakes & And How to Correct Them." But if you think about it, how can a hair salon organize all the employees involved to provide a one-color process, a haircut, a manicure and pedicure, and a brow wax for just $50 -- and do a great job? How can a handyman service really come out to your house and fix "anything" for just $50? This is how a great-seeming deal can turn out to be money wasted.
So think it through thoroughly and wait until you approach the end of the deal deadline before clicking that "buy" button, says Belsky.
You May Blow Off the Deal
Approximately 15% of all daily deal site coupons go unused, according to a recent study by Yipit, a site that aggregates deals from daily deal sites.
"That is money you are literally throwing away," says Kay. "It may be a great price, but if it's not convenient in locale, a store you frequent or want to try or the timing is bad, the value-proposition has gone out the door and you've wasted your money."
Consider one Yelp reviewer's comment on buying a Groupon for a local shoe store: "The fact that I bought a Groupon knowing that (this place is) not my favorite shoe store speaks to my Groupon addiction."
If you get caught letting a deal expire, you can still use the coupon for the amount you paid. And if you really don't want the coupon at all, you can try to resell it on such sites as DealsGoRound and Lifesta -- which both charge a commission fee -- or CoupRecoup, which is currently free.
Buy the Deal on Your Time
"The problem with daily deals is the same as the one you encounter at the grocery checkout: impulse buys," says CPA Stacy Johnson, founder of MoneyTalksNews.com and author of "Life or Debt 2010: A New Path to Financial Freedom."
"Daily deal sites work on the human nature of loss-aversion," says Belsky. "They make you think you are missing out if you don't click the 'buy' button. And when you are rushing or high on the deal, you don't think straight about whether you really want the deal or can use the deal. Be especially careful when using these sites as an app on your mobile phone where clicking 'buy' is too easy, and re-evaluate purchasing the deal closer to the purchase time limit. You may find that you have forgotten all about it by then," says Belsky.
The Deal Can Break Your Budget
If it's not in your entertainment, shopping or personal care budget to spend any more money in that category at any given time, then the rule applies to daily deals, too, says Kay.
"If it's within your budget, then it's a good deal. But if purchasing a daily deal coupon makes you go over budget or use your credit card because you are out of cash, then it's not a good deal no matter what," she says. Kay also advises setting an additional daily deals budget for yourself to track how much you are really spending on daily deals.
Redeeming the Deal Can Be a Disaster
Try to wait a few weeks before redeeming your deal. If the deal website sold thousands of deals at a local eatery, do you really want to be part of that chaos in the first week?
"You'll be wasting your money because you'll likely have a bad experience," says Vincent Schiavone whose company, ListenLogic, advises large companies on social marketing. "Also, you may not realize that the establishment makes little to no money on your visit, based on how these deals are set up by Groupon and LivingSocial. And so they are often underemployed and unable to handle the slam."
Merchants typically get 25% of the value of the coupon, according to The Wall Street Journal. For example, if Groupon is offering $50 worth of food at a local eatery for $25, the restaurant gets only $12.50 and Groupon takes the rest.
Schiavone advises you check Yelp.com for reviews to make sure there are no problems with your deal at that establishment.
Don't Put up With Bad Service
Rather than accept lousy service, get a refund if you can. Currently, only Groupon guarantees that you can get a refund for a bad experience or any other reason, but you should report any bad service with a deal to the deal site and ask for a refund so you're not wasting money.
"Use daily deals wisely. Buying things on sale is smart if you were going to buy them anyway. If not, they're costing you money, not saving you money," says Johnson.