They May Look Mean, But MMA Fighters Aren't Bullies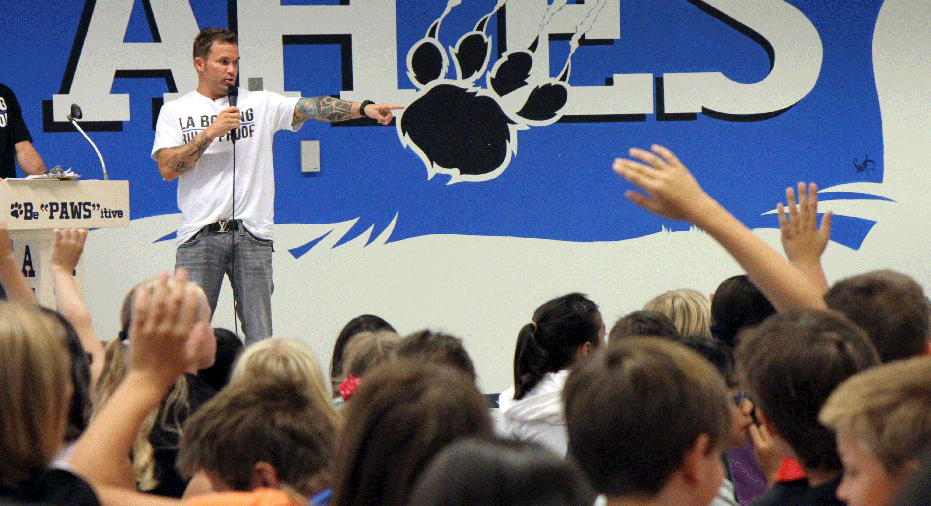 Mixed martial arts former champion Rob "Razor" McCullough is probably the last person you'd picture up on a stage in a middle school talking about… feelings. However, the former world champion is letting it be known, that despite his tough demeanor, bullying and aggression are serious issues, and that being a bully is never cool.
MMA fighters are some of the toughest around, known for their limited body fat and swift skills in the ring. However, in partnership with franchise LA Boxing, fighters across California are reaching out to students from kindergarten to high-school in the business' anti-bullying campaign, launched this fall.
Keith Williams, director of marketing for the LA Boxing franchise company, said the idea for the campaign actually came from MMA fighter Dana White, who mentioned his children were being bullied because of his fighter status. Williams said the fighters may look mean, but after knowing many of them for years, MMA fighters are really gentle giants.
"The concept of 'I fight for many reasons, but never to be a bully,' came together," Williams said. "We decided to turn the tables on this bullying situation."
Bullying is a common thread in the MMA fighter community, he said, and many either experienced bullying or came to the gym in their youth to toughen up or get out aggression. Through the campaign, Williams said students are learning about healthy ways to act on emotions and frustrations.
Aside from going into schools across the state, MMA fighters including Tito Ortiz and Dana White have also participated in an informational video shown at the assembly, which is free for schools to host. The franchise is now partnering up with districts to offer shadow boxing as an after-school activity. Kids are also invited to take a free class or talk to one of the fighters or trainers about bullying experiences.
McCullough said he was picked on as a kid, and traveled around a lot changing schools in his youth.
"I was always the new guy at school, and when I moved to Anaheim [California] it was a bit ghetto with a lot of gangs and stuff," he said. "At 14, I decided to learn to fight for myself."
He went to an LA Boxing outlet, where he began training and setting small goals for himself each session. LA Boxing's founder then took McCullough under his wing.
"Fighting really focused my life when it could have went in any different direction, and I could have been a bit of a fool," he said. "It changed my life."
Since the LA Boxing campaign began, he has spoken before thousands of kids, and 'planting the seed' from a young age of what bullying is and why it can't be tolerated.
"Sometimes elementary school kids don't' think that excluding someone, for example, is bullying," he said. "Or the little kids don't get it, but at the end [of the day], I see the looks on their faces and they understand."
And his size and stature don't hurt either, McCullough said.
"This flips the script for them," he said. "I fight because it's my job, but I am never a bully."