These states lost the most jobs in 2017
While the unemployment rate continues to decline under President Donald Trump, hitting 4.1%, the lowest since 2000, there are certain industries—and states—that continue to experience job losses.
GoBankingRates analyzed data from the Bureau of Labor Statistics to track the number of employees in non-farm industries in each state from August 2016 to August 2017, to find out what states are experiencing the biggest employment drops.
Here's a look at what industries and states have been affected the most.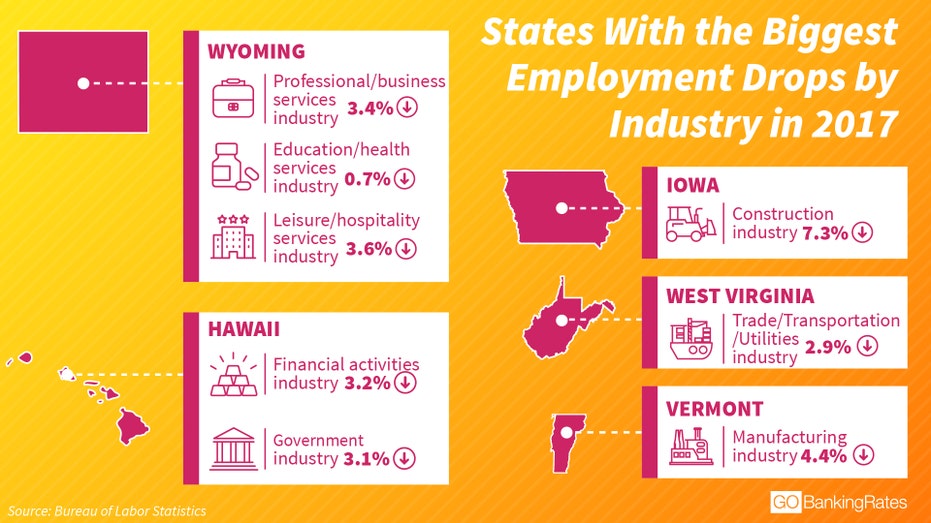 Construction Industry Iowa: 7.3% drop Nebraska: 2.9% drop South Dakota: 2.9% drop
Manufacturing Industry Vermont: 4.4% drop New York: 4.3% drop West Virginia: 3.2% drop
Trade, Transportation, and Utilities Industry West Virginia: 2.9% drop Delaware: 2.9% drop Oklahoma: 2% drop
Financial Activities Industry Hawaii: 3.2% drop Maine: 2.6% drop Alaska: 2.5% drop
Professional and Business Services Industry Wyoming: 3.4% drop Mississippi: 2.2% drop Maine: 1.7% drop
Education and Health Services Industry Wyoming: 0.7% drop
Leisure and Hospitality Industry Wyoming 3.6% drop Kansas 2.4% drop Kentucky 0.9% drop
Government Hawaii: 3.1% drop Wyoming: 2.4% drop New Mexico: 1.8% drop