These Luxury Car Brands Are Making Headway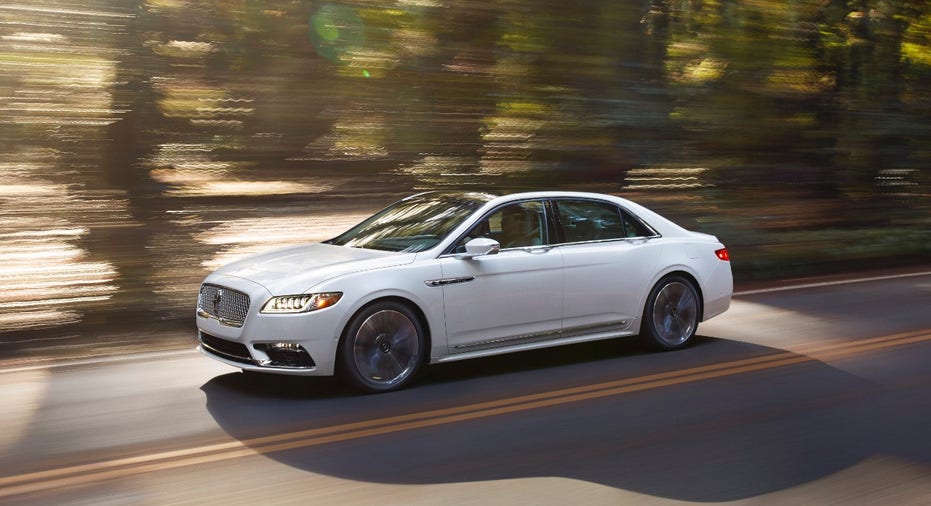 Auto sales, running at a pace only slightly faster than a year ago, capped the summer months with a rough August. But luxury brands on the lower rungs of the ladder kept on climbing, thanks to America's appetite for high-end SUVs.
While the likes of BMW and Lexus reported weaker U.S. sales last month, two American luxury brands, Cadillac and Lincoln, fared better. Jaguar, Land Rover and Volvo also posted sales gains. In a downbeat month for auto sales, smaller luxury names continued to build momentum as they look to steal market share from the German and Japanese heavyweights.
"Because of their lower volume, those brands can get a bigger move upwards. That's certainly one big factor coming into play," said Eric Lyman, TrueCar's (NASDAQ:TRUE) vice president of industry insights. Brands like Cadillac and Lincoln have created a winning formula with "fresh products in a hot [SUV] segment," he added.
Lincoln, one of the fastest-growing brands in the U.S., saw its monthly SUV sales jump 12% year-over-year amid strong demand for the midsize MKX and compact MKC. The MKX was redesigned last year. Across the board, Lincoln sold 7% more vehicles than August 2015.
Ahead of its annual investor day Sept. 14, Ford (NYSE:F) noted that Lincoln's global sales are up 77% since 2012. The brand expects to accelerate sales growth in the coming year, with its new flagship sedan, the Continental, arriving in the fall.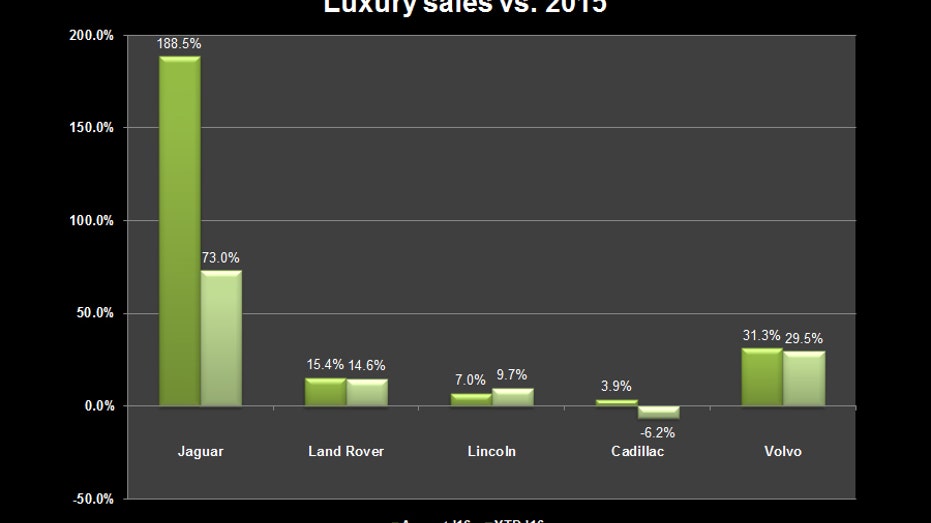 Lincoln's American rival, General Motors' (NYSE:GM) Cadillac, is undergoing a transformation of its own. Cadillac recently began selling its new flagship, the CT6, and the addition of the XT5 crossover has offered a big boost to the brand's sales. Cadillac sold 4,929 XT5s in August, making it the best-selling model in Cadillac's lineup. Further revealing the popularity of luxury SUVs, Cadillac's outgoing XTS crossover still posted sales of 2,264 units, a 48% increase.
The CT6 had its best month since it launched earlier this year. GM shipped 1,242 of the large sedans.
Cadillac's new models are paying off, as August sales improved 3.9%. Combined sales for Chevrolet, Buick and GMC were down 5.8%.
The luxury market overall has moved away from the "couches on wheels" concept of building cushy, quiet cars. Cadillac, Lexus and others have shifted to sporty vehicles, yet Lincoln is holding firm.
"Lincoln is saying, 'Timeout.' There are people who don't treat their suburban neighborhood as the Nurburgring," Lyman said, referring to the famous German track. "The problem is delivering that message to consumers. It's both an opportunity and a risk for them."
Jaguar has also gone the high-performance route, not to mention a new venture into the SUV market. The British car maker's first-ever SUV, the F-Pace, made its debut in late spring. It quickly became a sales hit, moving to the top of Jaguar's leaderboard in August.
The F-Pace, which starts at roughly $41,000, and the XE, a new compact sedan, helped Jaguar nearly triple its August sales. Jaguar's total sales are up 73% year-to-date.
Land Rover, Jaguar's sister brand, has benefited from the consumer shift toward SUVs amid fuel-efficiency and cheaper gas prices. Land Rover has booked a 14.6% gain in sales since the start of 2016. August sales rose 15.4% on the backs of the Range Rover, Range Rover Sport and Discovery Sport.
Jaguar Land Rover, which is owned by India's Tata Motors (NYSE:TTM), said combined sales hit the company's best August mark since 2003.
At Volvo, the rollout of the XC90 midsize SUV was a key driver of demand for the Swedish automaker's vehicles. August sales surged 31.3%, and the XC90 is the top model among U.S. buyers. Volvo said the U.S. has been its fastest-growing key market this year.