The Royal Wedding: Costing a King's Ransom?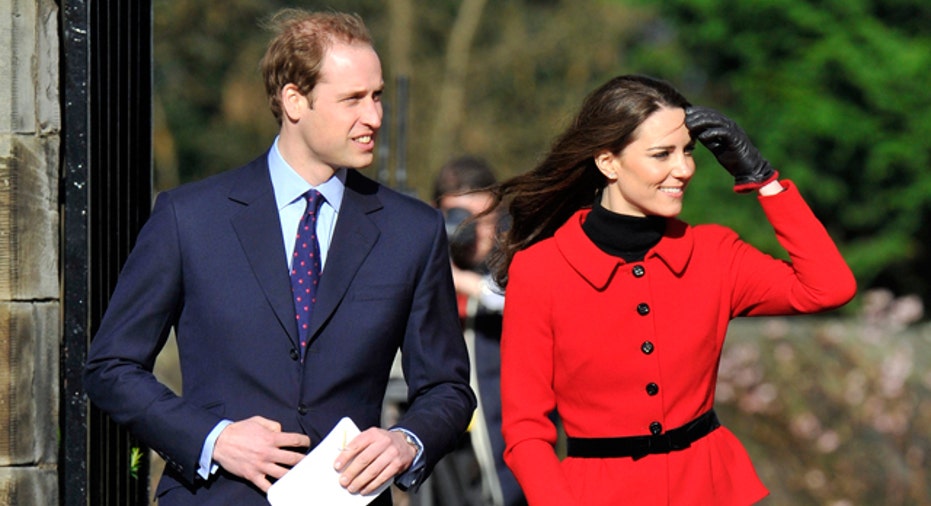 Britons may be rejoicing over a day off work to celebrate the nuptials of Prince William and Catherine Middleton, but the extra free time may come at a cost; taxpayers will be picking up part of the tab for the lavish affair.
Officials won't confirm the cost of the wedding until it's over, but many reports are estimating the events to cost between $16 and $64 million.
"Honestly, it may sound like a lot, but William and Kate have actually decided to tone things down and take things down a notch," says Amy Eisinger, assistant editor of TheKnot.com and TheWeddingChannel.com. "We know that Charles and Diana's wedding cost $48 million, so when you think about that, these guys have really made an effort to simplify things."
Because it is not a state occasion, some of the wedding funds will come from Queen Elizabeth II's personal holdings as well as from Prince Charles and the bride's family.
"British taxpayers will shoulder a lot of the burden, but some of it is coming from the family, and we have no way of knowing what may have been donated or gifted to the couple as an early wedding present," says Eisinger. "Kate's parents are estimated to spend around 100,000 GBP of their own money, and it's really incredible that they're spending anything. It's an interesting reflection of the current British economy."
One cost that is expected to be shouldered by British people is the security for the royals and dignitaries on site—and it doesn't come cheap.
Estimated costs for security detail at the nuptials range between $8 and $32 million, according to TheKnot.com and TheWeddingChannel.com.
"If what happens in the U.S. is in any indication of what happens in U.K., the biggest security expense will be overtime," says Chris Falkenberg, founder and president of Insite Security, one of the largest private security firms in the U.S. "They are going to deploy hundreds of policemen and members of law enforcement, most of whom will work far more than an eight-hour day for several days in a row."
The country is on its second highest threat level for the big day-- meaning an attack is considered "highly likely."
Other security expenses that will easily rack up include things like barricades around the perimeter of the ceremony location, Westminster Abbey, metal detectors that all guests and employees must pass through, helicopters for airborne surveillance, and security guards for important guests.
"Of course there will be security at an event like this, but the royal family will be willing to pay for the best security money can buy because it takes incredible coordination," says Falkenberg. "If each member of the royal family has four bodyguards, and there are six people in a room, you can't have 24 bodyguards standing around. There are a lot of moving parts, and they will hire people who have experience with foreign dignitaries."
Providing the Royal Spotlight
No one on site the day of the wedding will be immune from security detail, says Falkenberg, and every vendor should expect to be inspected.
Bentley Meeker, president of Bentley Meeker Lighting and Staging, who has provided lightening for blockbuster weddings including Katherine Zeta-Jones and Michael Douglas, but is not working the royal wedding, says before his crew can set up, they must have all their equipment swept for bombs—which can carry a hefty price tag.
"This isn't just a wedding. It's a coming out party for modern Britain," says Meeker. "I can only imagine they've put a significant focus on lighting, and that will easily cost around half of their decorating budget."
If a couple plans to spend $500,000 on floral arrangements, its typical for them to spend $100,000 to $200,000 on lighting, according to Meeker. Most professional lighting companies command such a high price because they are completely self contained, bringing with them their own generators, electrical grids, and everything needed to set up. Because everything needs to be brought in from the outside, a lighting staff—which Meeker says for an event of royal wedding proportions could total more than 100 people--usually begins setting up five to seven days in advance of the event.
Multiple Venues
The celebration doesn't stop after the couple weds in front of an expected crowd of 1,900 at Westminster Abbey at 6:00 a.m. EDT. They then move to Buckingham Palace for the champagne toast and dinner.
If the type of decorations present for Prince Charles and Princess Diana's wedding is any indication, attendees can expect each venue to be decked out with flowers, which will probably cost between $400,000 and $600,000, according to TheKnot.com.
"I think when all is told, they're probably going to spend about $1 million on flowers when you factor in the cost of design, labor, transportation, vases, and maintenance day of," says Richard Meyer, creative director of international floral design boutique Noir Hanna in New York who has experience designing arrangements for star-studded events. "I heard they were going to use some cut flowers from Windsor Great Park, but even if they do that, they'll have to pay someone to cut them and arrange them."
The total amount of individual stems used in the arrangements for the Royal Wedding will likely total around 100,000, according to Meyer, who says to expect vibrant colors and flowers that look a little more "youthful," than what we may have seen at previous regal ceremonies.
But paying for vibrant, healthy stems is just one part of the floral expense. The staff chosen to arrange and place the flowers will be the best at what they do, and will command a high salary, says Meyer.
"To decorate without destroying anything is always a challenge," says Meyer. "It's going to be worth it to the royal family to pay for someone who isn't going to ruin the pews with water or have leaves strewn around on the floor."
Yet even if the royal family and the British taxpayers are paying top dollar to ensure that every element of the wedding goes off without a hitch it's still worth it in the end to the English economy, according to Eisinger.
"When all is said and done, it's going to be a welcome boost to British economy, even though people are complaining. They're going to make money on souvenirs, commemorative videos, the iTunes soundtrack of the wedding, and replicas of Kate's dress. The list goes on," says Eisinger. "It's a win-win for everyone involved."