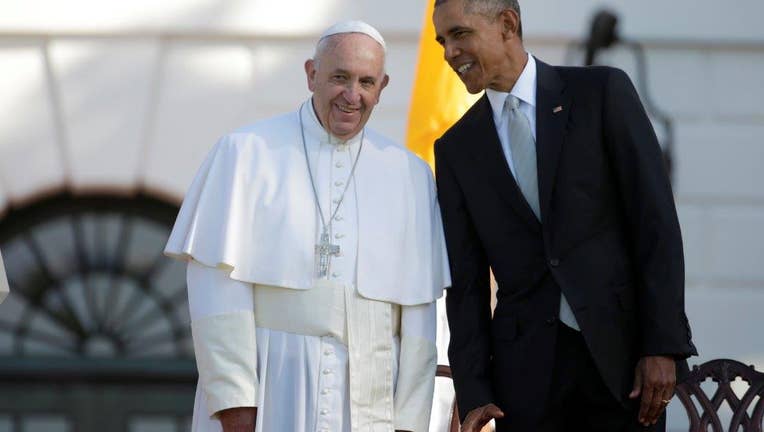 Pope Francis is officially visiting the United States for the first time. And, whether you were lucky enough to score a ticket to get close to his Holiness or not, these are the apps you should know are available---especially if you want to track his every move or avoid huge crowds and the unbearable traffic.
The Pope App is the go-to app for all things papal, in the palm of your hand. The free app was developed by the Pontifical Council for Social Communications utilizing the Vatican News Service as an all-access pass to Pope Francis. You will be wired to the latest Twitter (NASDAQ:TWTR) feeds, official speeches and homilies, live webcam images, as well as access to his full calendar. The app will also alert you with breaking news coming out of the Vatican's many news outlets so you won't miss a beat. It's also available in five languages including English, French, Italian, Portuguese, and Spanish.
The Catholic Church also created a brand new app that bundles all of its parishes and archdioceses across the United States—as well as the Vatican—into one, single mobile resource. Under the app, you can follow the Papal visit to the U.S. under the Events tab, where you can get news alerts, scripture readings, and find information for all of his events.
But if you're not looking for the most up-to-the-minute updates, Pope2You might be for you. It's also geared toward the younger generation. Their application for Facebook (NASDAQ:FB), allows users to "meet" the Pope, hear his words, see photos and receive his messages in the form of "virtual cards." You can also share your photos of Pope Francis with other fans.
And, if you're just looking to have some fun on social media, the Popemoji app might be your best bet. It's a keyboard app from Swyft Media that is entirely dedicated to animated GIFs and stickers starring his Holiness. The application features a set of 52 pope-themed stickers and 14 animated GIFS tied to his American visit, including him running the steps of Philadelphia Museum of Art a la Rocky, waving from a New York City Cab, eating a hot dog, and taking selfies.
Pope Francis also launched an app of his own, Missio, in 2013. His app is dedicated to provide news about the work being done in the poorest communities around the world. It gives users direct access to the leaders who are making a difference in the most vulnerable communities.
Last but not least, if you're looking to avoid traffic or the crowds surrounding his first visit to the United States, the Waze app is a must have for drivers or commuters. Waze gives users updates with road closures and other obstructions, so everyone can bypass traffic and save time.
"More than 50 million drivers around the world rely on Waze to help them during major traffic events like the Papal visit. To ensure your drive will be as efficient as possible, turn on Waze ten minutes before you get in the car and give the app the chance to calculate real-time conditions. If conditions change after you've left the house, no worries - Waze will recalculate and reroute automatically," says Waze's spokesperson, Julie Mossler.
So whether you're looking to follow his route or avoid it, be sure to download a few apps to make your life a lot easier.