The New Normal? Some Parents Plan to Aid Children 5 Years after Graduation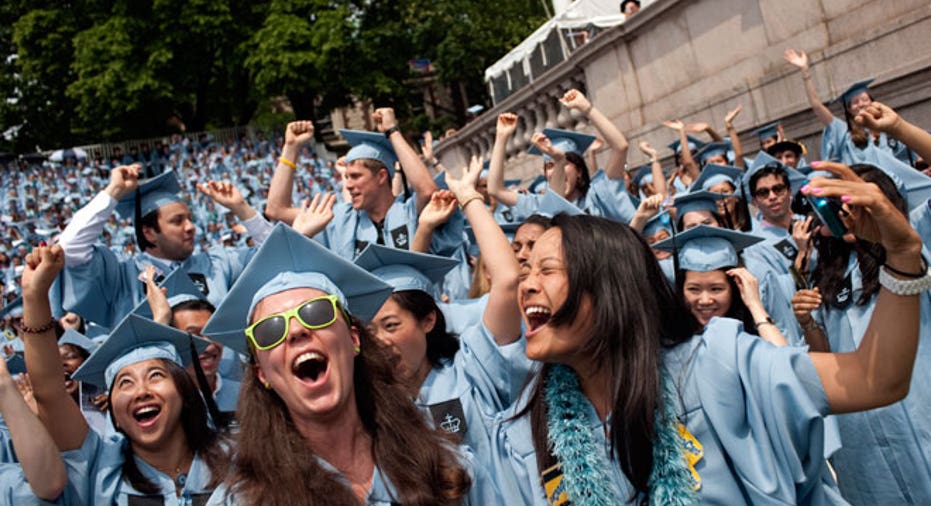 Many parents are celebrating their college graduates this month, but that doesn't mean their bank accounts will get a breather.
In fact, nearly 85% of parents plan to offer their children monetary aid after graduation, according to a survey Tuesday from Upromise by Sallie Mae. Almost one-in-three parents plan to provide their grad with financial assistance for up to six months, and around 50% plan to foot bills anywhere from six months to more than five years.
"Many parents expect to help their graduates, including letting them move back home," says Abby Harper, communications media analyst form Upromise by Sallie Mae. "It's a new trend."
Despite the nation's unemployment rate falling to 6.3% from 6.7% last month, when employers added 288,000 jobs, the hiring outlook for new college graduates remains bleak. According to the Labor Department, the portion of Americans 25-34 who were working in April fell to a five-month low of 75.5%. But the Class of 2014 has some reason to be more optimistic: A new survey from the National Association of Colleges and Employers (NACE) shows employers plan to employ 8.6% more graduates than in 2013.
With college tuition prices outpacing inflation, many students are taking out loans to help cover costs. The average total cost of in-state public universities is above $20,000 and private college costs above $40,000, according to the College Board. The New York Federal Reserve reported that outstanding student loan debt topped $1 trillion in 2012 for the first time ever.
Saddled by student loans and underemployment, many recent graduates have turned to mom and dad to help fund their first years in the real world, which can put their budget in peril.
"Any time you divert money from savings or for retirement it's going to put pressure on parents' budget," says Steve Brett, president of Marcum Financial Services. "I've seen a lot more individuals having to delay or make certain tradeoffs for retirement because they've used those savings for current expenses."
Experts say the key to saving for college is to start early. Upromise's survey shows half of parents will discuss college savings with their children during their elementary-school years. Four in five plan to have the conversation when the kid is a teenager.
"The earlier the better," says Brett. "Delaying by just a couple of years can make a big difference in terms of how much you save simply with compound interest."
The survey showed 80% of parents report that kids are more motivated to attend college when they know their parents have saved some money to cover costs. And Brett says 529 plans are the best tool for saving for parents to save.
The survey was conducted among 800 parents with children ranging in age from infant to college-aged in May 2014.
"There is a tremendous amount of flexibility and advantages to these accounts…you can change beneficiaries down the road if things change and the money doesn't just have to go toward tuition, it can also cover books, fees, room and board, graduate school and trade school."
When it comes to paying for college, three-in-five parents expect their teenagers to get a job after school or during the summer with 83% saying the kid should allocate some of the funds to their higher education.
"It's interesting, parents with college-aged kids are saying we are going to help you out, but parents with younger kids expect them to help out more with their college. They are on both sides of the fence," says Harper.
The survey also finds that families with household incomes of more than $100,000 talk more about saving for college when their kids are younger (7-12) while those earning less than $100,000 tend to wait later into the teen years.
"Everyone conceptually understands college is extremely expensive… but until they see the numbers on paper and you talk about how waiting five or 10 years to save and what that means for the amount they save, they don't grasp the number," says Brett.