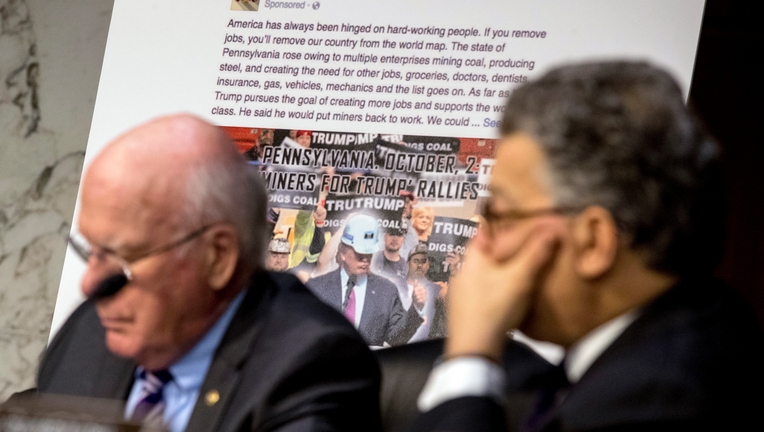 The Latest on congressional hearings on Russia-linked posts on social media (all times EDT):
10 p.m.
Senators are harshly criticizing representatives of Facebook, Twitter and Google for not doing more to prevent Russian agents interfering with the American political process.
At one point, Sen. Al Franken shook his head after he couldn't get all the companies to commit to not accepting political ads bought with North Korean currency.
After Franken pointed out foreign spending on U.S. political campaigns is illegal, Google executive Richard Salgado replied only that the search giant would refuse political ads paid with foreign currency "if it's a good enough signal on illegality."
The companies all pledged to do more and politely said they understood the seriousness of the Russian meddling. The technology company representatives appeared at a hearing Tuesday by a subcommittee of the Senate Judiciary panel.
___
4:40 p.m.
Senators are ripping Facebook, Twitter and Google for missing signs that advertisers with ties to Russia were exploiting their services to sway last year's presidential election.
Minnesota Democrat Al Franken was especially outraged as he questioned Facebook's top lawyer Tuesday during a Senate subcommittee hearing into Russia's interference in the 2016 election. He demanded to know why Facebook couldn't figure out how an ad paid for in rubles had been purchased by a Russian account.
Franken fumed, "How could you not connect those two dots?"
Colin Stretch, Facebook's general counsel, sheepishly admitted the company missed a key signal and should have had a "broader lens." But he wouldn't commit to banning U.S. political ads purchased in foreign currencies.
___
4:20 p.m.
Facebook's top lawyer says technical limitations prevented the online social network from determining if deceptive ads aimed at influencing last year's U.S. presidential election may have been purchased by other foreign adversaries besides Russia.
Colin Stretch, Facebook's general counsel, has told a Senate subcommittee that the company didn't have any evidence that accounts linked to China or North Korea had bought politically charged ads.
But he stopped short of saying with certainty that other countries hadn't purchased misleading or false ads on Facebook. About 5 million advertisers buy space on the site each month.
Facebook detected that Russian-linked accounts bought thousands of political ads on its service after questions began to mount this year about whether Russia helped get President Donald Trump elected.
___
4:10 p.m.
Minnesota Sen. Amy Klobuchar is pressing representatives of Facebook, Google and Twitter to declare whether they will support the "Honest Ads" bill she has introduced with Sen. Mark Warner, which would bring political ad rules from TV, radio and print to the internet.
Each of the tech giants is offering qualified support rather than answering "yes."
Facebook general counsel Colin Stretch says, "We stand ready to work with you and your co-sponsors on that legislation going forward."
Twitter acting general counsel Sean Edgett says, "The same goes for Twitter."
Google director of law enforcement and information security Richard Salgado says, "We certainly support the goals of the legislation and would like to work through the nuances to make it work for all of us."
___
3:40 p.m.
Lawyers for Facebook, Twitter and Google are acknowledging to U.S. lawmakers that Russian-linked accounts began exploiting their services in 2015 to sway last year's presidential election.
They also say the abuses continued after President Donald Trump took office in an attempt to deepen divisions in the country.
The admissions came Tuesday during appearances before a Senate subcommittee looking into Russia's manipulation of influential communication channels to interfere in the 2016 U.S. presidential election. The mischief came through advertising purchased on the services and posts containing misleading or false information.
All three companies are vowing to do a better job preventing similar interference from Russia and other "bad actors" in the future.
__
2:45 p.m.
Congress has opened the first of three hearings on Russia-linked posts on Facebook, Google and Twitter and evidence of interference with the 2016 presidential election.
Top lawyers from the three companies are appearing before a Senate Judiciary subcommittee on Tuesday.
Sen. Lindsey Graham (R-S.C.) says that while social media was useful during the campaign, the platforms are being used by people who "wish us harm and wish to undercut our way of life."
Graham says the purpose of the hearing is for the government to "figure out how we can help" the tech companies.
__
8:07 a.m.
Major tech companies plan to tell Congress Tuesday that they have found additional evidence of Russian activity on their services surrounding the 2016 U.S. election.
Facebook, for instance, says a Russian group posted more than 80,000 times on its service during and after the election, potentially reaching as many as 126 million users. The company plans to disclose these numbers to the Senate Judiciary Committee on Tuesday, according to a person familiar with the testimony. The person declined to be named because the committee has not officially released the testimony.
Twitter plans to tell the same committee that it has uncovered and shut down 2,752 accounts linked to the same group, Russia's Internet Research Agency, which is known for promoting pro-Russian government positions.