'The Interview' jeopardizes overseas movie villains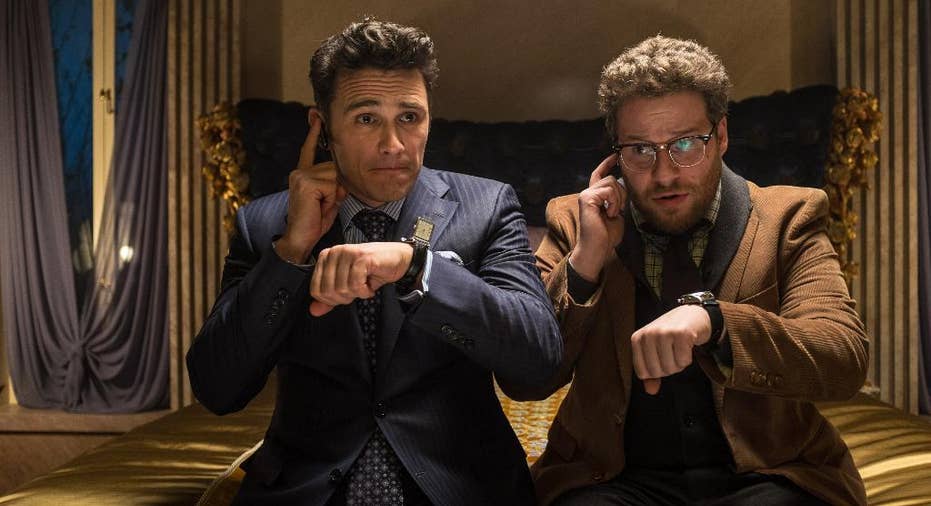 Hollywood loves its overseas villains. Evil forces from Russia, China and North Korea have tirelessly menaced our big-screen heroes in recent years. But, in the wake of the dramatic cancellation of "The Interview," an entire species of movie baddies might be in danger of extinction.
One film already bit the dust.
"Pyongyang," an adaption of a graphic novel set in North Korea, was given the ax Wednesday after distributor Fox abandoned the project and producer New Regency was forced to shutter any plans. Director Gore Verbinski ("Pirates of the Caribbean") had imagined the project about an animator who goes to North Korea for work and is accused of espionage as a starring vehicle for Steve Carell.
"I find it ironic that fear is eliminating the possibility to tell stories that depict our ability to overcome fear," Verbinski said in a statement to trade website Deadline.
While it's possible that another company could pick up the rights, it's just as likely that "Pyongyang" might never make it to the big screen. Neither Fox nor New Regency responded to requests for comment, but Verbinski said that the decision was directly related to the Sony fallout.
The big question is whether or not more films, or even ideas, will be dead on arrival, borne out of a fear that a threat could jeopardize an entire release. Seth Rogen knew he was being provocative with "The Interview's" depiction of Kim Jong Un, but was quick to point out that "it's just a movie." For creative types, it's a dangerous precedent.
"Are we now living in a world where we're not allowed to say that these are bad people?" asked director Judd Apatow in an interview with the Los Angeles Times. "Are we not allowed to make a movie where ISIS is the bad guy now? That's been happening since Charlie Chaplin made 'The (Great) Dictator.' There's so much political correctness that there (are) almost no villains left. ... Comedians attack power and corruption and things that feel wrong."
But everyone knows creativity isn't the sole force behind what eventually makes it to the multiplex. Business interests reign supreme. As foreign box office becomes more and more important for the bottom line, studios have been forced to take a microscope to all elements of storytelling to ensure they're not ostracizing a potential revenue source.
North Korea was supposed to be the "safe" villain, too.
In 2011, the filmmakers behind the "Red Dawn" remake even changed the film's aggressors from Chinese to North Koreans in post-production so as not to negatively impact grosses from China, which has since become the world's largest film market outside of the U.S.
From "Die Another Day" to "Salt" and "Olympus Has Fallen," North Koreans have become the default go-to baddies for silly action flicks that don't want to offend China, Russia, or anyone else who might think of seeing their movies.
"North Korea was seen as a make-believe rogue nation — its own mythology only helped them to become this — that could be so easily made into a pantomime villain," said Simon Fowler, a blogger and film critic who studies depictions of North Korea in film. "But as they're just starting to show their teeth, they are becoming a lot less comical."
What happens now is still very uncertain. While North Korea might just become comedy's biggest target, studios with more expensive properties — none of whom would comment for this article — will probably have to play it safe.