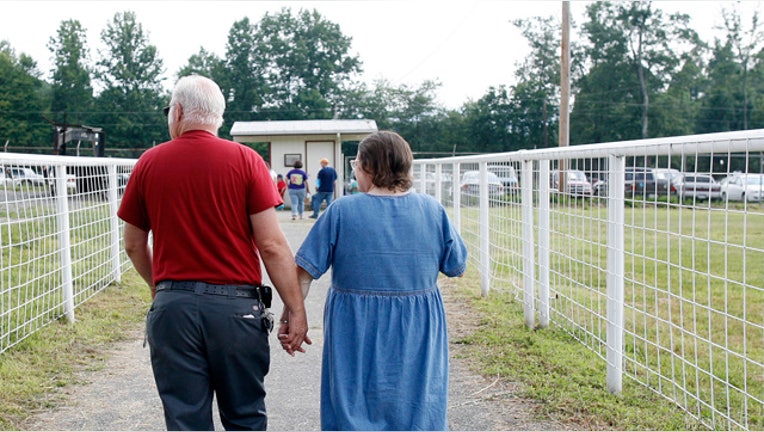 If you want to survive and even thrive in retirement, most financial advisers believe you need at least 70% of the income that you had before you retired. But seniors in most states are falling short, a Bankrate study shows. We found that retirement incomes are exceeding the 70% target in just 3 states: Hawaii, Alaska and South Carolina.
The results illustrate America's widespread lack of retirement preparedness at a time when many people have a hard time planning even week to week, let alone for an event that is decades away.
"Americans are facing a shortfall of retirement income (because) their saved assets are not enough to fund their desired or even current lifestyle," says James Carlson, chief investment officer at Questis, a financial services firm based in Charleston, South Carolina.
RATE SEARCH: Compare money market account rates and start saving today.
How We Did It
Bankrate's analysis uses data from the U.S. Census Bureau's most recent American Community Survey. For each state and Washington, D.C., we divided the median annual household income for those who are 65 and older by the median annual household income for those in their later working years, between ages 45 and 64.
The resulting ratios of pre-retirement income that seniors are replacing range from a high of 72.59% in Hawaii to a low of 48.22% in Massachusetts. The national average is 60.27%.
Source: U.S. Census Bureau 2014 American Community Survey (the most recent)
Every state has its own peculiar factors that contribute to greater or lesser retirement readiness, says Nancy Blunck, a certified financial planner professional in Anchorage, Alaska. The state ranked second with an income replacement ratio of 71.12%.
Seniors are doing better in Alaska, Blunck points out, partly because the public pension system pays an annual 10% bonus to retired state employees who stay in-state after they retire. (This won't hold true for people who entered the service after 2006.)
Alaska's 'Weird' Stimulus
"We personally know people who make more in retirement than when they were working," says Maggie Banks, a personal finance blogger in Anchorage at NorthernExpenditure.com.
There's Alaska's "weird economic stimulus that doesn't happen anywhere else," she says. The Permanent Fund which spreads around surplus revenues from the state's oil and gas reserves -- paid all residents $2,072 last year, its largest dividend ever. A retired couple would have received more than $4,000. "A lot of people count on that in retirement," says Banks.
The cost of living in Alaska is high, but the state's sparse population means jobs are plentiful. Costs are partly offset by subsistence fishing and hunting, and no small amount of DIY.
Banks and her family dip-net every year for more than 70 pounds of sockeye salmon. They clean and gut the fish themselves, and have some smoked professionally.
The Banks family does not hunt, but many of their friends do. "One moose will fill up your freezer," she says.
Say 'Aloha' To A Good Retirement
Hawaii's host of conflicting factors makes that state tough to understand. Jack Kerr, the founder of Blue Skies Financial Planning in Kailua Kona, notes that the cost of living (the highest in the U.S.) is a challenge, although seniors do receive tax breaks, and health care costs for the elderly seem to be below the average.
The labor climate in Hawaii might affect retirement finances, says Leo Goeas, a former NFL player and now a financial adviser with Raymond James and Associates in Honolulu.
A high percentage of Hawaiian residents are government workers, and many private companies are unionized, giving workers retirement pensions. About 1 in 5 workers in Hawaii is a union member, well above the national average of 11%, according to the U.S. Bureau of Labor Statistics. And, unlike many other states, Hawaii has retained a pension benefit for government workers.
Hawaii's Family Factors
The high cost of living makes multi-generational living extremely common in Hawaii, Goeas says, with 3 generations sometimes living in one house to cut costs.
The state culture is unique and tends to be less focused on spending money. People tend to value experiences and activities over consumption," says Peter Kay, a Honolulu resident who writes a blog called Living in Hawaii. Instead of shopping or dining out, they prefer hiking or visiting a beautiful national park. Dining out, expensive groceries and pricier cultural events may cede to the beach or free tai chi at the mall.
"You live in a much smaller home," Kay adds. "If you have a car, maybe you'll have a smaller, more efficient car that you hold on to for longer."
The retiree's journey emphasizes the things that matter: "The joy and satisfaction in your later life are more qualitative than quantitative," he says.
Low Costs And High-Income Transplants
As for South Carolina -- the third state with retirement income replacement above the 70% threshold -- the state had many manufacturing businesses in the 1960s and '70s that may still produce pension benefits today, says Carlson, of Questis.
Transplants might be another reason for the state's showing. "People with money are moving south," Carlson says. "They might have greater-than-average retirement income, people who have accumulated their income somewhere else and are now realizing it in South Carolina."
The state also is home to 8 military bases, which may mean a large number of relatively well-off military retirees.
Kathy Merlino, blogger at KathysRetirementBlog.com in Blue Ridge, South Carolina, is not surprised about the state's numbers. Lower expenses help to create income in retirement, and South Carolina has relatively inexpensive housing and low taxes, she says.
A Rich Retirement, Wherever You Are
Merlino and her husband pay just $2,000 a year in taxes on a home that is worth nearly $500,000. She's also a dedicated gardener, and says people in South Carolina can grow vegetables 365 days a year and fruit for 8 months out of the year to help save on food.
"A cost and health benefit of retiring in South Carolina: You can live very well for very little money and have a very rich retirement," Merlino says.
No matter what state you're in, Carlson recommends setting goals for the income you desire in retirement and making a plan.
Putting money aside automatically through a workplace or individual retirement account is one of the simplest ways to make sure you're continuously adding to your nest egg. And don't forget to increase the amount you save each year.
Even 1% or 2% more every year will boost your chances of building enough to replace your paycheck, Carlson says.
Copyright 2016, Bankrate Inc.