The Galaxy S8 Is Samsung's Best Shot at Redemption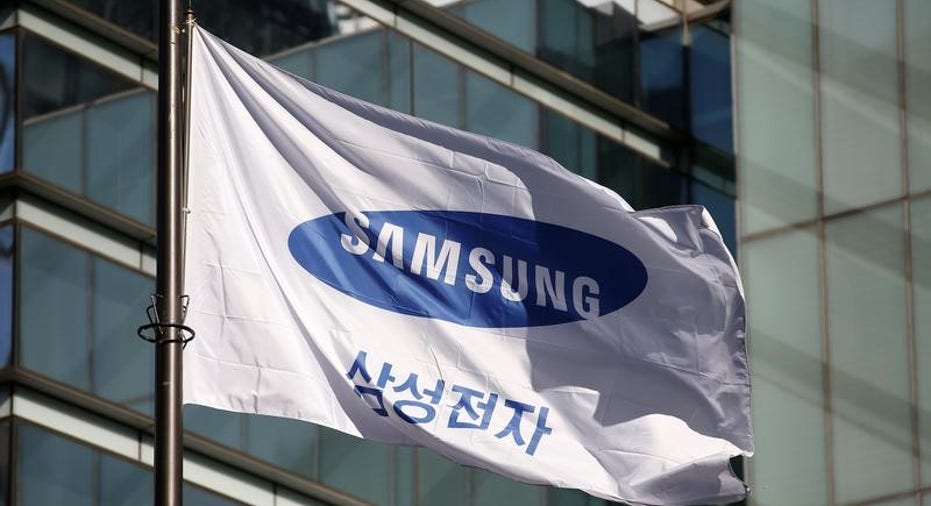 SEOUL -- The Galaxy S8, Samsung Electronics Co.'s latest flagship phone that will be unveiled Wednesday, has a lot more at stake than sales targets: it must restore consumer trust and stabilize a brand dogged by political scandal, product recalls and privacy concerns.
The phone will represent Samsung's best -- if not only -- chance to remedy a headache from last year's embarrassing Galaxy Note 7 recall after some handsets caught fire. A flawless rollout would put the world's largest smartphone maker back on track. But another manufacturing defect or software flop could inflict serious damage on the South Korean tech giant at a vulnerable time.
The Galaxy S8's expected April sales launch will determine whether last year's mishap, which has led to months of airline admonitions about carrying a Galaxy Note 7 onboard, has eroded loyalty and confidence among Samsung's fan base. It also arrives in a year when Apple Inc. releases its 10-year-anniversary iPhone, which analysts expect to be a hit, and as industry executives acknowledge consumers growing increasingly apathetic toward the newest smartphone bells and whistles.
Samsung's recent Galaxy S phones have lacked groundbreaking features, with last year's version looking strikingly similar to its predecessors. But the South Korean tech giant has outpaced Apple and other rivals in areas like embracing large and curved screens, while pushing virtual-reality features. For the Galaxy S8, Samsung has said it would aggressively push a virtual assistant, akin to Apple's Siri, called Bixby.
Samsung sells more than 300 million smartphones a year. But the lion's share of profits come from its two premium phones, the Galaxy S and the Galaxy Note. They typically account for a fraction of overall shipments. Analysts expected sales of the Galaxy Note 7, which had earned strong reviews, would have reached around 15 million units. The recall cost Samsung $5 billion.
The good news for Samsung: It did a better-than-expected job at preventing Galaxy Note users from defecting to competitors. After recalling 3 million Galaxy Note 7s, the firm enticed people to stay with Samsung by offering free virtual-reality sets and aggressive discounts. About one-quarter of Galaxy Note users opted for a rival, according to industry consultants.
A Samsung spokeswoman said that the "majority of the participants" with the company's refund-and-exchange program "opted to receive another Samsung smartphone."
The Galaxy S7, in fact, was Samsung's best-selling phone ever with roughly 49 million devices shipped, and enjoyed a larger 2016 volume bump over the prior year than the latest iPhone, said Jusy Hong, a Seoul-based principal analyst for IHS Markit, which tracks smartphone shipments. "Apple didn't enjoy a big benefit from the Note 7 blow," Mr. Hong said.
Investors have remained bullish about Samsung's sales of components like semiconductors and displays. Samsung Electronics shares have risen more than 14% this year, pushing its market capitalization to $255.6 billion as of Monday according to S&P Global Market Intelligence; it ranks among Asia's most valuable technology firms with Chinese internet giants Alibaba Group Holding Ltd. and Tencent Holdings Ltd.
But the Galaxy Note 7 debacle has caused its standing to tumble with U.S. consumers, according to Harris Poll's annual measure of the best company reputations. Samsung slipped to 49th out of 100 visible firms in the U.S., from seventh the prior year and third place two years ago. The survey measures factors such as emotional appeal, plus products and services, and was conducted late last year after Samsung pulled the plug on the Galaxy Note 7 due to battery problems.
"We did make a mistake about the Galaxy Note 7, and we apologize for this," said Kwon Oh-hyun, Samsung Electronics chief executive, at its annual shareholders' meeting in Seoul last week. "We will learn from this lesson."
In January, Samsung concluded in its monthslong Galaxy Note 7 investigation that battery manufacturing and design problems caused problems with its batteries that could lead them to overheat.
The company said it would avoid repeating the blunder by creating a new eight-point quality plan for future smartphones and adding extra protections around the battery. It also hired an outside battery-advisory group to consult on safety and design matters.
On Monday, Samsung said it planned to sell refurbished or rental versions of the Galaxy Note 7, contingent on discussions with carriers and regulatory authorities. It did not specify where or when the Galaxy Note 7 phones would be made available. Only about 330 of the 3 million Galaxy Note 7 phones sold had battery issues, Samsung said in January.
Write to Timothy W. Martin at timothy.martin@wsj.com