The Explosive Costs of Big Fireworks Displays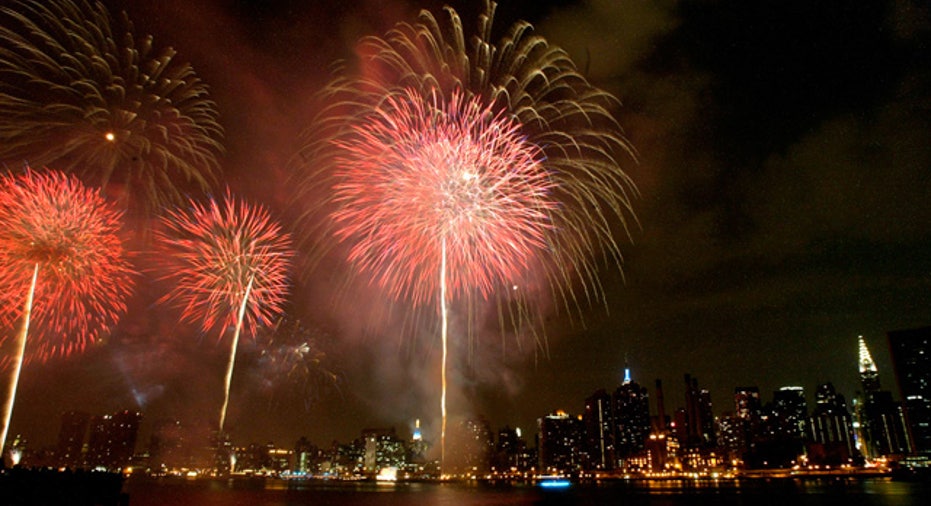 A Shell of a Time
For some, the most important decision on the Fourth of July is how many hot dogs to eat or maybe how spangled of a vest is appropriate for the parade. For others, it's getting ready for the ultimate staple celebration on Independence Day -- the fireworks show.
With an estimated 14,000 shows across the country, according to Julie Heckman, executive director of the American Pyrotechnics Association, you likely have your choice of patriotic pyrotechnics. With local shows or nationally broadcast ones, large or small, whether they're set to Neil Diamond or the National Symphony Orchestra, blowing things up in the sky to celebrate our freedom has come a long way since fireworks were used in America's first birthday in 1777.
Your local show can certainly run the gamut in cost. Premier Pyrotechnics, which sells custom fireworks displays for the Fourth of July and other celebrations through much of the Midwest, says many small-town displays run $2,000 to $7,000 for a short, simple show. Incorporating music, computer coordination and larger shells can increase the cost to around $2,000 per minute and more than $20,000 for the full display.
That's likely nothing near the 36th annual "Macy's Fourth of July Fireworks Spectacular" price tag.
Big Apple, Big Show
The largest Fourth of July fireworks show in the country -- the Macy's Fourth of July Fireworks Spectacular -- is set against the New York City skyline and has some big pyrotechnics and dollars behind it.
At the Macy's Fourth of July Fireworks Spectacular, workers fire off an average 1,600 shells per minute, which is more than three times the average of an entire local community show. It is viewed by more than 3 million spectators and has a TV audience of more than 8 million.
That amount of explosive power and coordination requires a year's worth of planning.
"It's a highly successful collaboration between the two teams at (Pyro Spectaculars by) Souza and Macy's that has been built over the course of almost three decades," says Orlando Veras, Macy's fireworks spokesman.
But in the end, though the Macy's team may know what each shell is supposed to look like, dry runs are a little difficult to do in the pyrotechnics industry.
"There is no dress rehearsal," Veras says. "A unique element in the design and creation of the Macy's fireworks for our team is that we experience it at the very same time the rest of the nation does. It's a magical moment for the team."
And given the number of shells in the Macy's Fourth of July Fireworks Spectacular, its estimated cost is nothing short of its namesake. Even at wholesale rates, the cost could be almost $6 million for the fireworks alone. That's a lot of buck for the bang.
Fourth of July, Capitolized
"I dare say that the Washington, D.C., show has the largest number of large caliber shells as any in the country," says Lansden Hill Jr., CEO and president of Pyro Shows in LaFollette, Tenn. His company was selected through bid for the 10th consecutive year to provide the fireworks for "A Capitol Fourth," which draws 500,000 spectators to the National Mall to watch, along with a national PBS audience, what is likely the most iconic show each summer.
"Most shows around the country have a hundred of this or a dozen of that," Hill says when talking about the grand scale of larger fireworks. "On the mall, it's hundreds and thousands of 6-, 8- and 10-inch diameter shells."
That's not only because he has an entire nation and a 19-foot-tall marble Abraham Lincoln to impress each year.
The general rule of thumb is that for each inch increase in the size of a shell, the firework will explode 100 feet higher. With the National Monument standing at 555 feet, the minimum 6-inch shells ensure that all spectators on the mall have a good view of the show while the patriotic explosions don't wreak havoc on the landmark.
Red (tape), White and Blue
Any time you're planning to blow up an estimated 33 tons of pyrotechnics in 18 minutes in the nation's capital, there's bound to be a few agencies involved. Throughout the yearlong planning process, the FBI, Bureau of Alcohol, Tobacco, Firearms and Explosives, the Federal Aviation Administration, Secret Service, D.C. fire and police departments, National Parks Service and its police department, and PBS all coordinate with Pyro Shows to turn over every possible stone of safety, legislation and presentation.
"A lot of people have their fingers in the pie because it's a very public pie," Hill says.
Hill, who has been in the industry to some degree for more than four decades, still enjoys being able to see the final product. He waxes poetic when asked if he has a particular favorite firework or part of this year's upcoming show.
"I don't always like strawberries better than bananas or bananas better than oranges," he says. "They're all unique, and I like all of them and fireworks are much the same way. I like the unique colors, the unique shapes. As long as they're made well, I always admire the quality of the firework and the ability of those individuals to create that."
Fun Firework Facts
Have your spangled vest picked out? Ready for hot dogs and apple pie? Here are some fireworks facts sure to bedazzle your fellow Americans.
The larger shells can cost $336 each and require a minimum 840-foot-radius display space in order to be used and light off the familiar, billowing shape.
For the Macy's Fourth of July Spectacular, more than 40,000 shells will be launched from six barges over the Hudson River in a span of 25 minutes.
The "July Fourth Boston Pops Fireworks Spectacular" draws 500,000 spectators to view its show that cost a whopping $2.5 million in 2010. It's one of the most expensive and popular displays in the country. Another 7 million people tune in on TV to watch -- or sing -- along.
For A Capitol Fourth, Pyro Shows has to look well down the road at possible legislative changes or construction projects on the National Mall and their potential effects. Recent changes to the reflecting pool and new World War II monument altered where the shells could be launched from and had to be planned for well in advance