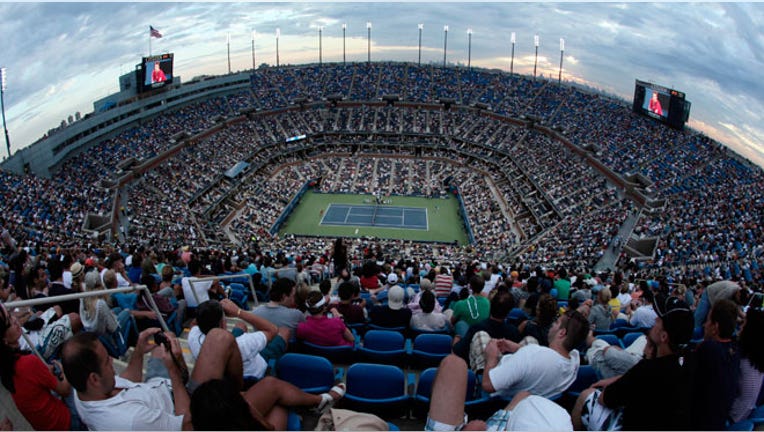 Sixteen-year-old Brett pops the strings off of his tennis rackets once every two weeks, according to his mom Lisa. It costs $35 to re-string the racket. But he has four rackets, so it's more like $280 a month on racket maintenance.
And that's just the beginning.
Lisa also has to shuttle the Mahwah, N.J.-based high school tennis player across the state to private lessons each week, which can run anywhere from $80-to-$150 an hour. But she says the price tag is worth it, and says they are a "frugal tennis family."
"I spend about $2,000 a month on private lessons," she says. "He does about three times a week, depending on if it's a good week or not. I am on the low-end: I don't travel out of state for tournaments, because I don't have the money to do that."
The eight hours a week Lisa spends driving Brett to and from matches and lessons is just the beginning of the sacrifice parents make in hopes of helping their children make it into the world of professional tennis, or any sport for that matter.  She says the family recognized a special talent in Brett from a young age, and felt it was worth pursuing. That being said, she knows his odds of playing in the U.S. Open are slim.
"He was good at other sports but just gave up basketball this year, his coaches told him he had to. If he ends up being outstanding, maybe he can play in college."
Breaking Down the Basics
While there is no definitive age for wannabe-tennis pros to start out, Steve Keller, director of development at Pro Tennis Registry, a global organization for tennis professionals, says many players take up the sport in elementary school.
"We suggest for anyone wanting to get in the game to start in the neighborhood of pre-puberty," he says. "It's a good base to get these young players started and develop the base they will use across their game."
The cost of private lessons vary by region, according to Keller, ranging anywhere between $40 and $100 an hour in areas like Little Rock, Ark., and New York City, respectively. While the equipment needs are minimal compared to other sports, it's still not cheap. Shoes can cost around $100 on the high end for kids, and $35 on the low end, Keller estimates. Children's' rackets cost around $25, but can be hundreds of dollars by the time they are teen players.
Then comes the travel, says Jeff Hoffman, CEO of Athletic Resource, a recruiting company that works with high school athletes. Competitive tennis tends to require a lot of travel to tournaments. Fees will vary depending on region and the size of the event, but he estimates that tennis parents shell out between $2,000 and $5,000 a monthly on their kids' sport.
"Travel and hotels are a significant part of it," he says. "When you start playing in tournaments in different regions that are ranked higher, the point basis is crucial."
Tournament performance has become more important over the last few years, according to Hoffman, as many recruiters are beginning to look outside the U.S. for top talent. "Tennis coaches in college are recruiting more outside the U.S. The scales have almost tipped to foreign tennis players."
The most serious child athletes often get home school, Hoffman says, and that can bring on added costs. Many aspiring pros spend up to five hours a day on the court, meaning traditional education just isn't in the cards.
Recruiters often like to see students playing at private or club levels, rather than high-school teams, because the competition level is just higher.
"There are expectations of practice that you have to achieve," he says. "In a high school team, that practice level will drop off. If you want to compete at the highest level, you need to stay at that level for that reason."
Raising a Pro: What are the Odds?
Having your child grow up to be the next Maria Sharapova is essentially like hitting the lottery, says Keller.
"When you think of the countless number of players out there, just in the U.S. alone, being the best of the best of the best, and being able to get to that particular level, it's astronomical."
Even playing in college can be a reach for most young tennis players. According to ScholarshipStats.com, only about 10,000 men and women continue to play competitively in college. Advancing beyond that is even harder and rarer.
"Those tennis players are something special, and their parents know at an early age they have something special," he says. "They can read the ball, and know where it's headed. Even in college, there's only around 20,000 positions available, and that is great odds."
Even Lisa admits it's a long shot, but if Brett plays in college, she says she will be thrilled.
"Very few American kids make it to the pros, because so many kids outside the U.S. are getting trained in tennis to come to school here," she says. "We have something special, and he is good. But believe it or not, there's a million kids who have something special in tennis."