The Cost of Love: Why the Wedding Industry's About to Rebound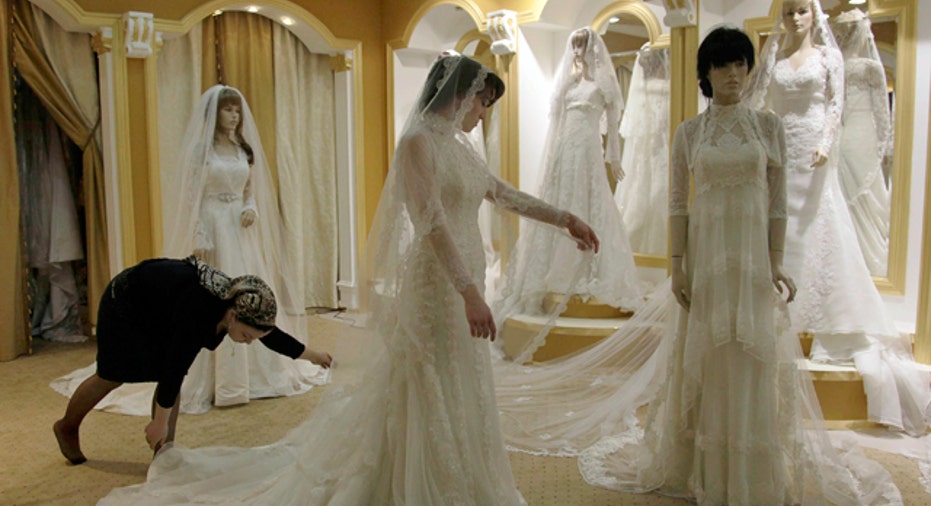 Like love, the wedding industry can be fickle, reacting strongly to economic ups and downs. Find out why it's ready for a rebound.
Like the old song says, "Love Hurts." That's not news to most of us. But to entrepreneurs in the business of love, the pain can cut even deeper. About nine months ago, I spoke to a woman who owned a bridal business in Beverly Hills, California. Business, she said, was not exactly booming.
Her experience was not an isolated one.
Optimism in the numbers
According to statistics from The Wedding Report, money spent on all aspects of a wedding plunged in 2008 and fell even further in 2009. And while wedding budgets rebounded in 2010 (up 22.9 percent from 2009), they didn't reach 2007 levels.
Average cost of a wedding:
2007: $28,730
2008: $21,810
2009: $19,580
2010: $24,066
Obviously, that's a positive trend. The Wedding Report called the 2010 rebound "great news for a struggling wedding industry."
Wedding planning services led the resurgence with sales up 77 percent over 2009 figures. In all, 50 wedding product and service categories saw improvement last year. However, some categories (accessories and beauty, health and spa) took a hit. The Wedding Report attributes the recovery, in part, to an increase in the number of wedding guests (from an average of 128 in 2009 to 141 last year) and "renewed consumer confidence."
Growing niche opportunities
For continued success, industry experts advise wedding business owners to "diversify." This can take the form of adding more services to your offerings or creating different levels of service and charging accordingly. Or you could take the entrepreneurial path and create a new niche altogether. That's the approach Chris Easter took. Easter is the CEO and co-founder of TheManRegistry.com, a leading online gift site for grooms. Yes, grooms.
Easter was inspired to start his company in 2007 while watching his fiancée being feted by family and friends and feeling left out. With profits increasing about 300 percent last year and new registrants growing by 75 percent, 2010 was a banner year for Easter's company.
Projections for 2011 look bright, both for the wedding industry in general and Easter specifically. Easter expects part of the increase to come from "the many couples who put their weddings on hold during the [recession] who are finally feeling comfortable enough to move forward with plans."
A wedding boom on the horizon?
Another factor in the industry's favor is demographics. The average age for American women to get married is climbing, edging close to 26 (28 for first-time grooms), up from 20 in the '50s and '60s. This means more couples are paying for all or part of their wedding themselves, making them perhaps more budget-conscious, as well as more open to nontraditional celebrations. Currently hot: green weddings and destination weddings.
The other demographic trend that will make the wedding business stronger in years to come is the coming of age of Generation Y. The U.S. birth rate started shooting up in 1987. Since then, it's hovered around 4 million a year (4.1 million kids were born in 2009), the official number for a "baby boom" year. Do the math. There's a wedding boom coming that will last at least 22 years.
One key to making money in this industry is marketing smartly. Easter plans to spend less on traditional online advertising in 2011. Instead, he says he will "rely heavily on organic search engine marketing as well as content/blogging partnerships within the wedding industry." Easter also recommends using "the power of social networks and tools" to connect to existing and potential customers.
The numbers don't lie. Wedding businesses took a big hit in the recession. But the convergence of a recovering economy and friendly demographics will change all that. Instead of hurting, wedding entrepreneurs will be singing "Love Heals."