The Cost of Breeding a Westminster Champ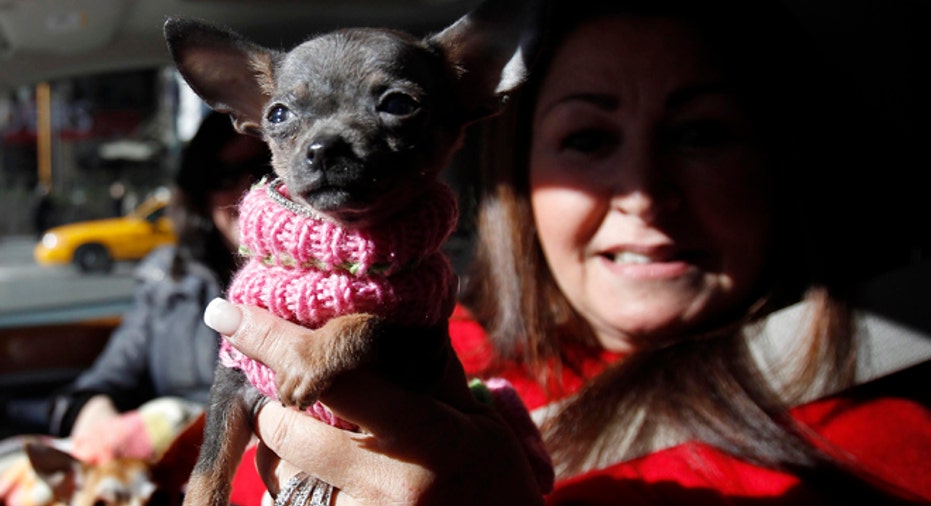 A Scottish deerhound named Hickory won the top prize at the 2011 Westminster Dog Show last night, but you can bet winning that coveted silver bowl and prestigious title didn't come cheap for her owners.
The entry fee for the Westminster Dog Show is $75, but the costs certainly don't end there. David Frei, director of communications for the Westminster Kennel Club, said preparing a dog to compete at the highest level would cost an owner upwards of six figures annually.
The bulk of that price comes from enlisting a professional handler, Frei said.
"At the heart and soul of this sport are the owner/handlers," Frei said. "They have dogs living with them full-time as members of their families. Campaigning a dog as a top 20 potential is probably going to cost you six figures between handling fees, boarding for the handler, grooming, travel, show entries and advertising."
The payback to owners is very limited, Frei said. The only way for an owner to make money off of the dog is to sell puppies and charge stud fees for breeding.
"It doesn't … touch what you spend," Frei said.
However, an owner that believes in his or her dog can join the competitive circuit his or herself, and cut costs. Training, traveling and more can be done by the owner, but there is no guarantee of escalating the pet to the highest levels.
"Anybody can keep a good dog looking good, if you have the right dog, of course," Frei said. "But if you have a great dog, the right handler can make the great dog look better. You can't take an average dog and make it great."
Some owners don't actually live with their show dogs. Instead, handlers live with the dogs, while ownership may be split among several owners, Frei said. One may pay for advertising, while another will pay for grooming and entry fees. Frei likened it to racehorse syndication, where owners pay through a team effort.
Those looking to show their dogs can treat it as a hobby, or professional sport. The level of dedication and commitment are entirely up to the owner, however the higher the level, the higher the cost.
"It's like buying a speedboat," he said. "If you want you can buy the biggest, baddest speedboat on the lake."