The Cost of Being on 'American Idol'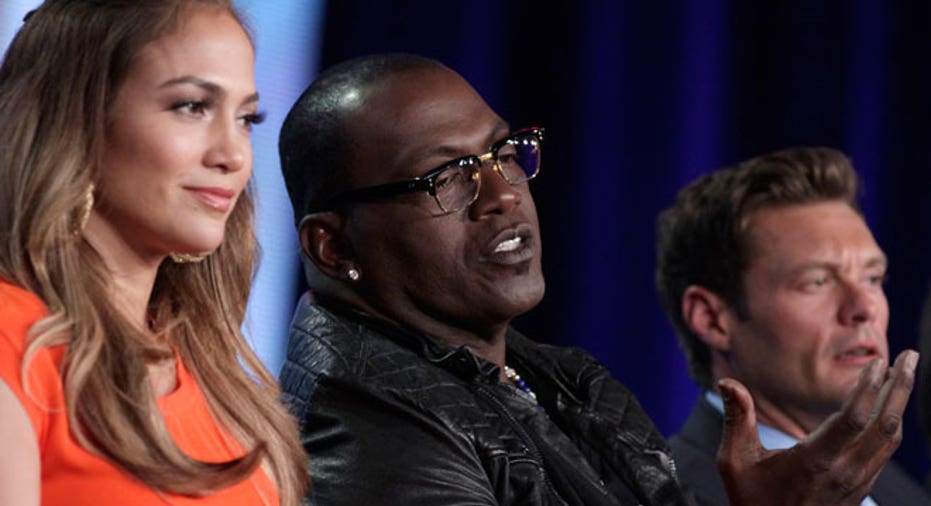 What Does it Cost to Be on 'Idol'?
"American Idol," that hyperkinetic, TV-tastic, Simonized shine on the amateur hour concept, has embedded itself into our national consciousness with the tenacity of an earworm that we just can't get out of our heads.
Even if you don't know Bo Bice from Bo Diddley, or creator Simon Fuller from designated meanie Simon Cowell, you feel the familiar longing for instant adulation, that old rags-to-riches rumba. It's as American as rock 'n' roll.
What will it cost you to make a lunge for that golden ticket? And what, realistically, can you expect to receive in return?
We'll break it down for you with the help of Richard Rushfield, the Vanity Fair contributing editor who covered "Idol" for the Los Angeles Times for three years. His new book, "American Idol: The Untold Story" lifts the hood on this well-oiled star-making machine.
Bah-dah-bah-dah-bah-dah: This ... is American Idol!
Auditions Can Be Expensive
It's hard to fathom now, but American Idol's producers actually sent out audition fliers for the first season for fear they wouldn't attract a sufficient talent pool to captivate a television audience.
While those fears quickly vanished, audition costs remain a financial hurdle for hopefuls who follow the Idol audition trail from city to city, hoping to be selected.
"What the TV audience doesn't see is, if you're from San Diego and you audition and make it through in St. Louis, then you have to return to St. Louis a month or two later for the next round, and then again for a third round," says Rushfield. "Some can't afford to and drop out."
To earn a shot, David Archuleta traveled from Salt Lake City to San Diego, Jordin Sparks flew from Glendale, Ariz., to Seattle, and Brooke White crossed the country from Mesa, Ariz., to Philadelphia.
The gamble paid off. According to Forbes, Archuleta made $1.4 million and Sparks made $1.8 million from June 2009 to May 2010. White launched her acting career on the Fox made-for-TV movie, "Change of Plans."
Housing 20 Gokeys Can get Pricey
Once chosen for the top 12, Idol contestants are provided room and board, although the accommodations have varied widely from season to season.
"There have been years where they want to show it on the air so they put them up in mansions in the Hollywood hills; other years, they've put them up in this apartment complex that's not seen on the air," says Rushfield. "It's nothing fancy, but it's not squalor. They have roommates all the way through, and when their roommates get cut, they consolidate them to save on the rooms."
A far bigger expense falls to the contestants' families. "They don't provide travel or expenses for families," he says. "That's the expense that causes the most trouble for Idols and their families."
To ease the pain, an Orange County minister and his wife extended their ministry and their home to the families of Jason Castro, Kristy Lee Cook, Syesha Mercado, Danny Gokey and many others. The ministry itself became an unofficial part of the extended Idol family.
"Danny Gokey had some huge number of brothers and sisters," says Rushfield. "There were like 20 Gokey family members living there."
Did Adam Lambert Buy His Own Clothes?
Ever wonder whether Adam Lambert paid for those outrageous "Glambert" costumes he wore on the eigth season? The answer is yes -- and no.
"They go on a shopping trip with a fashion consultant who works on the show and they get like $450 a week to spend on whatever they want," says Rushfield. "But a lot of them dip into their own pocket because a few hundred dollars doesn't go that far in a lot of these expensive stores in Hollywood. The clothes are theirs to keep after the show."
Contestants who bail on their day jobs for a shot at Idol fame often risk more than mere wardrobe expenses. Nikki McKibbin, who shared the first season's top three with runner-up Justin Guarini and winner Kelly Clarkson, sacrificed her new karaoke company and lost her apartment for nonpayment of rent. The second season's top three finalist Kimberley Locke passed up law school for her shot.
The two pursued different paths post-Idol: McKibbin wound up in the high-profile TV series "Celebrity Rehab with Dr. Drew" while Locke became a recording artist, plus-size model and "Celebrity Fit Club" contestant.
'She Bangs,' he Banked
Sure, everyone wants to be the next Chris Daughtry or Carrie Underwood. But if your vocals are remarkably bad, you could jump straight from audition week to international stardom as the best of the worst.
Case in point: William Hung. The sonically challenged University of California, Berkeley engineering student so thoroughly ravaged Ricky Martin's infectious "She Bangs" during his third-season San Francisco audition that within days he became an international cottage industry, shaking his bon-bon on talk shows and cashing in on the karaoke circuit.
He may have been denied a golden ticket to Hollywood, but Hung currently ranks 21st in record sales among Idol alumni, according to Billboard. His 2004 album, "Inspiration," sold 240,000 copies, reached No. 34 on the Billboard 200 charts and spawned a 40-minute day-in-the-life DVD. Not a bad payday from a couple gallons of gas and parking for the audition.
Hung's duet with fellow Idol oddball General Larry Platt of "Pants On the Ground" during last season's finale was a fitting salute to this also-ran who sprinted straight to the bank.
How Much Does an 'Idol' Earn?
How much does an "Idol" finalist earn?
"Their payday for a year of very hard work comes to something like $1 million," says Rushfield. "The top four all do Disney World commercials; that's one of the biggest paydays. They also get money for albums and shooting the Ford commercials."
Then there's the show itself. The American Federation of Television and Radio Artists, or AFTRA, pays each top 24 contestant a performance fee: $1,571 plus meals for two-hour Idol shows, $1,303 for one-hour shows and $910 for half-hour results shows. But they all must fork over $1,600 to join AFTRA.
The biggest payday for most of the top 12 is the summer tour. "They get around $150,000 for four or five months of touring," says Rushfield.
The higher the finish, the larger the paycheck -- with notable exceptions. According to Forbes, season four winner Carrie Underwood led the pack, earning $13 million from June 2009 to May 2010. She was followed by season one winner Kelly Clarkson with $11.7 million. But Idol runners-up Chris Daughtry (third at $10.2 million), Kellie Pickler (fourth, $7.6 million) and Jennifer Hudson (sixth, $3.5 million) routinely out-earn winners David Cook, Taylor Hicks, Kris Allen and Ruben Studdard.
How Idol Alums Make a Living
An American Idol appearance is hardly a guaranteed money machine. To leverage that invaluable weekly exposure to 20-plus million viewers into a sustainable career, most Idols have to adapt, retool -- and occasionally step beyond their comfort zone.
Broadway has been one preferred career detour, especially for those three or four contestants each year who are selected as clients by 19 Entertainment, the management company founded by Idol creator Simon Fuller.
Clients including Jordin Sparks ("In the Heights"), Clay Aiken ("Spamalot") and Ruben Studdard ("Ain't Misbehavin'") have all trod the boards on the Great White Way, as have dozens of other Idol contestants, including Taylor Hicks ("Grease"), Diana DeGarmo ("Hairspray," "9 to 5") and Constantine Maroulis ("Rock of Ages").
Jennifer Hudson became the first Idol Oscar winner for her role in the film version of "Dreamgirls."
With 100 former Idol top 12 contestants now competing for the love, versatility definitely becomes an asset, if not a survival tool.
"Some of the ones that are so great but don't win, everybody says, 'Oh, they'll be fine, they were such a great contender,'" says Rushfield. "But the public's attention span can be pretty short."
Sanjaya and the Lucrative Cult of Celebrity
If there's one Idol contestant that has done the most with, well, the least, it's Sanjaya.
The sassy Seattleite with the "ponyhawk" parlayed a lackluster seventh-place finish in the show's sixth season into a multifaceted, laughing-all-the-way-to-the-bank career that includes modeling, recording, reality TV ("I'm a Celebrity ... Get Me Out of Here!"), theater, commercials and an autobiography ("Dancing to the Music In My Head").
He's not the only Idol to hit the bookshelves: for a little Idol reading, check out memoirs by David Archuleta ("Chords of Strength"), Melinda Doolittle ("Beyond Me"), Taylor Hicks ("Heart Full of Soul"), Clay Aiken ("Learning to Sing") and Fantasia ("Life Is Not a Fairy Tale").
Some Idols have gone on to international fame. Philippine-American Jasmine Trius from season three was so popular in the Philippines that she moved there. Michael Johns from season seven just released a single especially for Asian fans.
Rushfield has his favorite free-range Idols.
"Carly Smithson is now in a Cirque du Soleil show in Las Vegas ("Viva Elvis") and Kristy Lee Cook hosts a TV show on the Verses Network ("Goin' Country") that is essentially like hunting with the stars," he says.
Turning Idolatry Into a Sustainable Career
With each season, it becomes increasingly difficult to sustain an 'Idol' launch for the simple reason that there are more Idols in the marketplace. Beginning this fall, the challenge becomes even greater with the September premier of Simon Cowell's "X Factor."
How do you keep the idolatry alive? Take notes from Phil Stacey, a country singer from the sixth season who had his ducks in a row long before the confetti fell.
"He came off the tour and he started playing shows in a circuit based in Nashville and really built a following," says Rushfield. "He began to sell albums out of there and record companies signed him based on that."
The takeaway: Build your base from home rather than chase the Hollywood dream.
"It becomes a real regional thing," says Rushfield. "If they're just focused on Hollywood, they're coming into a world where there are now 100 former Idols and a lot of competition. But out where they came from, there are a lot of people who want to see music and the 'Idol' name means something. If they harness that, they can get a lot going."