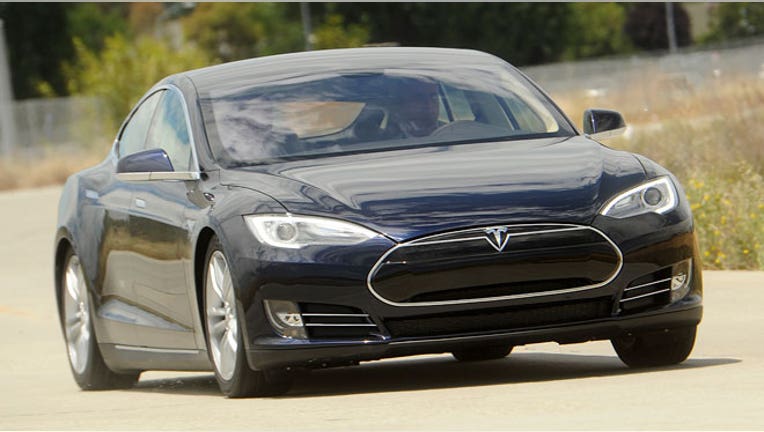 Tech giants Google, Apple and Tesla are leading the charge to develop high-tech connected cars, but a new study is casting doubt over consumer demand.
Spanish telecom company Telefónica recently released its second annual Connected Car Industry Report, which finds consumers are most interested in increased safety, early warning systems, smarter navigation and usage-based insurance in their smart cars rather than social media access. Yet, 80% of consumers do eventually expect to have the same connected experience they enjoy at home from the road.
Connectivity behind the wheel doesn't come cheap, so with consumers either having adverse or disinterested takes on connectivity behind the wheel, should manufacturers continue to charge ahead with these new innovations? Analysts say yes, but warn it's going to be an uphill battle.
The issue with getting consumers to adopt the idea of the connected car is what futurist Mike Walsh refers to as the "manufacturers' curse." And Walsh would know, he's worked with car manufacturers to develop some of this technology, but declined to share names for confidentiality reasons.
"Automotive manufacturers are still unsure of what their place should be with connected cars," he says. "They still think they're making metal boxes on wheels. They think they have a close relationship with people who buy them, but they don't, because cars are sold through dealer networks."
Car manufacturers and dealers have a tense relationship, Walsh explains, in the same way that phone hardware makers like Apple (NASDAQ: APPL) and Google (NASDAQ:GOOG) and phone carriers like AT&T (NYSE: T) and Verizon (NYSE:VZ) once butted heads over customer data.
"It's about who owns customer data," he says. "When the smartphone revolution began, Apple and Google realized it was a prime opportunity to build data to have a stronger relationship with customers, and they overcame the manufacturers' curse. Teens today will say they have a better relationship with Apple than they do with AT&T because Apple has taken control of this."
Consumer Apprehension
Edmunds.com analyst Aaron Lewis says adoption to connected cars will be slow because consumers know they shouldn't be checking their phones to update their Facebook page or tweet while on the road.
"Without temptations like this in the car, you don't have those sorts of distractions," he says. "But it ultimately comes down to driver responsibility—someone who knows their primary responsibility is to be focused on the road."
He argues connected cars can be also be a major benefit to passengers, once they become more mainstream.
"A mom might be interested in a connected car, for example, because it can give kids the option to be busy,"he says.
And as driverless cars move closer into the scope of reality, Lewis says the idea of a connected car will become a must-have.
"When cars are self-driving, everyone will want connectivity because they won't be responsible for being behind the wheel," he says. "With cars moving more toward automation, connectivity is a big part in making sure cars function appropriately."
Taking Matters into Manufacturers' Hands
Walsh argues Tesla (NASDAQ:TSLA) is the only manufacturer taking an end-to-end approach to building hardware, software and services in a vehicle. Lewis names RAM and Audi as brands also making strides in connectivity.
"Without that [end-to-end approach], you don't get the consumer experience locked," he says. "An app that lets you tweet while you drive is about as compelling as an iPod dock on a cheap car."
Smart car manufacturers will realize that partnering with Apple and Google will be necessary, but they will also have to build their own ecosystems, Walsh says. He expects consumers to be open to connected cars on a large scale within five years.
"Most car brands are too caught in the industrial mindset," he says. "The truth is, the world doesn't need another refined leather interior, but that is how they think. "