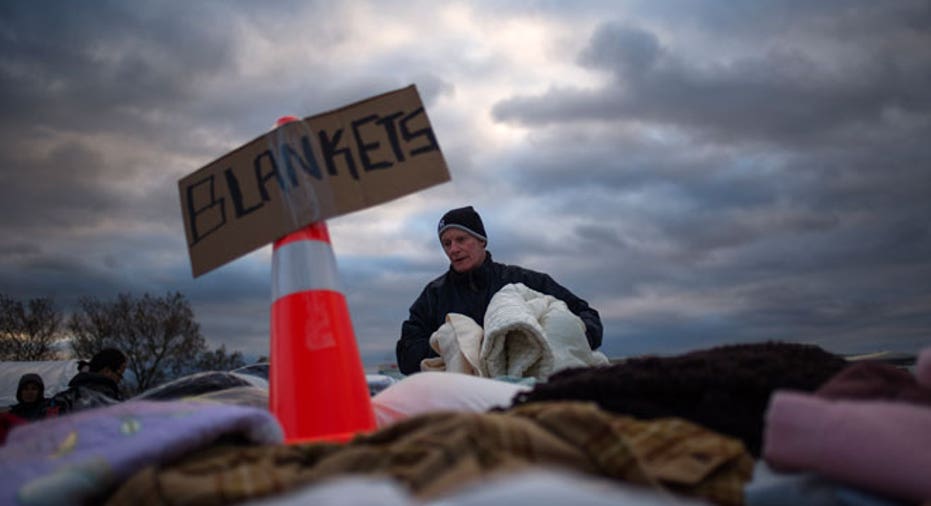 Community is many things: the spirit of a clothing drive, the glow of holiday decorating, the common courtesy of one neighbor quietly looking out for another.
But in October 2012, for the residents of Sea Bright, NJ, community came to mean something else entirely. After the coastal town of 1,400 residents was rocked on October 29 by Hurricane Sandy — the deadliest storm of the 2012 season, and the second-most expensive in U.S. history — community emerged like an immune system, repairing and healing the damaged town from one house to the next. And it's something no Sea Brighter, to this day, takes for granted.
Nor do they have to. Three years after the storm, every Sea Brighter not only has a stronger sense of what it means to have community, but what it truly means to be home.
Lessons in loss
For many in Sea Bright, that lesson usually starts with loss. A prime example is local librarian Elizabeth Homer, who lived in a 100-year-old house. "We had between three-and-a-half and four feet of water inside," she recalls. "It was not just simple, rising water. It was churning, ferocious water."
Homer wasn't able to save anything on her first floor. "Everything had to be thrown out," she says.
Her story isn't unique — and that's the repeat tragedy of Sandy. "All of our homes were in different states of ruin," says Sea Bright resident Susie Markson. She'd been living in the same apartment for 20 years, "as close to the beach as you can live without actually pitching a tent in the sand."
But then Sandy came and "wiped out the apartment under mine, causing part of my bedroom and bathroom to collapse." Markson wasn't allowed to salvage her belongings. Only when she found out looters had helped themselves did she step in and claim what she could. "It was scary," she recalls. "The floor was mushy."
A vulnerable spot
That Sandy hit the town hard is no surprise. Sea Bright, originally a small fishing town, is basically a three-mile strip of land in perpetual face-off with the Atlantic Ocean. But Sandy was unlike any storm the beach town had ever seen.
Resident Cristine Sinnott knew her 126-year-old house wasn't immune, but it was also raised up, and had survived Irene. She had good reason to hope for the best. "Never in 126 years had it had water in it," Sinnott notes. "We were preparing for a hurricane, not water damage."
Once Sandy hit, says Sinnott, "we had water above the kitchen counters."
The situation was painfully similar for Felecia Stratton, a long-time resident who, like many, happily lives across the street from the ocean. "We had raised our house after the 1992 Nor'easter, but it went up only eight feet," the highest elevation permitted at the time.
But Sandy hit harder than anyone expected. "We had nearly three feet of water in the house," says Stratton. "We lost the entire first floor."
Heartbreak and hope
Stories of Sandy get worse — much worse. "Every dwelling, every building, every structure in my entire town was affected by Hurricane Sandy in some form or another," says Sinnott.
Some didn't survive, and some couldn't stay. "One dear friend lost her home and was forced to leave Sea Bright," says Stratton. "The town where she was born and grew up. That was heartbreaking."
But even in that grim aftermath of the storm, a bit of hope was brewing. "The first days after the storm were chaotic, as everyone searched for temporary shelter," recalls Stratton. "No one had electricity, and gas was hard to come by."
Frustration might have remained the dominant mood, but Sea Bright Mayor Dina Long "quickly arranged for a town meeting at a local school," says Stratton. "That was the first time I had seen many of my neighbors, and we were able to share our stories and status."
Mayor Long — who also lost everything — was a huge point of strength for Sea Bright, sleeping on an air mattress and working dawn to dusk to organize rebuilding efforts. "Without her," says Stratton, "I don't know how this town would have survived."
Not that Long takes credit. The way she sees it, she just guided the town through its own repair. "Sea Brighters rolled up their sleeves and got to work rebuilding their homes, while downtown business owners opened their doors as soon as they could," Long says.
Community efforts emerged amid official efforts, often unasked. "Everybody pitched in with everybody," says Sinnott, who had no fewer than 26 people show up to help her clean out her house.
Small miracles of community became the norm. "The biggest thing I felt was collective belonging," says Homer, who posted on Facebook that she needed help cleaning her home and "got 20 people — some I knew, but mostly strangers — show up to help."
A local recreation center "quickly became a donation drop-off point" for basic supplies, says Stratton. As for food, Chris Wood, owner of Woody's Ocean Grille "implemented a mobile food station in his parking lot so workers and residents had a place to eat, for free."
Redefining home
Community was thriving, but the idea of "home" was still a gaping question mark after Sandy, with many residents struggling through so much red tape to repair and recover.
"We weren't able to touch any stuff in our house until we got insurance approval," says Sinnott. "I had some things that were quite valuable — in my eyes, anyway." Forty-five days later, "when insurance finally came, there was no salvaging it."
Sinnott was finally able to move home after 14 months. In May 2015, she moved out so the house could be raised higher. She finally moved back in about one week ago, now with a view of the Manhattan skyline and the ocean. Still, a picture of her house's former exterior hangs in her refurbished home, a gentle reminder of what was.
That seems to be the sense of things in Sea Bright: home, with an echo of the past. Markson moved back to her beach apartment, except it had been totally rebuilt. "I forgot that I wasn't really going home," she says. "The home I had lived in for close to 20 years didn't exist anymore."
But moving back in wasn't a question — for Markson or any Sea Brighter. Home, like anything, would come in a matter of time.
Stratton was one of the first people back on her street, after just six months, but it was a ghost town. "Those early days were painful," she recalls.
Homer was able to get back home after 14 months, but her home had been demolished and completely rebuilt. "We rebuilt smaller and stronger, and got home," a necessary — and common — sacrifice.
What's  most amazing, three years after Sandy, is the renewed dedication to the town despite such losses. "I met incredible people since Sandy, and I'm so much more involved with the town and its people," says Homer. "I would never want to live anywhere else."
Markson, who drove Mayor Long around after the storm, explains why the community's tragedy ultimately strengthened it: "What I learned is that the only way to feel better about a horrible situation is to help other people. That's it. That's the answer. I think everyone realized it."
And even she finally began feeling at home again. "It took a lot of dinner parties and slumber parties, and cleaning up after my dog, and puzzle-and-soup Sundays before I could breathe again," Markson says. "But eventually I did, and I still do. And it smells like the ocean and just like that, I'm home."
Photos by Mikal Marie Photography, and courtesy of Felecia Stratton, Cristine Sinnott, and Elizabeth Homer. 
More from Zillow:Hurricane Insurance: What Homeowners and Renters Should KnowThink You're Covered? 6 Problems Your Home Insurance May Not Help WithBeach Decor for Every Home