The 'Cake Boss' Talks Business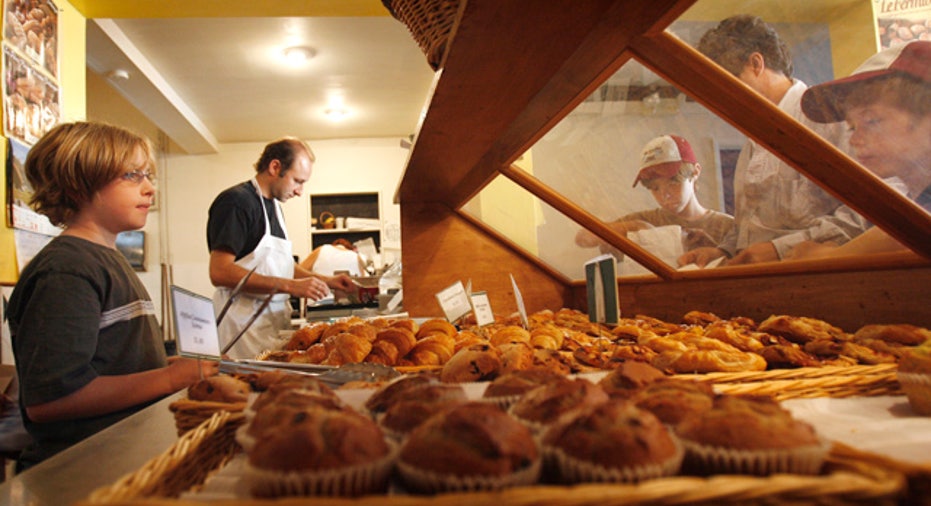 Buddy Valastro, the star of the reality show, "Cake Boss," knows how to bake a heck of a cake. He also knows a lot about running a business. The proof of his business prowess is in the pudding, so to speak.
As the proprietor of Carlo's Bakery, he has turned his family-owned Hoboken, N.J.-based business into an internationally known brand featured on "The Cake Boss," which airs on TLC. Under the direction of Valastro and his mother, sisters and brothers-in-law, the company has become a household name.
But, rather than revel in their newly found fame, the Carlo's Bakery family has decided to reinvest in their business and make pastry while the sun shines, as it were.
Since the debut of "The Cake Boss," in 2009, the company has not only experienced a huge increase in business, resulting in lines of customers winding around the block beginning in the wee hours of the morning, it has also expanded beyond its Hoboken location to open a 30,000 square-foot facility in nearby Jersey City, N.J. There, Carlo's employees bake customer orders, offer baking classes and tape "Cake Boss" spinoff shows: "Kitchen Boss" and "Next Great Baker."
The season finale of "Next Great Baker" airs on Tuesday (Jan. 31). Late January will see the debut of a new season of "Kitchen Boss," in which Valastro gives simple cooking lessons for his favorite family recipes. It will also mark the beginning of a new set of cooking classes offered in "The Kitchen."
In an email interview with BusinessNewsDaily, Valastro and his brothers-in-law, Joey Faugno and Mauro Castano, tell us how they've leveraged the company's new success to grow and sustain the business while managing to continue to be one big happy family – at least most of the time.
BusinessNewsDaily: What's the biggest challenge of running a business with family?
Joey: Working in a family business is unlike anything else. You fight and yell, and then you sit down for a meal. We always joke about that, but it's true. You might see us fighting on the show but you don't always see what happens after the work day is over. We spend eight to 10 hours every day at work and then hang out with each other at night. I feel lucky that we can work so hard at our jobs but still have that family time while we're doing it.
BND: How has your day-to-day life at the bakery changed since you started the show? Do you still work in the bakery on a daily basis?
Mauro: We're all here six days a week. We switched around some of our jobs. Right now I decorate and do some of the consultations. Joey is in charge of all the bakers, Grace is working in the office and Buddy oversees everything. We're all just as involved as before the show- probably even more now.
BND: How has the family as a whole reacted to becoming famous?
Joey: At the end of the day, the dynamics of the bakery are similar to how it's always been. We work together all day, and then go home and have dinner together. We're always together, but that's what makes it fun.
BND: You seem to have decided that rather than abandon the bakery for the entertainment business, you would leverage your current fame to build upon the business. What made you decide to invest in the future of the business, rather than focusing on being TV personalities?
Joey: We're just bakers from New Jersey. After everything is said and done, the bakery is what got us here. We put a lot of effort into our recipes and our designs because that's what we're about.
BND: What are the biggest business challenges presented by filming in the bakery?
Mauro: We have a lot of fun when we're filming. The crew becomes part of "la famiglia." It was hard when we were in Hoboken because the bakery was so small. You'd be tripping over people. Now we're at the Cake Factory and there's room to spread out.
BND: You mention your dad on the show a lot. He seems to be the inspiration behind everything you do. Did your decision to use your fame/celebrity to grow your business have a lot to do with what you thought your father would want you to do?
Buddy: At the end of the day, I'm just a baker from New Jersey. I've been so lucky to have people recognize the work that we do at Carlo's Bakery, and blessed that families invite me into their homes every week. Family is very important to me, and the bakery is a big part of who we are. Part of building my Cake Factory was fulfilling my dream of making Carlo's a household name. We'll be able to ship [orders], we have classes. We have the space to do everything I dreamed of. Everything I do is to bring a little piece of Carlo's to our fans – my live show, books. I want people to be able to experience it no matter where they live.
BND: What advice would you give to any entrepreneur who wants to start a business, but doesn't know how to start?
Buddy: You should understand that nothing good comes without hard work. It's what the American Dream is all about. No one realizes that I'm the first to get to the bakery every morning and the last to leave. That's how it's always been. You need to be willing to work hard to make your business successful.
Jeanette Mulvey has been the managing editor of BusinessNewsDaily since its debut in 2010. She has written about small business for more than 20 years and formerly owned her own e-commerce business. Her column, Mind Your Business, appears on Mondays only on BusinessNewsDaily. You can follow her on Twitter at @jeanettebnd or contact her via e-mail at jmulvey@techmedianetwork.com.
Copyright 2012 BusinessNewsDaily, a TechMediaNetwork company. All rights reserved. This material may not be published, broadcast, rewritten or redistributed.
Read more from BusinessNewsDaily: