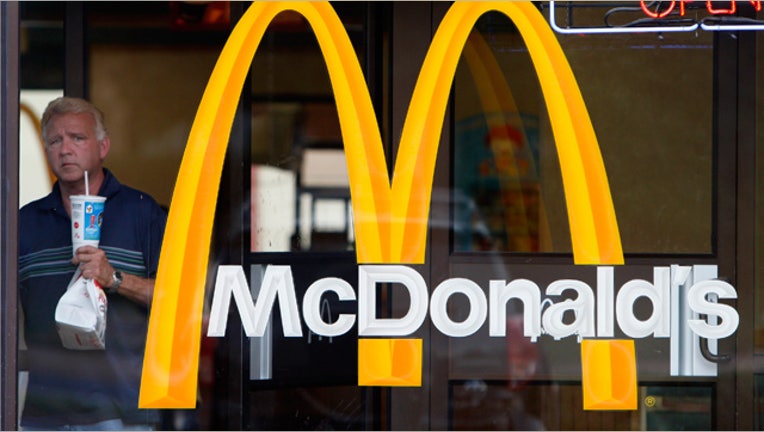 Brad Pitt, Ryan Gosling, and Bill Maher may need to keep their pens and pads ready because the world's largest fast food chain McDonald's (NYSE:MCD) could be the next target after the celebrity dream team partnered with animal rights groups to urge Costco's (NASDAQ:COST) CEO Craig Jelinek to stop selling caged eggs.
"There is no definitive plan, but I think it's likely that once Costco agrees to stop purchasing eggs from caged hens, the animal protection community will turn our attention to McDonald's," says Bruce G. Friedrich, Director of Policy & Engagement for Farm Sanctuary, an organization that works to protect farm animals from cruelty. Friedrich went on to say, "McDonald's is the most hypocritical company on this issue—accepting awards for being cage-free in Europe while making no progress at all in the U.S."
Friedrich recalls McDonald's accepting an award for "forward thinking" in Europe in 2008 for being one of the first major corporations to get rid of battery cages while they have made no attempts to change their policies in the United States.
"Here in the US, the company uses nearly 100% eggs from caged hens, even as competitors like Burger King (NYSE:BKW) make progress. It's high time for McDonald's USA to follow the lead of its international counterparts and domestic competitors by outlining plans to free chickens from cages, says Matthew Prescott, Senior Food Policy Director, The Humane Society of the United States, whose investigation into one of Costco's suppliers opened the doors to this issue.
Bill Maher even highlighted steps other corporations are making to prevent this type of cruelty to animals in his op-ed, "Free the Hens, Costco!" featured in the New York Times in early July.
"Unilever (NYSE:UN), which produces Hellmann's mayonnaise, will be 100 percent cage-free by 2020. So will some of the largest food-service companies — including Aramark (NYSE:ARMK), Sodexo and Compass Group. Burger King will be 100 percent cage-free by 2017, and Whole Foods (NASDAQ:WFM)hasn't sold caged eggs in more than a decade," writes Maher.
Although Prescott acknowledges McDonald's is lagging behind on this issue, he says his team's main focus is to get Costco to make good on its 2007 promise to move towards uncaging its egg-laying hens.
"Even in spite of video footage showing hens locked in cages with rotten, mummified corpses of dead birds, Costco's only public reaction is to say the egg supplier we investigated is 'behaving appropriately,'" says Prescott.
In an email to FOXBusiness.com, Costco's Chief Executive Craig Jelinek gave us the following statement.
"Thank you, but really nothing to report. We sent our release out about two months ago. Thanks, Craig."
McDonald's did not respond to a request for comment regarding its egg polices at the time of publication.
The Humane Society and the Farm Sanctuary says finding celebrities to join the fight for this cause was the easy part.
"When anyone—famous or not—hears about a company like Costco letting millions of animals be locked into tiny cages, it just doesn't sit well. So finding support for this issue is like finding sand in the desert," says Prescott.
Now that the issue is dominating headlines, the real power says Friedrich belongs to the consumer.
"Consumers don't want this kind of abuse. Costco will have to draw its support of cruelty to animals. It's like a self- inflicted wound for them. They need to stop it."