The Business Of College Football's National Championship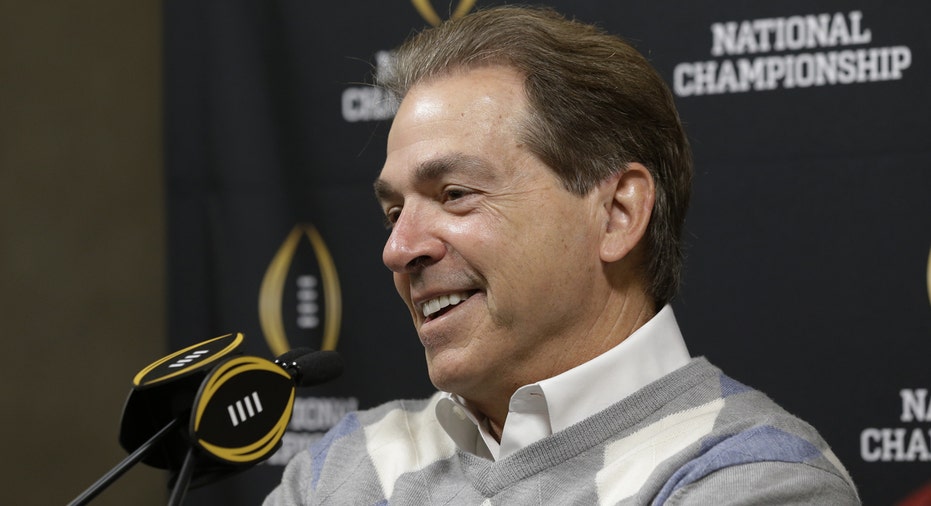 The College Football Playoff National Championship won't kick off until Monday night, but ESPN (NYSE:DIS) is already a winner in terms of revenue. Corporate sponsors and advertisers paid tens of millions of dollars to peddle their brands during college football's big night, which has arguably become more prestigious than any other annual sporting event save the Super Bowl.
ESPN spent billions of dollars in 2012 for the right to host the College Football Playoff, and that investment has already begun to pay off. Sports media analysts expect the television audience for Monday's battle between the Alabama Crimson Tide and the Clemson Tigers to approach last year's total of more than 33 million viewers. Even if ratings fall short, advertisers are salivating at the prospect of reaching an audience of that size.
ESPN charged about $1 million for a 30-second commercial during last season's college football national championship, according to Brandon Korody, a manager of data strategy at Navigate. This year, Navigate estimates ESPN charged between $1.2 million and $1.3 million for a 30-second spot. Official sponsorships for the College Football Playoff cost between $14 million and $16 million each, the Sports Business Journal reported. An ESPN spokesperson declined FOXBusiness.com's request for comment on the cost of commercial spots and sponsorships.
"Sponsor interest is strong towards college football and the playoff in particular. Overall, consumers who are interested in college sports are more likely to have gone to college themselves, meaning they over index in terms of both education and household income," said Jonathan Jensen, a sports marketing consultant and assistant professor at Merrimack College's Girard School of Business. "In aggregate, college football viewers are more attractive to advertisers and sponsors than fans of even the NFL."
The 2015 season marked the first time the NCAA used a four-team playoff to determine which schools would compete in its college football national championship. Given the immense interest and television viewership the event drew in its first year, it's likely that sponsorship and advertising fees will continue to rise.
The NFL's Super Bowl remains the standard by which all other major sporting events are judged. In 2015, Super Bowl XLIX generated a worldwide audience of more than 114 million viewers. NBC, which broadcast the event, reportedly charged about $4.5 million for a 30-second TV spot. The 2015 college football national championship was second only to that game in terms of audience, becoming the highest-rated cable television broadcast in history.
There is some concern among analysts that sagging ratings for this season's College Football Playoff semifinals could impact the national championship's audience. Viewership for the semifinals dropped 36% this season compared to last year, when the penultimate games drew more than 28 million viewers each. Critics attributed the downswing to the College Football Playoff's decision to air the games on New Year's Eve, in direct competition with traditional holiday programming, instead of on New Year's Day.
"I'd expect this game to draw at least as well as last year, with the limited national appeal of these teams offset by fans who didn't get to see much of the semifinal games," said Welch Suggs, a sports media expert and professor at the University of Georgia. "To that end sponsors are going to get a smaller audience than with the Super Bowl or other mega events, but they'll get a passionate audience very engaged with the game."
If ratings for this year's games fall short, ESPN will likely seek to compensate sponsors with additional airtime.
"Considering the decrease in viewership for the semifinals, it's hard to predict that viewership will increase much for the championship game," Korody said. "In cases such as this, networks will often offer additional 'make good' spots to ensure the advertiser receives the value for which they paid."
While college football's national championship is only getting more expensive for advertisers, fans interested in attending the game are paying far less than usual to do so. Tickets to Monday night's game are selling for much less than expected on the secondary market. The average ticket price stood at $568.69 as of Monday morning, down nearly 60% compared to the College Football Playoff semifinals, according to TiqIQ, a secondary market ticket aggregator.
Seats are much cheaper than they were last season, when the inaugural College Football Playoff's title game between the Ohio State Buckeyes and the Oregon Ducks sold for an average of $1,124.44. The decline in ticket prices can be attributed to expensive airfares for Clemson and Alabama fans interested in attending the game, as well as a degree of public boredom with Alabama's participation in the championship game for the fourth time since 2009, said Chris Matcovich, TiqIQ's Director of Data & Operations.