The Business of Being King: LeBron James Looking for Summer Interns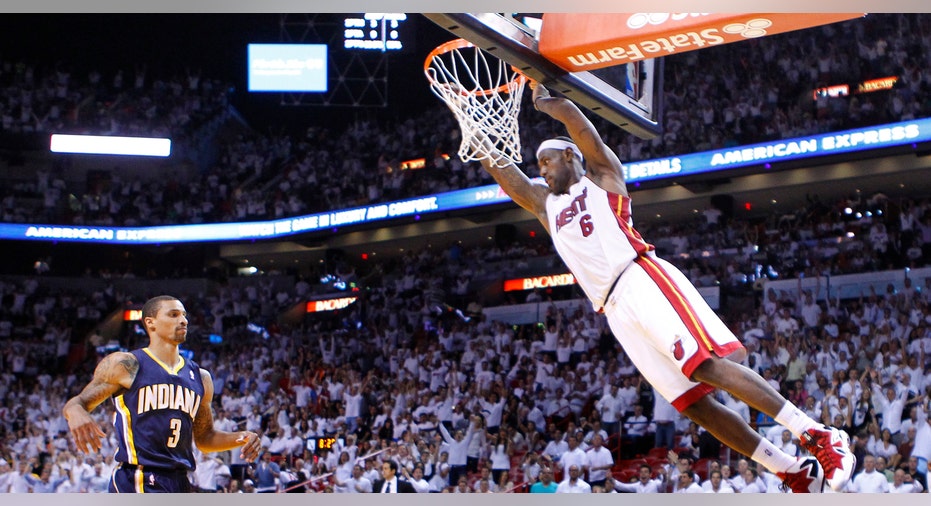 LeBron James is looking for summer interns – but a love of the Miami Heat isn't enough for a slam-dunk application.
Interns for James' official website will need to have "an interest in online content development and digital sports marketing," and be willing to work at least 10 hours a week, for three consecutive semesters. And while the All-Star player makes more than $17 million a year, according to The Miami Herald, there's no mention of salary in the online posting.
Being "the King" is actually a full-fledged business – with the marketing and communications needs a media company requires. As part of their responsibilities, interns will be "communicating and interacting with the LeBron fans around the world" on behalf of the Miami Heat star.
On top of that, they'll be expected to maintain "basketball and technology industry dossiers" and assist the content team at LeBronJames.com, which publishes original articles on fashion, music and entertainment – in addition to sports.
While James is setting a high bar for interns, InternMatch.com Chief Marketing Officer Nathan Parcells says it won't be hard to get the cream of the crop.
"He'll get a massive number of applications," says Parcells, "which is why he layered on some unique additional requirements for the role."
Resume Must-Haves for LeBron Because James is a global superstar, Parcells says it is not out of line for him to have high expectations for college interns.
"It's a unique position, working with someone who has that much of a global reach, so he wants someone who can wear a ton of hats," says Parcells.
Aside from demonstrating a "strong knowledge" of basketball and tech trends, interns need to be able to create spreadsheets and reports, manage social media and blogging platforms strategically, and be fluent in Adobe Creative Suite programs like Photoshop and InDesign.
But those are just the basic qualifications.
For applicants to really stand out, James is looking for residents of Ohio, South Florida and New York with technical coding skills/journalism, photography or videography experience, and – wait for it – Spanish fluency.
Por que? Since many of James' fans are in South Florida, career expert and LinkedIn spokesperson Nicole Williams says it makes sense to have interns who can effectively communicate with his Spanish-speaking fan base.
"When you're building a brand, you start in the places where you're already growing fastest," says Williams.
Parcells agrees: "Down in Miami, it helps to have someone who can connect with the hometown crowd."
Interns Already Need to Play in the Big Leagues For this type of opening, Parcells says it used to be enough for students to simply have communications coursework experience – but not anymore.
"Since online tools are so accessible, interns should already be engaging from a young age," he says. While students may not have that much professional experience, Parcells explains it's necessary to demonstrate passion and proficiency that goes above and beyond just the classroom.
"They should already be publishing a blog and already know marketing tools," he says, in order to demonstrate they're qualified to join James' entourage.
Williams says James and other employers are also looking for interns to represent their brands.
"The presentation of the professional self is important," she says, "and people actually care about the physical stuff."
So while James might rock a sweatband on the court, it's probably not the best accessory for an intern applicant.
"You want to see someone that respects themselves and your time," she explains.
And most importantly, it's not enough anymore to just be proficient on social media – especially when applying for a position at LeBronJames.com, which mentions technology and social media multiple times in the posting.
"You don't just want a student who's part of the millennial generation and can use Facebook and Snapchat," says Parcells. He believes James' interns will be expected to actually bring fresh insight and new skill sets to the office.
"Leveraging social media [to get traffic], creating cool infographics, building something that has built-in social media sharing capabalities – these technical skills will set you apart," Parcells says.
Interested applicants should start writing their 500-word essay now: The application period closes Tuesday at 10 a.m. ET.