The Biggest McDonald's Challenge Wall Street Isn't Talking About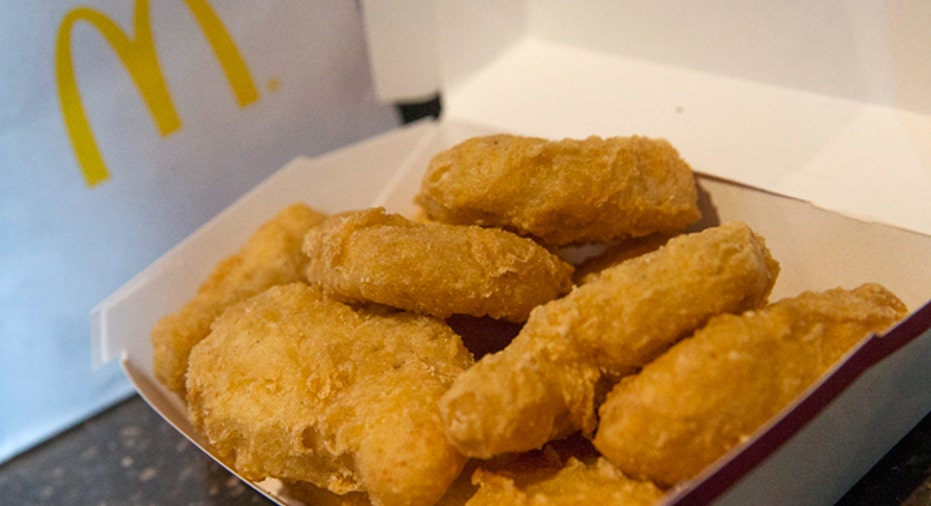 Call it two fries short of a Happy Meal.
After some time to digest McDonald's (NYSE:MCD) latest offering, Wall Street's reaction to the Golden Arches' turnaround strategy has been less than enthusiastic.
The Oak Brook, Ill-based burger giant on Monday announced the first part of a strategy aimed at helping the company reinvigorate itself and give shareholders something to munch on. The effort focused mostly on reorganization and streamlining operations.
Beginning in July, the company's operational structure will be comprised of four market segments: U.S., which brought in 40% of the company's operating income last year, is the largest segment; international lead markets which include Canada and the UK, and also accounts for 40% of the chain's operating income; high-growth markets including China, and Italy; and foundational markets.
CEO Steve Easterbook, in a statement, said the new structure will allow for "fewer layers and less bureaucracy," while driving growth and profitability for the overall company.
"McDonald's new structure will more closely align similar markets so they can better leverage their collective insights, energy and expertise to deliver a stronger menu, service, and overall experience for our customers," he said.
"The McDonald's five years from now will be improved from the McDonald's today. The big question is whether the competitive set today is the toughest set they've faced in decades, and if it will be the most competitive they will face in five years."
In addition, the world's biggest burger chain also said it intends to refranchise – turn company-owned stores into franchisee-owned stores – 3,500 restaurants by the end of 2018, bringing the company's global franchised percentage from 81% to 90%. Easterbrook also unveiled plans to deliver about $300 million in net annual G&A savings, and return $8 billion to $9 billion to its shareholders by the end of this year.
"These are exciting and liberating moves for our system, and this is how leadership brands evolve to stay in step with their customers," Easterbrook continued in a statement. "Meaningful, positive measures of improvement will take time. The most impactful measures of our performance will be through the eyes of our consumers."
Wall Street Not Lovin' It, Not Hatin' It
Easterbrook took over as CEO earlier this year when former chief executive Don Thompson stepped into retirement after just two-and-a-half years at the fast-food giant's helm. Since that time, it's been no secret there were plans in the works for an effort to revamp the 75-year-old company.
Wall Street got wind of the plan to unveil a change in direction when McDonald's released its most recent quarterly earnings results two weeks ago, which, as Mark Kalinowski, lead restaurant analyst at Janney Capital Markets, points out, could be the reason for the muted reaction.
"There was a build-up leading up to the event and ultimately, in context, what McDonald's had to say is leaving Wall Street a little underwhelmed," he said. "I look at it like this: The McDonald's five years from now will be improved from the McDonald's today. The big question is whether the competitive set today is the toughest set they've faced in decades, and if it will be the most competitive they will face in five years."
In other words: This might not be the end of the Golden Arches' woes.
The problem, Kalinowski said, comes not from a lack of catering to millennials, or trying to compete with the likes of "modern" fast-food chains like Chipotle (NYSE:CMG), New York-based Shake Shack (NYSE:SHAK), or Panera Bread (NASDAQ:PNRA), it comes from not understanding its own competition. He said fast-casual is a category in which consumers don't want to spend a lot of money, but if they do,  they're willing to spend it on better-for-you food that can't be found at most traditional fast-food chains.
And it's that way of thinking that's helping damage the McDonald's brand.
But it's not the biggest threat, according to Kalinowski.
"It's clearly Chick-fil-A," he said. "Ten years ago, it was the nineteenth-biggest chain in America. Today it's the eighth biggest, and it'll end the decade as the fourth biggest," he said. "It's traditional fast food done right. They focus on chicken."
Although McDonald's seems to be known for its juicy hamburgers, and it's often referred to as a burger chain, Kalinowski said it actually sells more chicken than beef.
"There's so much growth for [Chick-fil-A] for decades to come: There are less than 2,000 of them while McDonald's is getting close to 16,000 restaurants in the U.S.," he explained. "That's the bigger threat because what Chick-fil-A offers is much closer to McDonald's business."
Fast-Food Fight
The stiff competition in the burger (and chicken) world doesn't end there, though. As the worries over McDonald's strength grow, attention turns to its other competitors, like Yum Brands (NYSE:YUM), with a restaurant portfolio that includes KFC, Taco Bell, and Pizza Hut, where investors see more bang for their buck – even despite a years-long battle to combat worry over the safety of its chicken products in China.
Indeed, last week Dan Loeb's Third Point announced a "significant" position in the company, and Monday afternoon brought an announcement from hedge fund Corvex, which said it had taken a $1.5 billion stake in the company, and called for a spinoff of its China business.
Sterne Agee senior research analyst Lynne Collier, who has a neutral rating on the stock, said it's not time to count out the Golden Arches just yet. She said rumors have run rampant for a while that McDonald's is ripe for activist involvement – especially if it can't turn around its top-line, which saw an 11% decline in the first quarter compared to the same period a year ago, while same-store sales dropped 2.3% thanks to negative traffic in all of its major segments.
Collier said McDonald's left a lot to be desired on Monday.
"There was no update on the real-estate side as far as monetizing or spinning it out into a REIT. Some investors also wanted more specifics with respect to the same-store sales numbers. The refranchising commentary was mostly as expected, and we expected management changes," she said.
Collier added as the company moves forward unrolling its new strategies to investors, it also can't forget about the consumers and their perceptions. She pointed specifically to past comp sales which were driven a lot by new product innovation in the beverages segment that included an expansion in its coffee and smoothie offerings.
"We think they're doing the right thing on a financial basis, but it will take time to turn around consumer perceptions of the food and the brand," she said. "It's hard to compete with different perceptions of the brand, but they're moving in the right direction to provide more information on food quality, taking antibiotics out of its chicken…it will take a while to translate into same-store sales turnaround."
The burger giant also left a lot to be desired in terms of menu offerings. Kalinowski said though McDonald's has said it plans to slim down its menu, at the same time, it also adds items back to the board like gourmet chicken and sirloin hamburgers. He said when it comes to being McDonald's, simplicity might be key.
"It might be what customers want, but it doesn't make restaurant operations simpler," he said. "They know from an operations perspective doing breakfast all day is more difficult than doing it until 10:30 a.m. Part of the challenge is being pulled in one direction by customers who want customization, but running a McDonald's restaurant is challenging and 'simplified' goes against what customers want."
To that point, he said McDonald's should squash any notion of trying to be a health-food restaurant and be true to the brand.
"Not saying that's easy, but that's the challenge for this corporation," he said.
McDonald's shares closed nearly 2% lower Monday, and continued to trade lower on Tuesday.