CEOs ousted for improper misconduct hit a high in 2018. Here's a list of the big ones
Turnover among the world's biggest CEOs soared to a record high last year, but it wasn't because of poor financial performance.
Instead, for the first time, more executives were dismissed for "ethical lapses," with offenses ranging from sexual misconduct, fraud and bribery to insider trading.
A record 17.5 percent of chiefs left their position in 2018 at the world's 2,500 largest companies, a 3 percent increase from 2017, according to a new PwC study.
Of those exits, more than two-thirds were planned while 20 percent were considered "forced."
PwC said that for the first time in its study's history, scandals accounted for more departures than poor financial performance or board-level disputes.
"The rise in these kinds of dismissals reflects several societal and governance trends, including more aggressive intervention by regulatory and law enforcement authorities, new pressures for accountability about sexual harassment and sexual assault brought about by the rise of the 'Me Too' movement, and the increasing propensity of boards of directors to adopt a zero-tolerance stance toward executive misconduct," PwC's survey said.
According to Bloomberg, 39 percent of bosses were fired for scandals last year, up from 26 percent in 2017.
Data from outplacement firm Challenger, Gray & Christmas found that there were 1,452 CEO changes in 2018, a 25 percent increase from 2017, which was just shy of the record in 2008 during the Great Recession.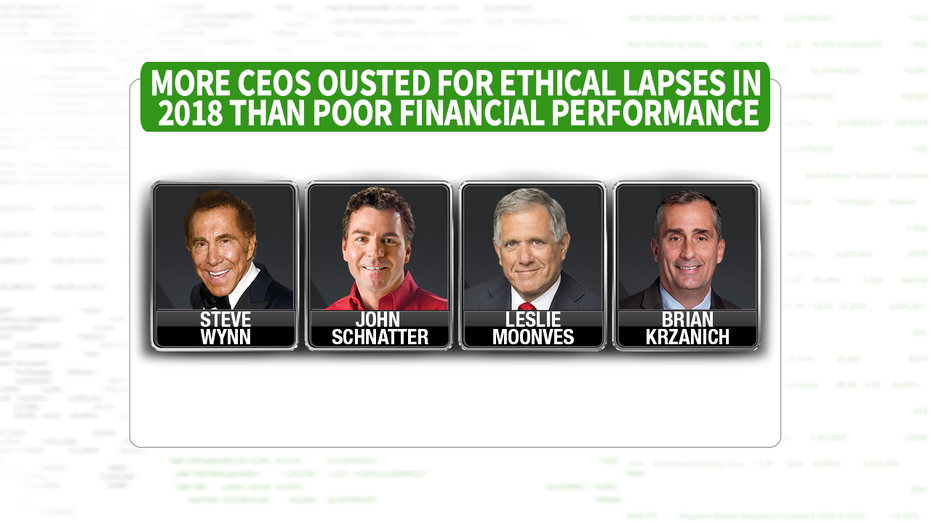 CLICK HERE TO GET THE FOX BUSINESS APP
Here are some of the most noteworthy CEO departures over scandals in 2018.
CBS Corporation CEO—Leslie Moonves
After serving more than 20 years at the helm, Moonves was forced to resign as chairman and CEO after several sexual allegations emerged against him.
Papa John's chairman and founder—John Schnatter
Schnatter first stepped down as CEO on Jan. 1 after making comments criticizing NFL commissioner Roger Goodell's handling of national anthem protests. But he was later forced in resign as chairman in July following backlash for using a racial slur during a conference call.
Wynn Resorts CEO and founder—Steve Wynn
Wynn was forced to step down as chairman and CEO after multiple reports of sexual assault allegations emerged.
Intel Corporation CEO—Brian Krzanich
Krzanich resigned after the board discovered that he had a relationship with an Intel employee, something that violated company policies.
Walt Disney Co COO—John Lasseter
While Lasseter not the CEO but the chief creative officer for the media giant, his exit was significant. The company announced Lasseter's abrupt exit following reports of sexual harassment.
Athena Health CEO—Jonathan Bush
Bush was also forced to resign amid sexual misconduct allegations.
Xerox Corp CEO—Jeff Jacobson
Jacobson and six members of the company's board of directors resigned after reaching an agreement with top shareholders Carl Icahn and Darwin Deason. The agreement ended the lawsuit filed by Icahn and Deason over a proposed merger with Fujifilm.
Barnes & Noble CEO—Demos Parneros
Parneros was ousted in early July for violating company policies. The bookseller, however, did not release any specifics on what policies were infringed.