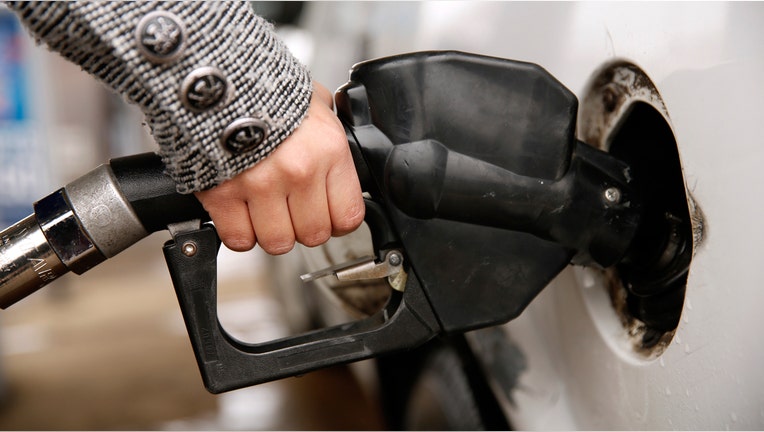 Thanksgiving road-trippers will find gasoline at its cheapest level since the 2008 financial crisis, as prices at the pump accelerate their decline just in time for the holidays.
After a lull, gas prices are back on the fast track heading south. The national average for a gallon of regular gas has dropped eight cents over the last week to $2.06 on Tuesday morning, according to AAA. That is far below the $2.80 a gallon that drivers paid on average last Thanksgiving.
The national average is on the verge of falling below the $2-a-gallon mark, which has not happened in more than six years. At the current pace, it might happen by the end of Thanksgiving weekend.
AAA spokesman Michael Green said a national average of $1.99 a gallon or less this year is "practically guaranteed unless something dramatic was to happen."
"There's abundant petroleum around the world, and that situation doesn't seem to be changing anytime soon," Green added.
A global glut has fueled a sharp selloff over the last 16 months. U.S. oil prices, which touched a high of $108 in July 2014, settled at $41.75 on Monday. Last week, the U.S. Energy Information Administration released data showing that U.S. crude inventories rose to 487.3 million barrels, the largest stockpile for this time of year since 1930.
Quick Descent
Analysts initially believed that gas would reach an average of $2 a gallon closer to Christmas, but persistently low crude prices changed their outlook.
Also, the fall months are typically a good time for drivers. The autumn maintenance period at refineries has come to a close, thus allowing for additional gas production. Meanwhile, the onset of colder weather dampens fuel consumption and pushes retail gas prices lower.
"Things are moving very quickly. Gas prices are dropping at the fastest level in three months," Green said. "We're entering a period where refinery production is on the rise, but overall, fuel demand is low due to seasonal factors."
At least half of all gas stations are already in the $2 club. The twice-monthly Lundberg Survey released on Sunday noted that pump prices should continue to retreat into December amid higher production rates at domestic refineries and plentiful oil supplies.
Gas Savings
With all 50 states averaging no more than $2.83 a gallon, drivers have saved $100 billion at the pump so far this year—even as Americans put more miles on the odometer.
AAA estimates that 46.9 million Americans will journey at least 50 miles from home over the Thanksgiving holiday weekend, up 0.6% compared to last year. Most of those travelers, 42 million, plan to take a road trip.
Consumers are better positioned to capitalize on cheaper gas than they were during the recession, Green said.
It remains to be seen if consumers will parlay those savings into gifts for the holidays. A report from the JPMorgan Chase (NYSE:JPM) Institute in October said Americans spent roughly 80 cents of every dollar saved at the pump, while the National Retail Federation is forecasting a 3.7% increase in holiday spending this year.