Teva CEO exits amid crisis of confidence at drugmaker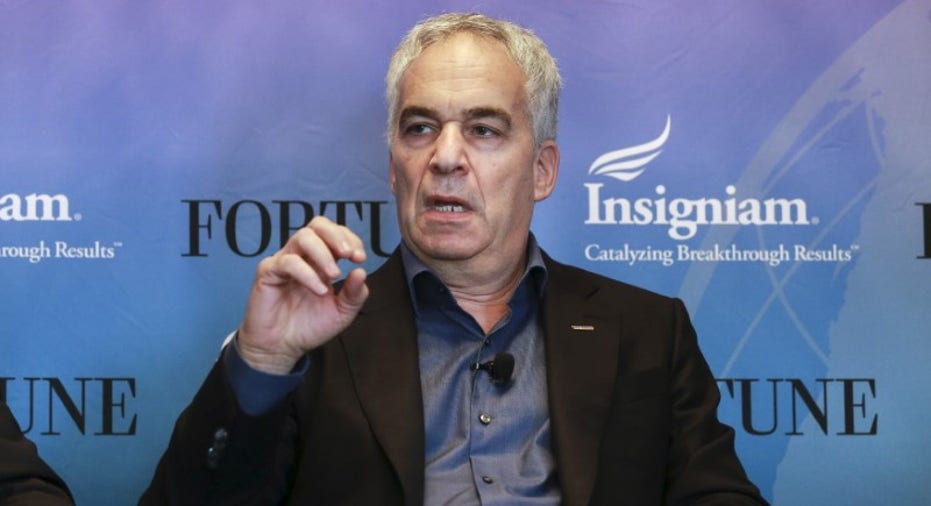 The chief executive of Teva Pharmaceutical Industries has stepped down, leaving new management to overhaul the world's biggest maker of generic drugs and restore confidence after a series of missteps sent its shares plummeting.
Teva, Israel's largest company, said late on Monday Chief Executive Erez Vigodman was departing immediately and would be replaced on an interim basis by Chairman Yitzhak Peterburg.
A string of questionable and costly acquisitions, along with delayed drug launches, has led to calls for management and structural changes, including a possible split of the business into separate generic and branded medicine units.
Investors say Teva, which faces pricing pressure in its core generics business and recently lost patent protection on its key branded drug Copaxone for multiple sclerosis, must choose a new CEO with extensive pharmaceutical experience.
The new boss needs to set a clear strategy, said Eldad Tamir, head of investment house Tamir Fishman, whose funds have slashed holdings in Teva by 90 percent in the past two years.
"Is it the biggest generics company or is there an understanding that generics is hitting a glass ceiling and it should do other stuff," such as investing more in branded drugs, he told Reuters.
Compounding the challenge for Teva, U.S. President Donald Trump has pledged to crack down on drug prices.
Veteran Israeli activist investor Benny Landa echoed previous calls from U.S. institutional shareholders for Teva to be split into separate branded and generic companies, telling the Globes website there was little benefit from keeping the two different activities combined.
Teva shares fell around 2 percent in Tel Aviv on Tuesday following Vigodman's departure, which comes after the head of Teva's generics business, Siggi Olafsson, left. At 1435 GMT, its New York-listed stock was down 2.9 percent at $33.35.
STUMBLES
Tal Levi, buyside analyst for Israeli investment house Halman-Aldubi, said Teva needed to manage cash flow better and deliver the hoped-for synergies from its acquisition last year of the Actavis generics business.
Teva's New York-listed shares, which hit $72 in July 2015, tumbled to around 10-year lows last week after a U.S. court found Copaxone patents to be invalid. The drug accounted for almost a fifth of Teva's revenue last year.
Investors and analysts have raised concerns Teva might have to cut its dividend if Copaxone faces generic competition in the near term.
Vigodman joined Teva in 2014 after his success at rejuvenating an ailing Israeli agrochemicals firm earned him a reputation as a turnaround specialist and dealmaker.
But a series of stumbles has dismayed investors.
Vigodman embarked on a costly buying spree that culminated in the acquisition of Actavis for $40.5 billion, a price many investors believe was too high.
Teva is now saddled with nearly $36 billion in debt, similar to its market value, making it very difficult to raise new equity, Tamir said.
A $2.3 billion deal for Mexican drugmaker Rimsa has led to both sides suing each other. And in December Teva agreed to pay more than $519 million to settle U.S. criminal and civil allegations that it bribed overseas officials to gain business.
Last month, Teva provided a 2017 revenue and profit forecast below Wall Street's estimates.
THOROUGH REVIEW
Interim leader Peterburg, who will work alongside Teva's new chairman, former Celgene CEO Sol Barer, said he would conduct a "thorough review" of Teva's business while the company searches for a permanent CEO.
RBC Capital Markets analyst Randall Stanicky said it was unclear what this entailed and whether asset sales could be on the agenda.
"We find it interesting that Teva would pursue a review before naming a permanent CEO, which may be suggestive of further close involvement of the board and broader management team," Stanicky said.
Some investors have told Reuters they would like to see Teva spin off its speciality drug business.
This might please U.S. activist investors as it could give a short-term boost to the stock, said Levi, whose firm Halman-Aldubi has been slowly raising its Teva stake in the past month.
"But Israeli institutions are long-term investors. I'm not sure making a short-term profit is a good idea for the Israeli market and Teva," he said.
Bernstein analyst Ronny Gal, in a video to clients, called Peterburg "a good caretaker CEO, but clearly not a candidate to run the company long term".
Prior to rejoining Teva's board of directors in 2012, Peterburg led the company's research and development efforts as head of global branded products, from 2010 until October 2011.
(Additional reporting by Bill Berkrot in New York; Editing by Louise Heavens, Ben Hirschler and Mark Potter)