Testing Kids for a Sports Gene: Would You Do it?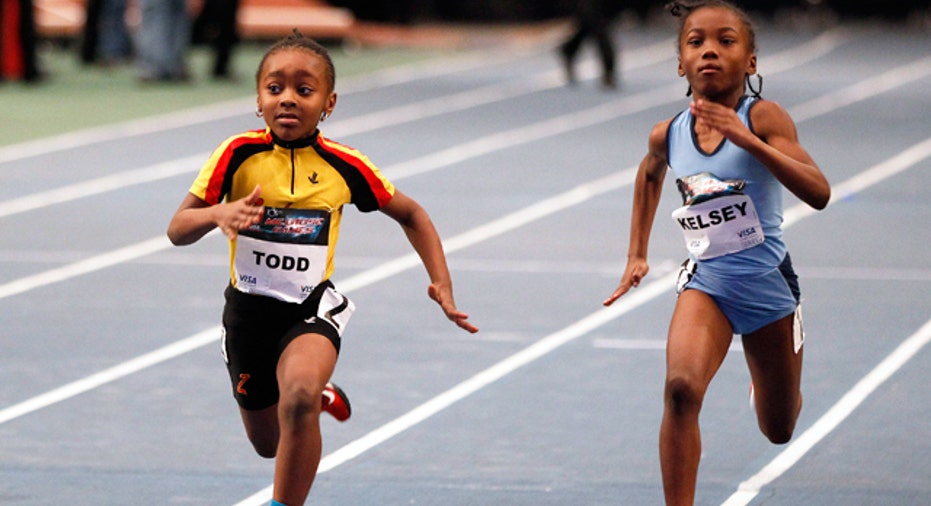 Thanks to new technology, parents dreaming their kid will turn into the next Peyton Manning won't have to wait to see if those aspirations are unrealistic.
Personal genetic testing has penetrated the sports world and for $169, a swab of the inside of a childs cheek can show how a youngster will perform in sports.
For kids, this is a dicey area, and things could ramp up as scientific advancements uncover more about the human genome.
But experts warn marketing in companies providing the test exceeds the science.
Atlas Sports Genetics, which has been selling personal genetic tests online, would refute this claim. The Boulder, Colo., company touts the test as Safe to use on the youngest of athletes on its Web site, but experts say people shouldnt be tested until at least 18 when they can understand the results.
Atlas says its mission is misunderstood. The test is one tool in a whole toolbox, says Nathaniel Carruthers, president of operations at Atlas and its parent, Zybek Sports. We focus on the whole biology not just making a person bigger and stronger.
Still, Atlas has received a lot of criticism claiming the test is geared toward creating the next Michael Jordan. Not so, says Carruthers.  He says Atlas puts stock in overall wellness and an educational packet is sent along with test results that reminds customers about the importance of playing sports for fun, proper nutrition and rest.  We have confidence in parents to be smart about what theyre doing, says Carruthers.
Not all experts share this confidence, especially with our societys winning-is-everything attitude. Dr. Michael Bergeron, director of the National Institute for Athletic Health and Performance at Sanford Health, says parents, coaches, school administrators, sports governing bodies and marketing and merchandise companies have developed a vested interest in a youth sports industry.
Athletic quality is not sufficient to determine performance and success in sport,says Bergeron.  We are just beginning to understand genetic profile as it relates to certain qualities.
Dr. M. Alison Brooks, a pediatric and adolescent primary care sports medicine physician at the University of Wisconsin School of Medicine and Public Health worries over parents being left to interpret the results without medical input from a physician who can communicate the risks and benefits of genetic information and the limits of the scientific understanding of athleticism.
Genes Alone Dont Make a Champion
So much goes into making a championnot one or two genes, but a much more complex set of genes playing their roles interdependently.
Yet the current test hinges predominantly on the presence of the ACTN3 gene which was linked to athletic ability in a 2003 study.
ACTN3 produces a-actinin-3, a structural protein that stabilizes muscle filaments used during athletic activities that require explosive bursts, such as sprinting.
Genetic variations, R and X inherited from each parent, produce different effects.
If you have one R and one X variant you have some 'springiness,' if you have both R variants, then you are Tigger, says  Dr. Carl Foster, professor of Exercise and Sport Science at the University of Wisconsin-La Crosse.
Because performance in explosive power specialties like the 100-meter sprint or the long jump does not typically correlate with performance in the more endurance-oriented 1,500-meter race, two X variants may make you less naturally powerful and more prone to activities involving endurance.
In 2008, ACTN3 was the most exciting gene out there, says Dr. Stephen Roth, associate professor kinesiology and director of the Functional Genomics Lab at the University of Maryland. In the years since, even this gene has had to withstand a slew of papers reporting little or no influence on sport performance.
ACTN3 studies that point to its usefulness in contributing to sport performance usually only appear in elite athletes performing sprint-type performance. This is a far cry from predicting basketball or football prowess in young individuals, says Roth.
But Foster says he doubt that many people without genetic potential reach the top, but admitted that there are mitigating factors.
Take Spud Webb, a 56NBA player. There are not many 56 guys who get to the NBA, says Foster. But Webb had enormous jumping ability and was a good ball handler.
Foster also points to Olympic speed skater Eric Heiden: Despite his genes, if hed lived in Dallas where there was no ice, and if he hadnt met the right coach at the right time, he never would have known he had a gift.
Playing on a Court, Field and Mat
Bergeron says theres value in being exposed to a lot of sports and more kids get hurt focusing on a single sport too early, and doing too much to excel in the sport.
Most kids start playing sports for fun and health until coaching or parental pressure kicks in. They have kids traveling all over motivated by some kind of dream the kids will play professionally.
But for most, that dream doesnt come true. According to the National Collegiate Athletic Association, only 0.03% of male and female athletes playing basketball in high school, for example, make it to the pros.
And those who continue to play a sport in college, often experience burn out. Every year I see a handful of collegiate athletes who are pushed to play, and they quit, says Brooks. These young people were never given a chance to do something else.