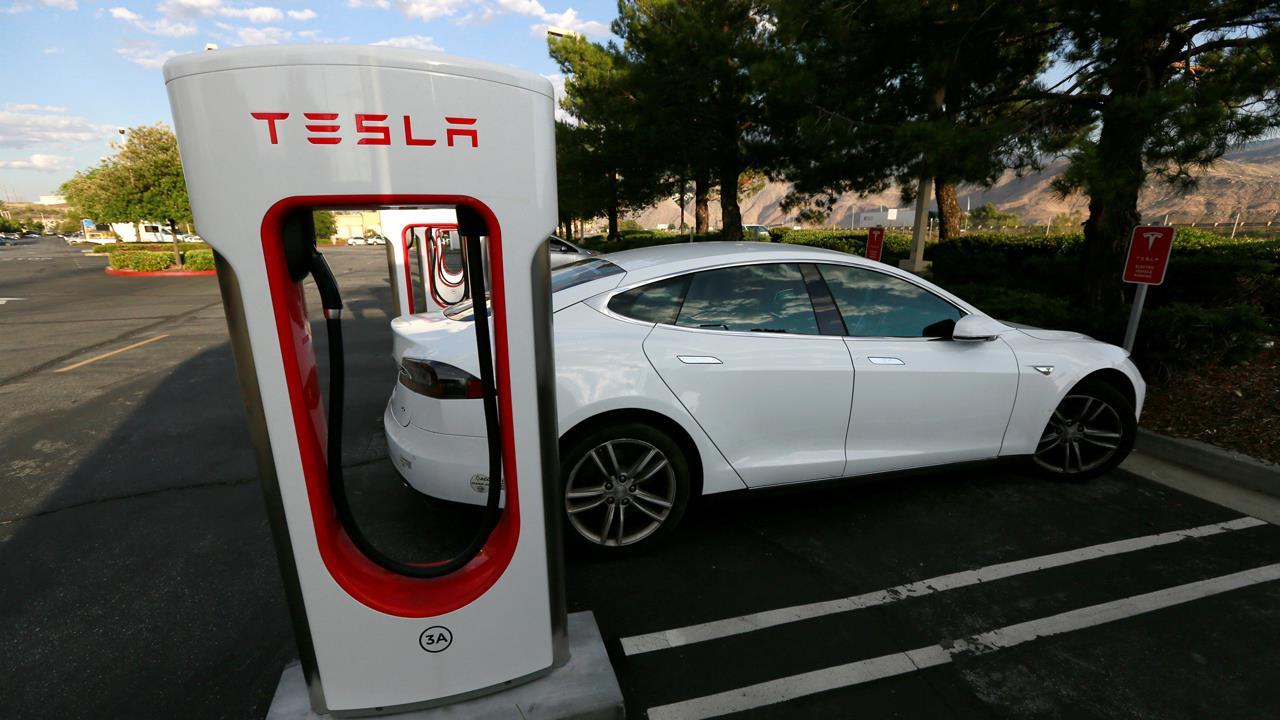 Tesla Motors (NASDAQ:TSLA) will unveil its long-awaited semi-truck Thursday evening, after being delayed due to Model 3 bottlenecks and increased battery production for Puerto Rico, which was devastated by Hurricane Maria in September.
There is much anticipation for the vehicle, as Musk has said his prototype will "out-torque any diesel semi," and will "tug the diesel semi uphill," while speaking at a TED2017 conference.
FOX Business takes a look at what to watch for during the reveal.
RANGE
The prototype electric semi-truck could have a range of 300-450 miles, though the added weight of the battery will be a major constraint, according to Bernstein analyst Toni Sacconaghi. This compares to a typical heavy-duty diesel-powered vehicle, averaging six miles per gallon, which can travel up to 1,000 miles before needing to refuel.
"The main determinant of the Semi's range will be its weight – specifically, the weight of its payload combined with its 'empty weight,' including the battery. We estimate that a 24-ton truck (with a 12-ton payload and 12-ton empty weight) carrying a ~615 kWh battery could have a range of 366 miles," Sacconaghi said in a note published Monday.
COST
The cost of batteries to power an electric vehicle are a major factor when figuring the overall price of the automobile. Due to improving technology, battery costs in trucks are expected to fall from $260 per kilowatt-hour in 2016 to $122 in 2026, a 53% drop, according to Deloitte.
In the case of Tesla, which is tight-lipped about its battery prices, the question is can the savings from lower operating costs offset the total amount a customer will pay for the big rig. The average cost of a new semi found on highways today is over $100,000.
HOW IT IMPACTS TESLA
According to Sacconaghi's note, it is "unclear" how the initial Tesla Semi could add more than 7% to the company's revenues. With less than 10% of the global passenger vehicle market expected to be electrified by 2025, according to the note, can Tesla's venture into the world of tractor-trailers be sustainable?
"On net, we do not see the Tesla Semi opportunity as a thesis changing initiative for the company, at least initially," the note said.
AUTOPILOT FEATURE?
Analysts expect autonomous driving technology in vehicles, particularly in the trucking industry, will likely be in high demand once it becomes commercially available—and Tesla wants in, hoping it could make the vehicle more appealing to customers.
"If the Tesla Semi is able to incorporate an effective autonomous trucking offering, it could completely change buyers' cost-benefit analysis for the Semi," Sacconaghi wrote, adding that they consider Waymo to be the leader in the autonomous driving sector, while Tesla could be at the same level as "leading traditional auto OEMs (original equipment manufacturers)."
THE MARKET
Currently, multiple companies have battery-powered trucks on the market. Nikola is developing two semi-trucks that use both electric power and hydrogen fuel cells. Daimler's Mercedes-Benz unveiled its electric truck, which uses a battery pack of three lithium-ion battery modules to allow a range of up to 124 miles. Volkswagen is also joining the electric truck trend, investing $1.7 billion in new technology, according to Bloomberg.