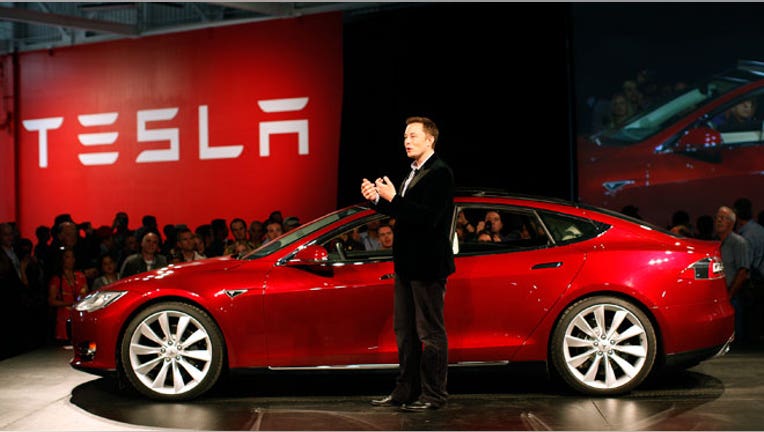 Tesla Motors (NASDAQ:TSLA) shares were racing nearly 30% higher Thursday afternoon, after a first-quarter earnings report revealed increased production of the electric car maker's flagship Model S.
The Palo Alto, Calif., automaker is attempting to become the first successful startup in the industry since the 1920s. Tesla has struggled through slowed production from delayed supplier deliveries and recently sold shares to raise cash.
But on Wednesday, the company reported its first-ever quarterly profit, earning $11.2 million, or breakeven on a per-share basis, on the delivery of 4,900 Model S vehicles. It posted an $89.9 million loss in the year-ago period.
Tesla previously anticipated it would deliver 4,500 units in the latest period.
Revenue soared to $562 million, compared to just $30.2 million in the year-ago period. Adjusted per-share earnings were 12 cents.
The results beat Wall Street expectations for per-share earnings of 4 cents and revenue of $500 million.
Investors reacted positively to the news that Tesla is seeing regional orders pick up as deliveries are made, which the company translated as a sign that customers are selling others on the Model S. Tesla also got rid of its generic reservation program thanks to greater production, allowing buyers to place a custom order online.
Tesla said it is receiving orders at a rate greater than 20,000 per year, while deliveries are projected to top 4,500 in the current quarter. It expects to build about 5,000 Model S vehicles.
The company's stock, which was up as much as 23% Thursday, also received a boost after Northland Capital raised its price target to $95 from $50, although Goldman Sachs (NYSE:GS) downgraded the stock to neutral from a buy.
Meanwhile, Consumer Reports gave the Model S a near-perfect score, praising the car's "pinpoint" handling and interior design.
Shares were trading at $72.31 early Thursday afternoon.