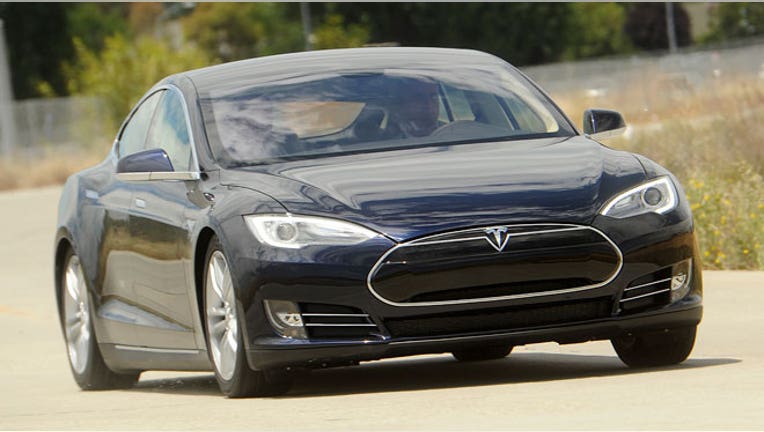 Tesla (NASDAQ:TSLA) and Panasonic expanded their supply relationship for automotive-grade lithium-ion battery cells on Wednesday as the car maker continues to ramp up production of the Model S to meet growing demand.
The Palo Alto, Calif.-based electric car maker will now be supplied two billion cells from Panasonic over the next four years, which will be used in both the Model S and Model X, a performance utility vehicle scheduled to go into production later next year.
"This expanded agreement with Panasonic is important to Tesla as we continue to increase the pace of production," Tesla CEO Elon Musk said in a statement.
The announcement comes as demand for electric vehicles continues to intensify.
Sales of plug-in hybrid and battery-operated vehicles were up 117% through the end of September compared with the same nine months in 2012, according to data from the Electric Drive Transportation Association.
Last week, eight states, including California, agreed to jointly adopt measures to encourage the installation of charging stations and other EV infrastructure in an effort to meet a goal of 3.3 million electric cars sold by 2025.
Contributing to that commitment, Tesla on Wednesday launched the West Coast Supercharger Corridor, a series of ultra-powerful charging stations situated on key routes between San Diego, Calif. and Vancouver, British Columbia.
With the newly energized stations, the EV car maker says more than 99% of Californians and 87% of Oregon and Washington owners are now within 200 miles of a supercharger, whose charges are capable of re-fueling Model S cars 20 times faster than most public charging stations, delivering up to 120 kilowatts of power directly into the battery and providing half a charge in as little as 20 minutes.
Tesla, which has so far racked up more than 130 million customer miles with the Panasonic batteries, says the cells are designed to enable a range of roughly 265 miles for the Model S.
Financial terms of its expanded deal with Panasonic were not disclosed.
Meanwhile, Panasonic has separately committed to EV growth, and its high-performance lithium ion batteries can now be found in Ford (NYSE:F) hybrids and other cars.
Shares of Tesla were down about 2.2% to $160.78 in recent trade, but remain up about 379% so far this year.