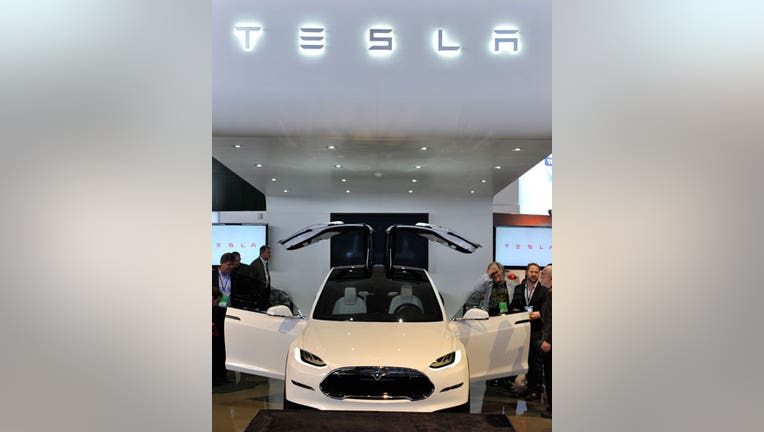 Tesla (NASDAQ:TSLA) detailed its plans to build a new factory dedicated to producing batteries, as the electric car maker prepares for an expected uptick in demand and the launch of new vehicles.
The company also said Wednesday it will offer $1.6 billion in convertible bonds and use the proceeds to help build the factory and develop a third-generation vehicle, among other general expenses.
According to a filing with the SEC, Tesla will build the "Gigafactory" battery plant in Arizona, Nevada, New Mexico or Texas. The 10 million-square-foot facility is slated to open in 2017. It will employ 6,500 people once it's fully operational in 2020.
Tesla said the Gigafactory will produce enough battery cells to supply 500,000 vehicles each year, in addition to batteries used in stationary storage applications.
The Gigafactory's total cost is expected to hit $4 billion to $5 billion, and Tesla expects to spend $2 billion of its own money.
Last week, Tesla fueled optimism with an upbeat outlook for the current year, forecasting deliveries of 35,000 Model S sedans. That would reflect a 55% improvement over 2013.
The Palo Alto, Calif.-based automaker also announced the launch of its less expensive Model X crossover is scheduled for the spring of 2015. On Wednesday, Tesla said it only has an early prototype of the Model X. Also on the horizon is a third-generation sedan at a lower price point than Tesla's flagship Model S, which costs more than $70,000.
The company said its Gigafactory will manufacture battery cells at a lower cost, thereby cutting Tesla's overall production costs for its future vehicles.
Earlier this week, reports indicated that Panasonic, currently a battery supplier for Tesla, is in discussions to partner with Tesla to make batteries at the Gigafactory. In its filing, Tesla said it hasn't reached any agreements.
"While our plan is to attempt to produce lithium-ion cells and finished battery packs for our Gen III vehicles at a new Tesla Gigafactory, our plans for such production are at a very early stage," Tesla said in its filing. "We have no experience in the production of lithium-ion cells, and accordingly we intend to engage partners with significant experience in cell production and to date we have not formalized such partnerships."
Panasonic declined to comment on whether it's partnering with Tesla for the Gigafactory, reiterating that it "has built a collaborative relationship with Tesla and continues to explore options to further strengthen that relationship."
A source familiar with the project told FOX Business it may be "inaccurate" to attach Panasonic to the Gigafactory as a partner.
Tesla intends to purchase a minimum of 1.8 billion lithium-ion battery cells from Panasonic between 2014 and 2017, the company disclosed in Wednesday's filing.
Shares of Tesla climbed another 2.4% to $259.00 in after-hours trading. Through Wednesday's close, the stock was up 20.7% since the start of the week.
FOX Business reporter Jennifer Booton contributed to this report.