Tensions, and Seasonal Beers, Brewing for Rivalry Rematch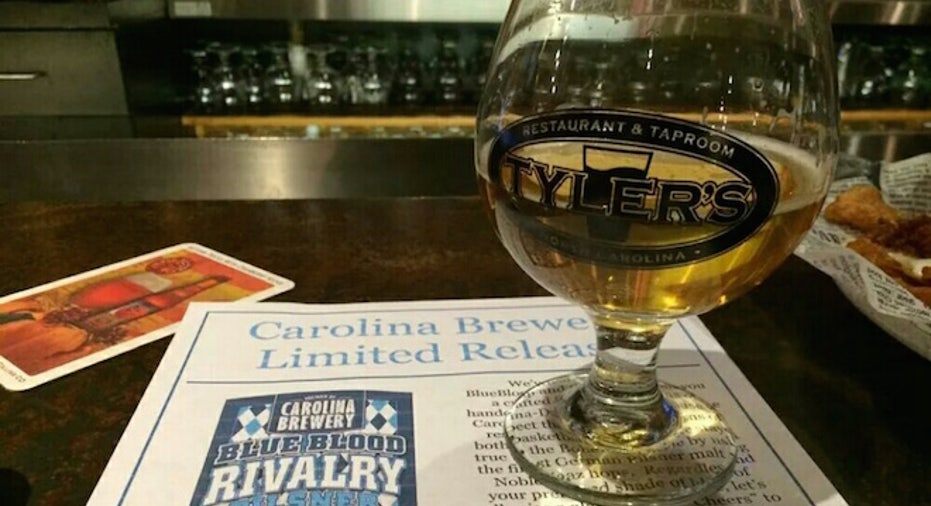 Beers such as Blue Blood Rivalry Pilsner are giving new meaning to the term seasonal as they're brewed for passionate partisans by hometown beermakers looking to score new fans or get an assist reintroducing its brews to casual customers.
This particular pilsner caters to two diametrically opposed groups that spew vitriol at each other as they sit on opposite sides of the aisle. Forget the donkeys and elephants, this beer is for Tar Heels and Blue Devils--the rabid sports fans of the University of North Carolina and Duke University.         The teams square off in the latest installment of college basketball's most heated rivalry on Saturday night; they famously wear different shades of blue and are perennially among the NCAA's basketball aristocracy—hence the blue blood moniker.
The schools are located just eight miles apart and it's that close proximity that helps fuel the passion behind the rivalry; creating a natural market for its own beer for students, alumni, and fans to celebrate with, or cry into.
"Everybody who has gone to school at Carolina or Duke, or lives here and lives the rivalry every day, we understand it's a lifestyle," explains Hassan Pinto, the entrepreneur behind the beer. "It just seemed natural. They could fight over the rivalry and connect over, and enjoy, a beer that celebrates the rivalry."
The brew's name comes from an e-book series by UNC alumnus Art Chansky and a documentary about these fans produced by Pinto, a former UNC soccer player.
And while fans may swill a few pilsners to ease their nerves during a game or commiserate over after a bitter defeat, Pinto's partners at the Carolina Brewery see this as a unique way to regain the home court advantage.
"There's a shelf-space war and a tap war…there's a lot of rotating taps in our market. People aren't adding taps and shelf space," explains Robert Poitras, founder and owner of the Carolina Brewery in Chapel Hill, NC (home of UNC).
Poitras adds, "The craft beer business is so cutthroat, everyone wants what's new and different...Our rivalry beer has a story behind it, a different style because it's a true pilsner. That's one of the reasons we've gotten tap placements. What's new, fresh, and different at Carolina Brewery? This year, it's Blue Blood Rivalry Pilsner."
The brew captured a rare tap handle at nearby Tyler's Tap Room. Daniel Kulenic, a partner/owner of Tyler's says its Chapel Hill location generally doesn't pour the beermaker's brews because they are practically neighbors with the brewpub. "I think the Carolina Brewery benefits greatly from the beer. Seasonal beers are brewed to bring people back to the flagships, which sometimes lose momentum."
While the Blue Blood Rivalry Pilsner is only distributed in the "Triangle" area near both universities, Poitras and Pinto are hatching plans to expand by canning the brew and seeking wider distribution for its second season when college football kicks off this fall.
Rival Beer Rivalry?!
The Carolina-Duke antipathy and craft beer culture are so pervasive in the region there's now a second rivalry beer brewed up just for the occasion. Chapel Hill's Top of the Hill Brewery (just steps from UNC) and Durham's Triangle Brewing (located near Duke's campus) collaborated on a small batch of an American Pale Ale called A Beer Divided (a play on a house divided since team loyalties are often split among friends and families).
The brewmasters have a wager on the game: the losing school's brewers have to wear jerseys of the winning team while tending bar at the winner's pub for a night.
Scott Maitland, Top of the Hill's proprietor and a UNC law school grad, says it was a fun joint venture. He got his first taste on Thursday, noting it's "a great beer; hoppy but not too bitter since we figured the rivalry was bitter enough." There is a certain urgency to these brews, as Maitland notes the limited quantities of the session beer may run out before the game ends--especially if it goes into overtime like the teams' first meeting last month.
Rick Tufts, the owner and head brewer at Triangle Brewing, sees A Beer Divided as a unique opportunity to net attention for his other beers, "We hope that it brings both new patrons and old friends back to our brand...We would love to keep this fun rivalry/collaboration going. We have already considered possibly canning next years batches and making it available for a longer period of time."
More Bitter than Sweet
While the Carolina-Duke rivalry is known for its intensity and proximity, a different sort of collaboration went into making a rivalry beer between two schools located hundreds of miles apart that annually hold "the world's largest cocktail party" and a football game at the same time. That's the University of Georgia and University of Florida for the uninitiated.
Swamp Head Brewing in Gainesville, Fla., teamed up with Terrapin Beer Co. from Athens, Ga., two years ago to create an English Bitter with a twist, using Georgia Peaches and Florida Oranges. It was called, what else, Bitter Rivalry.
This game is so big it's played at an NFL stadium in a neutral site: Jacksonville, Florida. And that venue gave the beermakers both the chance to reach a targeted audience of alumni as well as new consumers.
Brandon Nappy with Swamp Head recalls, "We brewed this beer to hang out with some of our friends in the industry, drink a few beers, learn a few things from each other, and to help each other grow our brands by reaching the hundreds of thousands of people that travel to Jacksonville for the game."
Nappy said the rivalry beer helped out on the home turf as well: "The beer and its associated events definitely helped us get into a few bars and restaurants that we hadn't poured beer at before."
After a year off, Nappy said they are considering bringing back the one-off bitter.
Most School Spirit?!
An Oregon distillery called 4 Spirits Distillery is using "school spirits" to reach consumers, creating vodka for supporters of Oregon's two big state schools with alternate labels featuring mascots from the University of Oregon Ducks and Oregon State Beavers.
While the brewers and distillers are clearly having fun cooking up these beverages celebrating archrivals, Andy Sparhawk of the Brewers Association says rivalry beers cement the local connection by tapping into patrons' passion and shared allegiance: "Craft brewers will benefit from offering variety, like one-off rivalry beers or any other 'twist' that connects the brewery's craft beers to the community."
Kulenic, the bar owner who also played soccer at UNC, concurs, noting the rivalry beer sells well at Tyler's Tap Room in both Chapel Hill and Durham, "There's a trend of drinking local, it transcends beer; when you produce a local product and take it a step further and represent two icons like Duke and UNC, you're reaching not only a local market, but a very passionate market.
"When you see that beer and learn about what went into producing it and why it was produced, you feel almost obligated to drink one. And if you taste it, it's easy to want a second."