Ten Ways for New Parents to Save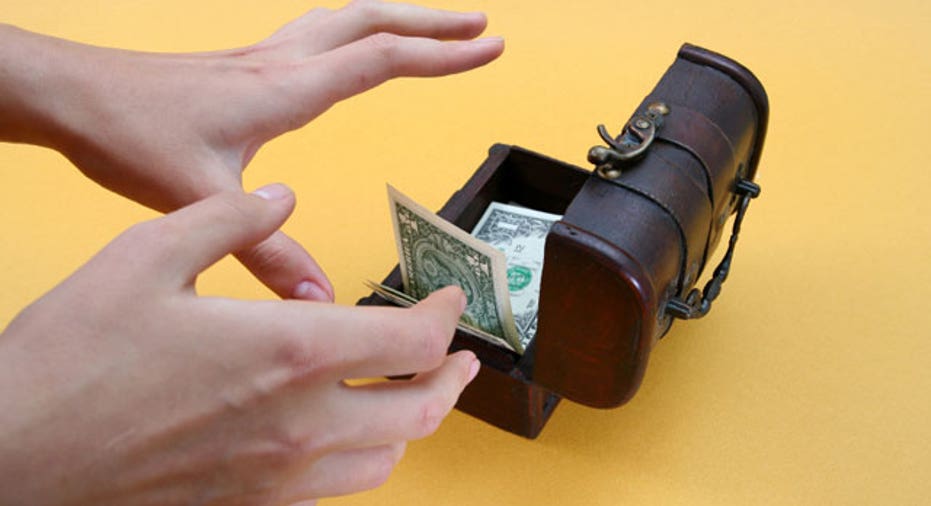 There is no experience quite like becoming a parent. The joy of having a new child can make both mothers- and fathers-to-be giddy with excitement, but that happiness shouldn't distract from the impact the baby will have on the family budget.
Without even including the price of a hospital stay and birth, there are plenty of costs associated with parenting -- maternity clothes, prenatal vitamins, birthing classes, furniture, baby clothes, diapers, and others -- that can quickly erode your savings.
Luckily, there are plenty of ways to save on necessities if you think ahead and stick to a plan. Here are 10 tips to get you started:
Buy maternity clothes online. Here's the truth about maternity clothes. You're only going to wear them for six months before you're ready to get rid of them. That means that other mothers are doing the same thing, so search online auction sites or niche resale shops for maternity essentials: jeans, comfortable tops, work clothes and so forth. If you visit the right places, you'll find contemporary styles at bargain basement prices.
Use the nurse line. Most pediatricians will provide new parents with a wealth of services for the duration of your pregnancy. One of the best benefits is the nurse hot-line, so take advantage of it if you have the option. During pregnancy, women are likely to experience odd pinches, pains, pulls and strains that they've never felt before. But rather than spend a co-pay for a doctor's visit, check with the nurse on the end of the hot-line. He or she will likely know exactly what you need to put your mind at ease.
Baby clothes? See tip 1. Of course, you're going to want to buy your firstborn beautiful new clothes. And you should. But you can save dollars by supplementing brand-new jammies with everyday clothes from online auctions or resale shops. Truth is, your firstborn will wear many outfits a handful of times before he or she is busting out at the seams, so there's no sense in buying everything new. Plus, skip the shoes. They're cute as can be, but you'll find that they are a worthless wardrobe item until you're baby is ready to walk.
Don't buy everything at once. Another tip that passes by most new parents is that you won't use three-quarters of the stuff you've bought your new baby in the first six months of their life. Case in point, the Boppy, which retails for about $50. This baby body pillow is great, but only for four- to six-month-olds. Consider the essentials you'll need when your baby comes home and then spread the extras across the months ahead when you'll actually be able to use them.
Buy "new to you" for most things. If you want to save a bundle on baby furniture, get to know your local Early Childhood PTA (ECPTA). Organizations like the ECPTA regularly host "baby bargain bonanzas," flea markets where parents sell their gently used baby items. There you'll often find bargains on furniture, monitors, toys, clothes, and more. But be forewarned: The bargains are so good in some cases that you may fight big crowds to get what you want.
But don't skimp on certain items. While a second-hand rocker is a great find, budget to buy some items brand new. The federal government regulates items such as baby cribs and car seats to ensure your newborn's safety, so the smart move is to buy these items new so your items meet the most current standards.
Breastfeeding vs. bottle feeding. Sure, there are plenty of issues surrounding breastfeeding -- when to do it, how long to do it, the health benefits, and so forth. But in terms of your budget, it's only worth noting the cost difference between breastfeeding and bottle feeding, which is essentially this: Breastfeeding is free. Bottle feeding is not. And formula can cost as much as $100 a month.
Buy in bulk. This is especially true when it comes to diapers. You are likely to spend more than $500 on the disposable kind in the first year. But you can save big by buying the store brand in bulk at your local wholesale club. And you can save even more by asking for diapers as a gift for the baby. There's no reason to be shy about this. You'll need them!
Take that stroller for a test drive. Strollers are like cars. The expensive ones look flashy, but the ride could be terrible. A model with less bells and whistles -- and a smaller price tag -- will often do just fine. But spring for the cup-holder if you like long walks and wouldn't mind taking some coffee along.
Pack for an emergency. New parents soon discover that taking their newborn out of the house means packing like a mountain-climber. Diapers, bottles, clothes, toys -- it all goes in the diaper bag. But when you leave your diaper bag on the kitchen table and find yourself in need of a diaper, you've no choice but to find the best deal at the nearest store. Avoid these unexpected -- and possibly expensive -- moments by packing an emergency mini-diaper bag that stays in the car.
Yes, it will still be expensive to become a new parent, even with these tips. But by using them and other sensible budgeting practices, you'll lessen the chances that money issues will interrupt your joy of parenthood.
The original article can be found at SavingsAccounts.com:10 ways for new parents to save