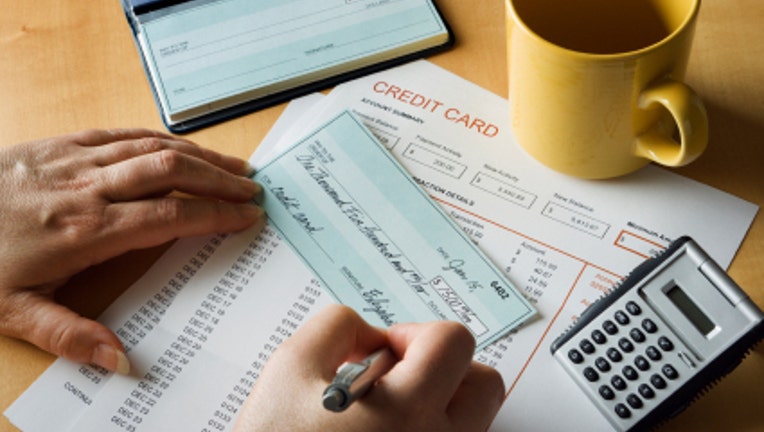 Here at LearnVest, we don't shy away from asking all those awkward and fascinating money questions. In our series, 10 Things You Don't Know About My Finances, we get interesting people (like Al Roker, former First Lady of the State of New York Silda Spitzer and our own extraordinary reader Carla) to reveal their funny, head-scratching and refreshing approaches to finance.
For this edition, Gail Simmons, star of Bravo's "Top Chef" and author of "Talking With My Mouth Full: My Life as a Professional Eater" shares how she got her start in the food industry, her major splurges and what experience finally made her feel like a financial adult.
Love Gail? Come hear her and other experts like fashion designer Cynthia Rowley and Marie Claire editor Joanna Coles share their secrets to living your richest life at LearnVest LIVE, LearnVest's first-ever in-person event on October 9 in New York City, brought to you in partnership with Chase Blueprint. Find out more about LearnVest LIVE and reserve your tickets here.
Here's what Gail told us:
1. My Mother Inspired My Career in Food
My mother was a food writer and a cooking teacher; for the first ten years of my life, she ran a cooking school out of our home. She had a passion for food and travel, which infused her cooking style and inspired her to make Indian food and Chinese food—she was really a trailblazer for her time.
While I love my mother, I struggled to come to terms with her influence on my career. When starting out, no young woman wants to be told that she's "just like her mother." It was really difficult for me to accept that I had followed in her footsteps, and it took years for me to recognize how much she was to credit for my foundation in understanding food, its relationship to culture and how to have a healthy relationship with it.
(Want ten easy recipes perfect for cool summer eating? We've got 'em.)
2. My Parents Taught Me Not to Care About Material Things
My parents worked hard, and we were raised in a blessed home where we had good food on the table and a great, middle-class lifestyle. They were absolutely not impressed by fancy cars or name brands, and when I was a teenager, I was convinced that my father insisted on driving the crappiest car he could find just to spite us. Instead, they saved up so they could travel to places like South Africa, Costa Rica and the Middle East, which had a big impact on my values and is how I spend my money today.
(Want to travel the world? This LearnVester sold everything to make her travel dream a reality.)
3. But There's One Thing I'll Always Splurge On
I probably travel over four months out of the year for work, and I feel very lucky that my jobs have taken me all over the world. That said, it's not always fun, and I believe strongly that travel isn't always a vacation. I believe in spending time and hard-earned money on travel for pure pleasure, discovery and relaxation.
Because I don't always get to really explore new cities or countries if I'm there for work, I always try to tack on a couple of days at the beginning or the end of my work trip, so I can really enjoy a place myself. We were shooting the season seven finale of "Top Chef" in Singapore, so my husband and I flew out ten days earlier and went to Bali, which was the most beautiful and magical place I've ever been to.
4. I'd Rather Spend Money on Food Than Clothing
New York City is basically a glorified shopping mall, but I have a hard time buying expensive clothes. It seems ridiculous to me to spend a ton of money on clothing or luxury items, but I don't even flinch at spending the same amount of money on a seven-course tasting menu. It's weird: Dinner's over in a matter of minutes, and then you go to sleep, while a great dress can last for five years. I guess they're both extravagant, but spending money on food comes much more easily to me.
5. But There's One Reason I'll Splurge on Fashion
Because I spend a fair amount of time in front of the camera and I want to look good, I've come to appreciate the value of high quality, beautiful clothes. And, since launching a career on TV, I've definitely expanded my shoe closet! I splurge on Prada and Miu Miu shoes that are well-made, classic and never go out of style.
I remember the first time I ever bought a pair of shoes that were at that level … It was a huge moment for me to put my credit card down. My husband was worried that the floodgates were opening and I'd start thinking that it was okay to spend that much on shoes all time, but I'm definitely not a frivolous shopper. And in case you were wondering, those shoes were pale grey, mauve-ish suede Fendis with a little platform and a zipper up the back, and I wear them all the time!
6. Being Canadian Has Had a Huge Effect on My Finances
It's hard to spot the differences between Canadians and Americans in a crowd, but the cultures are definitely not identical. I do think that one of the major differences is in the attitude toward finances. I'm generalizing, obviously, but Canadians don't seem to take on as much debt as Americans do, in part because we have government-funded health care, and the cost of higher education is much lower.
Even if you go to the best university in Canada, it won't leave you in crazy debt; even my American friends with very high-paying jobs are still paying off thousands of dollars in student loan debt. Additionally, I don't feel as if there's as stark a difference between the haves and the have-nots in Canada, because Canadians are less showy about wealth than Americans.
7. I Donate Both Time and Money to Charity
I don't know a single person who works in the food industry who doesn't give back to hunger-related charities. The problem of hunger is tied into so many other important issues, like agriculture, sustainability, poverty and obesity. Personally, I feel like it's my responsibility to do whatever I can to help end hunger. I donate money and time to food banks like City Harvest and Share Our Strength, as well as a Chicago-based organization called Common Threads that teaches children about nutrition and health.
(Want to give more to charity? Find out how one LearnVest staffer donates 10% of her salary to charity.)
I also speak at and host a lot of events. Tomorrow, for example, I'm teaching a cooking class for high school students living in the Red Hook housing projects in Brooklyn through a program designed to help keep teens out of trouble during the summer months by training them as chefs.
8. Buying a House Made Me Feel Like a Financial Adult
A year and a half ago, my husband and I bought an apartment in Brooklyn, but we still haven't moved in! We're currently living in an apartment he co-owns with his family, so I had been paying him rent. It's definitely a situation we've outgrown.
It felt empowering to take control of our future by learning how to buy a home and combine our savings on this major purchase. It's also the first major financial commitment I've made, and it makes me feel like an adult, to be held accountable to the bank for our mortgage. We're also thinking about starting a family soon, which will be another huge expense!
9. My Husband and I Discuss Money … But It Doesn't Come Easily!
Talking about money with a spouse can be so difficult. It's easy to feel insecure about what you have and what you bring to the marriage, and it's easy to feel protective about your assets. Obviously the dream is that you'll be together no matter what happens, but there are so many things you can't control that it's important to plan ahead with financial planning tools like life insurance.
As women have more and more personal wealth, I think there's a strange dynamic developing around men who are uncomfortable with their wives being the breadwinner. The best advice I ever received was from a financial advisor who told me to remember that there will be times when I'm up financially, physically or emotionally and my husband is down, and then the reverse will happen as well, so it's important to be prepared and supportive for all of those situations.
10. I Used Savings to Help My Husband Start His Business
When my husband decided to start his own business creating music programming for places like restaurants and hotels (for example, the music you might hear in a lobby), we decided that we were going to put a big chunk of savings into his business, knowing that it might take a couple of years for him to make a return on that money. We also knew that I might need to carry us more financially during that time, which was scary for him to admit, but he worked even harder because of it to make his company a success.
Luckily, reality TV wasn't something I had anticipated (I joined Food & Wine magazine in 2004, and have been on "Top Chef" since 2006), and I now have opportunities to make money in a medium that I never could have imagined. By making decisions together and involving each other in our big life choices, we're able to enjoy each other's successes, too.
Want More?
Inspired? Take Our Free Build Your Career Bootcamp!
10 Easy Recipes for Cool Summer Eating