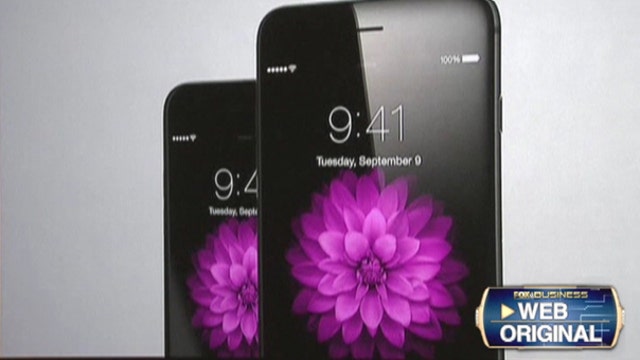 Apple outshined competitors in the gadget world this week, unveiling smart devices for every part of your body.
If you haven't logged on yet or won't at least before next Friday, chances are you'll be standing in a long line. Following Apple's (NASDAQ:AAPL) annual product unveil event held on Tuesday, its new, sleek, large-screen iPhone 6 models proved they were exactly what fans wanted. According to Boy Genius Report, the larger iPhone 6 Plus (which starts at $299) sold out within hours of the online pre-order period opening, while availability of the smaller iPhone 6 version (priced starting at $199) was dwindling.
New data from Gazelle,  shows buying a new smartphone is becoming much like playing the stock market. The company reported iPhone trade-ins were up 157% in August over July, and in a general consumer audience of 1000-plus people, 46% of consumers said they were planning to trade in their current phone in anticipation of Apple's iPhone 6 release.
Still, the data found 62% of U.S. consumers never traded in a smartphone, citing security as a major concern – which was an issue widely voiced by many after Apple unveiled Apple Pay, its mobile payment platform. The pay system is designed to compete with eBay's (NASDAQ:EBAY) PayPal, which sent shares of the e-commerce giant falling 1% on the news.
America's tech titan also revealed, drumroll, a veritable rainbow of smartwatches. Wall Street cheered the latest lineup: The stock was up 2.6% for the week. But not everyone applauded the announcement – watch maker Swatch fell 2% on the Apple Watch launch. And Reuters spoke to several fashion industry insiders who gave the smartwatch lackluster reviews, saying it will surely become a status symbol, but it faces stiff competition from luxury watchmakers.
Not to be left out of the i-game, T-Mobile (NYSE:TMUS) reacted to Apple's slew of announcements by taking the wraps off a service allowing calls and texts via WiFi connections at its "Un-Carrier Event" held 24 hours after Apple's unveil. The move pits T-Mobile's products directly against Apple's iPhone 6 line, which Apple CEO Tim Cook touted as being able to do just that.
In a separate part of the tech world, Chinese e-commerce giant Alibaba kicked off its IPO roadshow Monday. Reuters reports just days after beginning talks with investors, the company already completely covered its IPO. Alibaba will debut on the New York Stock Exchange on Sept. 19 (the same day Apple's iPhone 6 models will go on sale in stores), and is poised to become the biggest U.S. IPO ever, likely eclipsing Visa's $19.7 billion offering.
Meanwhile, Twitter (NYSE:TWTR) is testing out a "buy" button that would allow mobile users to purchase items directly from tweets. Home improvement retailer Home Depot (NYSE:HD) confirmed its payment data system had been breached, but stressed that customers' pin numbers were safe. And RadioShack (NYSE:RSH) said it might have to file for bankruptcy, after posting its tenth-straight quarterly loss. Shares of the ailing electronics retailer were down more than 10% in midday trade Friday.