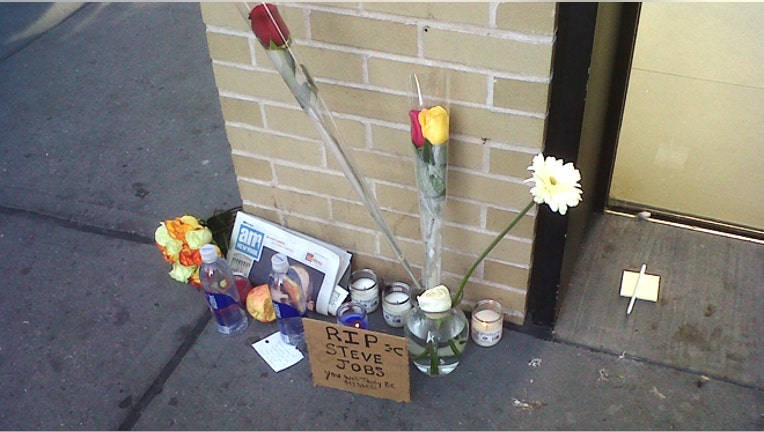 Respects and tributes for Apple (NASDAQ:AAPL) Co-Founder Steve Jobs are pouring in from Apple fans stunned and saddened by the death of Steve Jobs yesterday.
The death of the iconic CEO who revolutionized the personal technology industry, has left devotees shocked and saddened.
Through Twitter and Facebook, throngs of Apple fans expressed their sadness and accounts of how Jobs's vision and imagination changed their lives. Twitter's trending topics included: RIP Steve Jobs and "iSad."
Many felt a personal connection to Steve Jobs because his company's products, including the iPad and iPhone, play a critical role in connecting friends, family and business around the world.
Apple has no plans for a public service, according to a company spokesperson. So many instead paid their respects at their nearest Apple store locations where impromptu vigils with candles, notes and flowers emerged in front of store locations across Beijing, London, Los Angeles and in New York.
At Apple's 14th street location in NYC, bouquets were laid out as early as 5am with dozens of notes lining the pristine, clear windows of the Meatpacking district store.
"iThanks" and "we will miss you" were handwritten on post-it notes left for passersby.
Some were a little more personal in how they paid their respects.
Philippe Meinier, from Montreal, Canada left his business card and wrote "Thanks, Steve." I asked him why he showed up today and he said "I just want to say thank you because in the early 90s we started a company with two partners and a Mac and now we are a global firm. Because of him my life is great today."
Steve Jobs died at the age of 56.