TeaParty.com: No Politics (Yet), Just Rock and Roll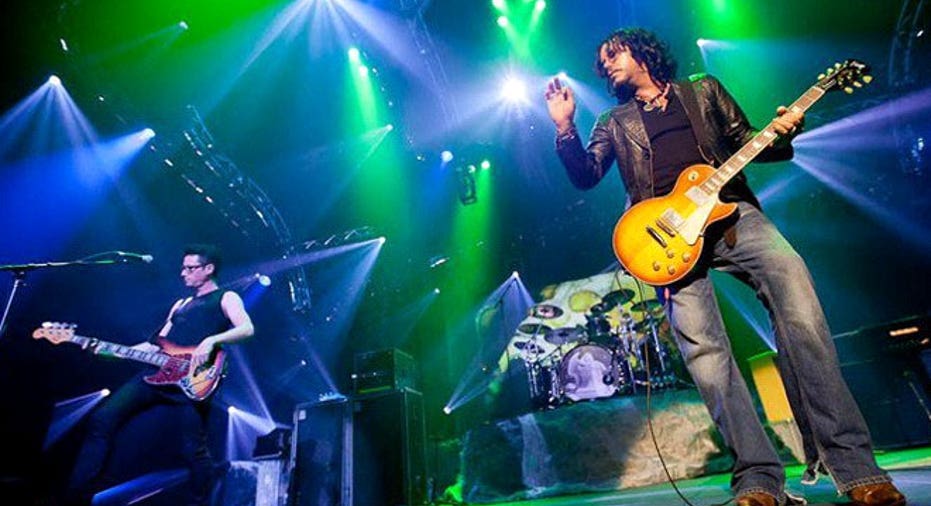 As it turns out, the Tea Party might just be one rock band's ticket to Millionaire's Lane.
A Canadian band formed in 1990 with the same name recently put its site teaparty.com up for sale, and the timing couldn't be better as the U.S. gears up for the 2012 election.
Many have speculated about how much the domain could sell for, with sex.com recently going for a whopping $13 million. If all goes as planned, the rock group could find itself swimming in riches, and not from a platinum album.
"It's a sad world where you make more money from selling your name than from selling your music," said Ben Crawford, chief executive of dotFamilyName.
Travel back to 1990. A band in Canada forms using a name it thinks fits the true groove of its music, pioneering a Middle Eastern fusion style of music dubbed "Moroccan roll."
The group, which told BusinessWeek its name was a "euphemism the Beat poets used for getting high and writing poetry and vibing with each other," kept fans updated on tour dates for some 15 years on teaparty.com before finally breaking up and leaving the site virtually untouched.
Fast forward to 2009, when a massive grassroots conservative political movement emerges out of the U.S. with the same name, and "tea party" is suddenly searched for all over the web as people try to learn what the Boston Tea Party has to do with modern day Republicans.
Searches on Google (NASDAQ:GOOG) for "tea party" surged to an all-time high early in 2009 when the political group first emerged. Google Trends shows those searches continue to remain above pre-Tea Party levels and spike when the group makes headlines.
Suddenly, the band's abandoned site becomes a gold mine and potential suitors start knocking at their door asking if they are willing to make a deal.
"As elections approach, there's always some movement in the domain world as new issues emerge," Crawford said. "When new terms emerge, people start searching for it on the Internet. When people start searching, (the domain name) becomes more valuable."
The Tea Party's bass player, Stuart Chatwood, said the group was "floored" with the interest in the name and "overwhelmed" by the "multiple offers that were arriving daily" to buy the domain.
"It's a lot like Antique Roadshow, you could have a gem and just don't know it," Sedo's director of sales in North America, Kathy Nielsen said, referring to the PBS series. "It's a timely circumstantial thing. The band had no idea what they were going to get into down the road."
After pondering for some time about whether to sell the domain, the band finally chose to seek the help of a brokerage. The group partnered with Sedo, the world's biggest marketplace for domain names, and teaparty.com was put up for sale last Saturday.
The group is likely hoping to garner enough interest in the name ahead of the 2012 election to spark a bidding war that would push the domain's price even higher.
"That's the best play they could possibly make," domain marketing expert Bill Sweetman said, who also serves as the general manager of YummyNames. "It's like winning the lottery, one of those once-in-a-lifetime things."
It's only been a week since teaparty.com's debut on the market and the name has already attracted interest from several potential suitors, including political groups.
There has been speculation over how much the domain will sell for, with some claiming it'll go for millions of dollars as all sorts of political groups -- for or against the Tea Party -- act offensively or defensively in a bid for the name.
If a group affiliated with the organization, or even a Republican candidate, were to buy the domain, they would see traffic to the site surge and could potentially raise significant funds through donations. If a Tea Party adversary grabbed hold of the site, however, there's no stopping what they could post – most likely anti-Tea Party sentiment or promotions for another political party or ideology.
"This might actually drive up the value of the domain," said Tim Calkins, a marketing professor at Northwestern University's Kellogg School of Management. "There may be so many buyers that (the domain) could end up with a bidding war."
Others say the name may not generate enough competitive interests to live up to the hype.
"Hopefully the Tea Party or other folks interested in the political space recognize just how much hype this will get," Sweetman said. "If the Tea Party doesn't realize it, there are probably some other people that do."
The most optimistic price range for teaparty.com has been thrown out by Sedo itself, which predicts the domain could sell in the range of $5 million to $10 million. That would make this sale one of the biggest in history.
"It's very rare when a domain name of this value and significance becomes available -- especially one that is so timely and relevant," Nielsen said.
On the other end of the spectrum, Sweetman thinks the domain will sell closer to the $500,000 to $1 million range. The less optimistic forecasters believe the political group isn't structurally sound enough to gather enough backing to legitimize such an expensive purchase, or to spark a competitive battle.
"Ultimately it's worth what a buyer thinks and what the sellers are willing to accept," Sweetman said. "I'd love to see it pass a million (dollars) but I wonder if there's enough competition to drive the price up."
Not many domains have had the privilege of crossing the million-dollar threshold. Sex.com recently sold for $13 million, one of the biggest sales ever, while vodka.com sold for $3 million, business.com for $8 million, beer.com for $7 million and porn.com for a staggering $10 million.
There are thousands of domain transactions in the works at all times and most of them never exceed a million dollars. In fact, teaparty.net sold for just $1,088 last year.
Of course, the dot-coms are much more valuable.
Calkins notes that some of the biggest sellers have succeeded because of their potential to generate a profit. Teaparty.com, he said, is in a unique situation because it isn't an income-generating property. It will be likely be the target of a not-for-profit political group, which is much harder to valuate.
The band may be in luck, though, as this 2012 election marks not only the first since the Tea Party emerged, but also the second since President Barack Obama proved how valuable the web could be to raise campaign funds and reach a more tech-affluent population. Obama raised half a billion dollars online in 2008, with some 87% of his funding coming from social networking.
"This is the first election where people really realize the power of the Internet," Sweetman said.
Besides raising donation fees, the Tea Party group would also land itself a pristine spot on Google's desired real estate. Today, teaparty.com still shows up on the first page when searched on Google, and Sweetman predicts the site would jump to No. 1 on Google in no time if a political organization were to buy the dot-com.
The average bidding process for big domains runs about a year on Sedo. But with the Tea Party gearing up for an aggressive offensive in the rapidly approaching 2012 election, Nielsen predicts the domain could sell by the end of this year.
It's not clear who has already bid for the domain, as Sedo says suitors typically offer anonymously so as not to stir attention from potential rivals. However, the domain seems to have received at least eight offers so far, according to its auction page on Sedo.com.
The Tea Party Patriots group did not immediately respond to a request for comment regarding this story.
The domain is very time sensitive because of the political connections and Sweetman notes that depending on what happens in the next election, its value could be either limited or hugely escalated.
"Either way, it's great money for the band," he said.