Tanking Economy as a 'Plus'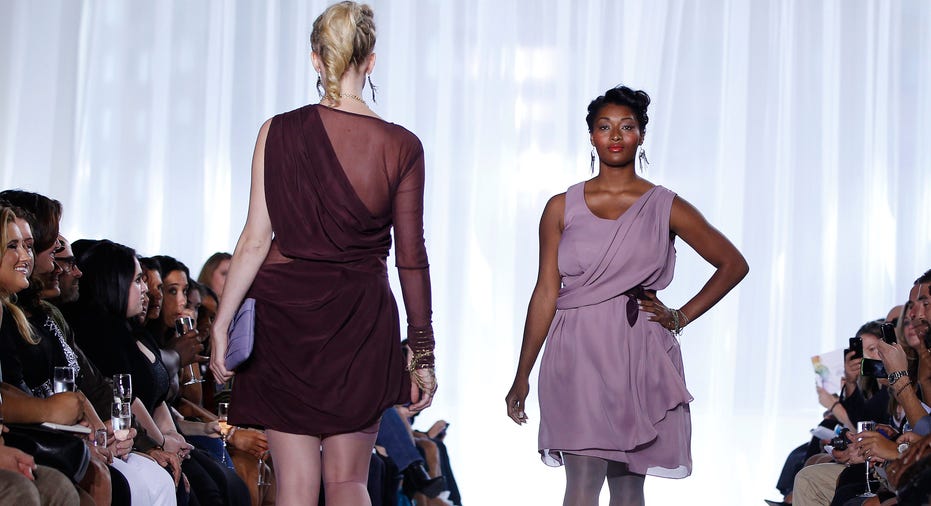 Remember when lusciously curvy women were the hot trend? When the hourglass shape ruled?
Me neither.
But just clicks away you have proof -- courtesy of Flemish Baroque painter Peter Paul Rubens in the 1600s that they existed and were in fact celebrated in all their fleshy splendor. Check out Diana Returning from the Hunt and Venus at a Mirror , just to name a few.
Fast forward to today and imagine Diana and Venus on a shopping trip for finery -- No Prada for you.
But wait, maybe that was yesterday; there is the latest issue of Vogue Italia featuring plus-size model Robyn Lawley. Houses like Prada and Chanel featured some normal size models in their shows the last few years. And, well, now there is MadisonPlus.com, a premier fashion destination for the plus-size market.
It is on a gorgeous spring day that I visit the creator of Madison Plus, Aimee Cheshire, at her lower Manhattan office. These days there is a special feeling of newness and promise with the construction buzz on the blocks around the World Trade Center site, and I am already thinking what an appropriate place it is for a burgeoning business.
But when I meet the statuesque 31 year old, a radiant presence in a white tank, floral skirt, wedges and hoop earrings, I get the impression she could run this operation out of a rickety backyard shed and make a happy go of it. This is her thing. She leads me to a comfortable sitting area that feels like a living room and we talk about this dream that she is making come true.
Ive been preparing for this every step of the way, Cheshire says of Madison Plus. I know everything Ive been doing has led to this time in my life. When I was young, going through all these struggles, I figured out at a young age it was all for a reason.
The struggles included being tall for her age as a youngster in Canada and hence at the back of every photo, moving to the Washington, D.C., area and having a not-so-great experience at a boarding school in New Jersey, having to buy mens jeans to get even close to a good fit, attending weight loss camps while in high school, battling anxiety with food as comfort, and an overall awareness that something just wasnt right.
Struggles in tow, she earned a degree in psychology at James Madison University, wanted nothing to do with a doctorate, and proceeded to LIM College in New York to study fashion merchandising. Hmmmm, what does a woman do with that combination? If shes Aimee Cheshire, she gets into the mind of people who wear plus-size clothes, of people who design clothes, and of people who buy merchandise for stores. She becomes a product developer and forecaster at Redcats USA and then a plus model, all the while knowing this is heading somewhere.
All she needed now was & wait for it & a tanking economy.
I knew it would take a bad economy, Cheshire says. And being in such a financial family (her father is a white collar crime investigator), I knew it was coming.
That was beneficial to you because?
Everyone is scrambling to make money, she says.
And where better than in an under-served market that some companies have yet to understand? Its pretty straightforward math. The average size of the American woman is 14; a little more than 50% of the population is plus size. Common misconceptions are that these women dont spend money and that theyre all trying to lose weight and wear the aspiring size in the back of their closet. Even from a design standpoint, Cheshire points out, there are no plus-size dress forms in schools where students learn how to drape and fit and ultimately create.
There are a few designers, but no way enough, Cheshire says. Department stores dont know where to put plus clothes, so theyre often hidden. Everyone is so ROI focused. They dont understand it will take years. Plus is more difficult to design for. But if you design for plus, there is a whole industry there for you.
What she began to notice is that no one became the taste maker for plus and so the vision started to crystallize. Madison Plus began as a blog last year, but on Jan. 4, it was relaunched and is now a place to shop, get fashion advice, keep up with trends and, frankly, benefit from Cheshires eye and deep knowledge of the industry. She knows were to find great-fitting tanks or which jeans work with a healthy butt vs. curvy hips. She knows that Anna Scholz, a UK designer, has plus size down to a beautiful science.
We talk about the TLC makeover show What Not to Wear and Cheshire nods in agreement when I note that hosts Stacy London and Clinton Kelly know how to bring a persons inner beauty to the surface through clothing regardless of her size.
Women at the end [of the show] are over the moon, Cheshire says. Thats what I want to give to all these women. You have to validate your own beauty and you can do that with clothes. Plus size women havent had that experience.
Cheshire, herself a size 14, has been heavier and thinner but has found her sweet spot.
I feel like me here, she says.
Just a few weeks ago, Queen Latifah was promoting her new clothing line for HSN but told Womens Wear Daily that plus is a word we need to bury at this point. Cheshire is excited about Latifahs line, but doesnt agree about the terminology.
Its just a descriptive term, like juniors and petites, she says. Its not a bad word. If you want to search or Google, how are you going to find your size?
Actually, if Cheshire has her way, finding plus-size clothes will get easier and easier. If Rubens Diana and Venus went shopping, say, a decade from now, what would they find?
My 10-year vision is walking on the contemporary floor of Bloomingdales and seeing plus size next to the straight size line, she says. Not in some dungeon.
There is more in that vision, much more, for we have only begun to tap into the possibilities running through this entrepreneurs mind.
Lets get this party started, Cheshire says.
The smile on her face says she knows she already has.Nancy Colasurdo is a practicing life coach and freelance writer. Her Web site is www.nancola.com and you can follow her on Twitter @nancola. Please direct all questions/comments to FOXGamePlan@gmail.com.